On the Line: Eli Privette of Dogwood: A Southern Table
The 25-year-old bar manager goes local, 'funky' with his cocktails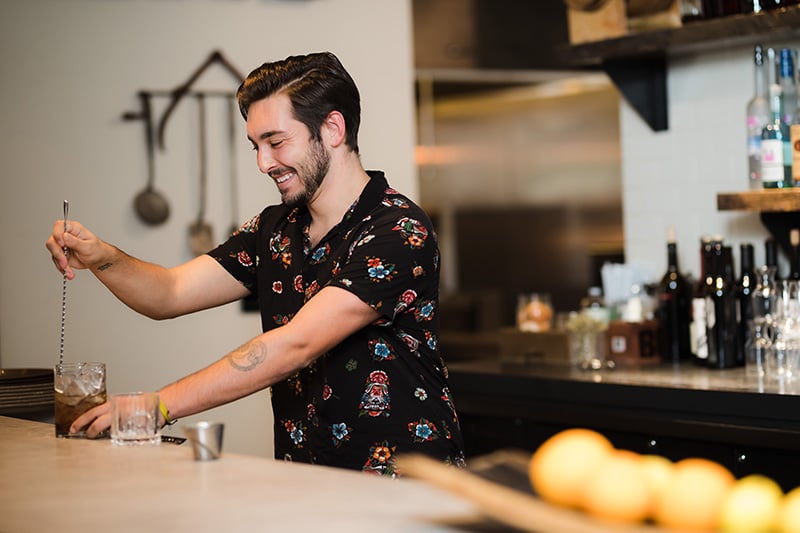 Age: 25
You might know him from: He was a bartender at Fin & Fino and The Porter's House.
Relationship status: Single with a lab-pit bull mix named Butch
Hometown: Waxhaw
Currently lives: Uptown
Favorite sports teams: Panthers and Hornets
Currently reading: Booze and Vinyl: A Spirited Guide to Great Music and Mixed Drinks by André Darlington and Tenaya Darlington
Where does your interest in cocktails come from? I've always had an interest in cooking in general. When I started working at The Porter's House four years ago, I watched what the bar manager was doing, and it lit a fire under me to learn more about cocktails. I'm naturally inquisitive and will ask a mixologist, "Why are you doing that?"
Describe your role at Dogwood Southern Table & Bar. I have full control over creating and naming the drinks and designing the menu. At first, it was overwhelming, but I'm hitting my stride, from conceptualizing something to bringing it to the glass. I do all the management stuff before we open or after we close so I can interact with guests when I'm behind the bar. I like to make customers feel like we're their friends and enjoy their experience, especially now.
Tell me about your cocktail program. I'm a big fan of local ingredients. I love using things in funky, different ways. I just did a drink with smoked sweet potatoes and roasted beets, so not necessarily what you'd expect in a cocktail, but it's still fun and approachable—complex but not too challenging to the palate.
What's been the biggest challenge of packaging cocktails to go? Figuring out all the rules to go along with it (laughs). How do you make this in a way that it's not a $14 drink and still looks nice? We've moved to Mason jars and include recipe cards and a handwritten note. Since customers aren't sitting at the bar anymore, that's the little bit of communication we can still have with them.
What do you think is an underappreciated flavor? Bitter or umami.
What's your favorite food and cocktail pairing? A gin-and-champagne cocktail with fried chicken.
What's the most creative cocktail you've ever made? At World Class (a nationwide bartender's competition) last year, I made a drink with cherry tomato, cilantro, salt, tequila, and a few types of vermouth. On the palate, it tastes like pico de gallo.
Any drink trends you're watching? I think we'll see a shift to more low-ABV drinks and more focus on spritzes.
What's your adult beverage of choice? Lately, it's been a lot of tequila and mezcal. Anything with those, and I'm on board.
Any drinks you won't touch? I'm not a big fan of cynar, an amaro made with artichokes.
What do you like to do outside of work? I spend a lot of time with my dog, and I do a lot of running. I've been watching The Sopranos for the first time over the last month or so. I usually watch one episode a day.
What's your favorite restaurant in Charlotte other than your own? I'm a big fan of The Crunkleton, Leah & Louise, Bardo, and VANA.
What's your guiltiest pleasure? I can't keep sweets—or any kind of ice cream—in my apartment because I will absolutely crush it.
Any rules to live by in a bar? Tip your bartender. In times like these, take care of people in hospitality.
THE TOUGH STUFF
Chocolate or vanilla? Chocolate
Coffee or tea? Coffee
Cake or pie? Pie
Manhattan or mojito? Mojito
Charcuterie board or glazed nuts? Charcuterie
Lobster roll or egg roll? Lobster roll
Comedy or drama? Drama
Street eats or sit-down? Sit-down
Facebook or Instagram? Instagram