On the Line: Kristi Martin, General Manager of Your Mom's Bazaar
She has pulled through the COVID economy—and cancer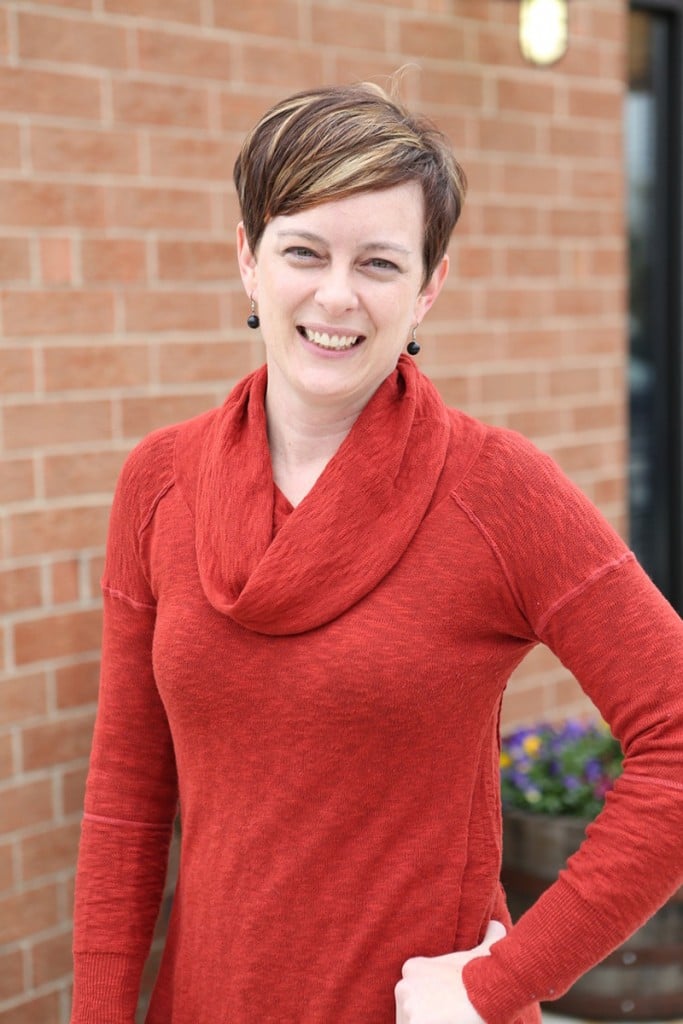 Age: 47
You might know her from: She founded and owns FEAST Food Tours & Culinary Events.
Relationship status: Married
Hometown: "I was born in Ohio but moved to Salisbury at age 11. I came to Charlotte in '91 and never left."
Currently lives: Harrisburg
Favorite sports team: Carolina Panthers
Currently watching: The Crown
Currently reading: One Thousand Gifts by Ann Voskamp
How did this opportunity with Your Mom's Bazaar come to you? I'd known owner Courtney (Buckley) for a few years—we're in the Piedmont Culinary Guild together. She was looking for a general manager with knowledge of local food. I officially started in December 2020.
Describe your role with FEAST and how it will overlap with Your Mom's Bazaar. I founded (FEAST) in February 2012, because I love sharing Charlotte's culinary story and creating a fun experience for people. At the time of COVID, I had three full-time and six part-time employees. When the pandemic hit, we had to shut down operations because we can't run food tours and go in and out of restaurants. So I had to let everybody go and put everything on hold. I may start it up again, but Your Mom's Bazaar came along at a good time—the opportunities aligned.
How did your cancer diagnosis change your approach to work? In December 2018, I was diagnosed with acute myeloid leukemia. I started chemo in January 2019 and got into remission, so I had to find a stem cell donor. We found an anonymous donor through Be the Match, and I got the bone marrow transplant in April 2019. But I had to hand everything over to my employees and do what I could from my hospital bed.
How's your health? My 12-month quarantine ended in April 2020, so I had to go right back into quarantine because I have a baby immune system. I'm still in remission, and I've had hardly any rejection symptoms, so I'm almost back to my normal self. But yeah, I was wearing masks in restaurants before it was cool (laughs).  
What do you think is an underappreciated flavor? My favorite flavor profile is bitter. I love IPAs, Negroni … I'm a bitter girl—well, not that kind (laughs).
Is there one recipe you'd still like to master? I've started pickling, fermenting, and canning. I'm still learning at the basic level, but I'd like to make my own vinegar.
What would be your last meal? I'd eat at the best Michelin star restaurant in the world. Or spend a week and go to all of them and have my socks blown off (laughs).
What's your favorite way to spend an unscheduled day in Davidson? I'd start at the Davidson Farmer's Market with a Summit Coffee and a Your Mom's Donut. If the weather is nice, I just love roaming in and out of the shops and boutiques. I'd have lunch at the Pickled Peach, and I'd end the day with cocktails and dinner at Kindred. 
What's your favorite restaurant in Charlotte? That's impossible to answer, so I'll say Soul Gastrolounge because it's so diverse and checks a lot of boxes.
What's your favorite food city, other than Charlotte? Charleston.
What's one culinary trip you'd still love to take? Hundreds! I've traveled a lot, but I've never been to New York City, so that's at the top of my list.
What do you like to do outside the kitchen? When I came out of cancer, I wanted to live more and figure out who Kristi 2.0 is. So I do yoga. I've learned to knit. I did an alcohol ink painting class at Levine Cancer Institute, so I've been getting into that. Who knows? I may have customers in alcohol ink art.
THE TOUGH STUFF
Chocolate or vanilla? Vanilla
Coffee or tea? Coffee
Beer or wine? Beer
Cake or pie? Cake
Doughnut or muffin? Doughnut
Lobster roll or egg roll? Egg roll
Bon Appétit or Gourmet? Bon Appétit
Ina Garten or Paula Deen? Ina Garten
Street eats or sit-down? Sit-down
Facebook or Instagram? Instagram