On the Line: Matthew Krenz of The Asbury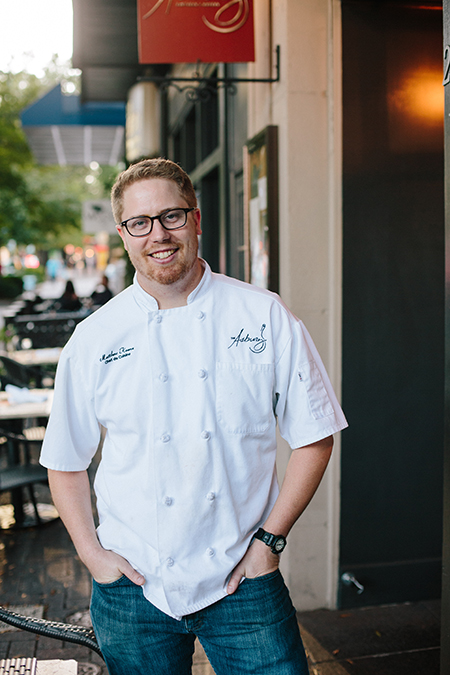 Executive chef since: May 14, 2016
Age: 31
Previous restaurants: Four Square in Durham, Passion8
Favorite sports team: Panthers, any soccer
Relationship status: Girlfriend, Rachel, developer with Milhaus
Pets: King Charles Cavalier spaniel named Kenzie
Neighborhood: South Charlotte/Huntingtowne Farms
Who is a chef you look up to nationally? (Chicago chef) John Shields
If you could mandate people try a dish at The Asbury, what would it be? Pork cheeks
Where do you eat when you're not working?
Customshop
When did you know cooking was your future?
(Chef) Shane (Ingram at Four Square) asked me to be a pastry chef (in 2011). More of an aha moment for me was when I started doing breads there, because it's incredible that you can take four things and they can be four million different things. You can take water, yeast, salt, and flour, and there can be an infinite number of possibilities with what you get from it. That is one of the coolest things, I think, about what we do. And it translates very much into the savory kitchen, as well.
What did you learn working with Luca Annunziata at Passion8?
I found that that smaller, more intimate atmosphere really caters to the type of cuisine that I pursue, and that taught me a lot. It was a big growing part of my career and the things that I was really able to learn about myself.
You've always liked art and studied graphic design. Does art apply to what you do now?
Absolutely. Thinking of the color wheel, contrasting colors. How can I make something that's red on the plate stand up a little more off of just a blank canvas? The plates are our canvas. Using a bright green versus a bright red. It's so obvious and simple, but unless you're trained in that way, and you've trained your eye in that way, there's these subtle nuances of the visual side of what we do that I don't think everybody understands or cares about. There are so many people out there that are like, I just want to cook tasty food. And I think that's awesome. Who doesn't? I want to be able to show you what I think the food can be.
Where do you see The Asbury going under your guidance?
I absolutely will continue the trend of pursuing the best local ingredients we can and highlighting them. I'm still going to find the best ingredients that I can and put them on the plate. A lot of my style of food is finding ingredients you maybe wouldn't put together, or maybe you have and you just didn't know. I did piquillo peppers, blueberries, and lightly smoked peanuts, and it was really freaking good.
Your family owns a cattle ranch. How does that impact your cooking?
I get so mad to see these steak houses, and I understand the business part of it. Being somebody who has raised a cow literally from a baby into slaughter, I get so mad that it doesn't get used. And so, for me, I've made it kind of a personal challenge to embrace (the) whole animal. That's why we have beef heart on the menu right now.
On days off, what do you do?
Garden. I have a little herb garden and have fresh tomatoes and cucumbers and all that stuff. Or read—anything that involves not hearing people or ticket machines.
What are you currently reading?
My Last Supper. It's all of these chefs talking about what they want on their final meal.
What would you want for your final meal?
It's so stupid, but just good bread, really good butter, maybe like some good charcuterie or fois gras pâté or something like that. I'm such a big fan of those traditional forcemeats. I think they're so underrated.
---
This article appears in the November 2016 issue of Charlotte Magazine
Did you like what you read here? Subscribe to Charlotte Magazine »
---