On the Line: Sam Fugate, General Manager at Little Mama's
She talks Crocs, paper planes, and playtime in the kitchen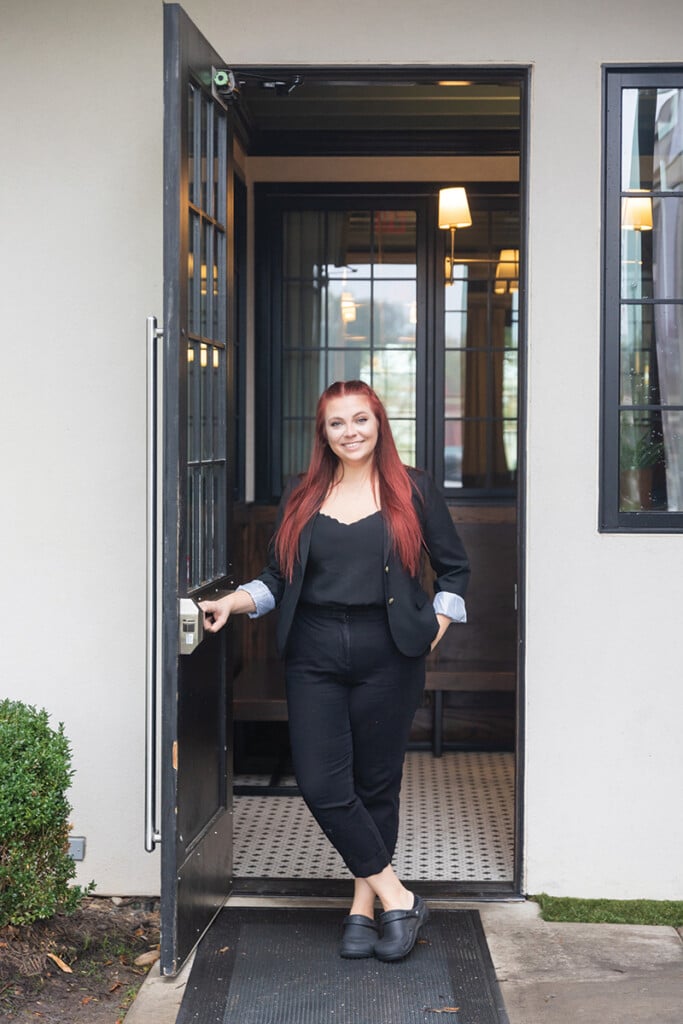 Age: 28
You might know her from: When she was general manager at Paco's Tacos & Tequila
Hometown: Unionville
Currently lives: Ayrsley
Currently watching: The Watcher
Where does your love of cooking come from? Growing up, we always cooked at home. My dad created dishes, "goulashes" as he called them, which were basically a bunch of random ingredients he'd put together, and somehow it always came out delicious. It's why I've always loved to play in the kitchen.
How did you get started in this business? I started working at Sammy's Deli in Plaza Midwood when I was 13. My dad would go there before work, and he told the manager I wanted to work there. He said I was kind of young but decided it would be OK. I've never been able to leave the hospitality industry—and I've tried—but this is where I'm supposed to be. 
How did this opportunity at Little Mama's come to you? I started at Mama Ricotta's nine years ago, and I've worked at almost all the FS Food Group concepts. I was general manager at Midwood Smokehouse, then Paco's. That's where the tequila craze came in for me. It helped cultivate that knowledge and light that fire. You can take these different spirits and make them fit anybody's taste. I got referred to Little Mama's in October 2021.  
Did you have a hand in developing the menu? For drinks, yes. But I always collaborate with my bar team. The chef doesn't need much direction. The bar is more my realm because it's where I have the most playtime. 
How much taste testing does your job require? A lot. It's my favorite part of the day. Right before lunch or dinner service, we taste our top 10 dishes on the food line. We taste the cocktails a lot, too, especially when it's a different bartender, because you want consistency. 
What's one ingredient you always have on hand? Cappelletti. It's an Italian liquor made of brandy infused with herbs. It's bitter, but it makes the flavor so much better. 
What shoes do you wear in the kitchen? Crocs.
What's your favorite meal to cook? I have two. If I'm trying to be nostalgic, it's chicken and dumplings. If I'm trying to be elevated, I do this really good garlic butter steak with oregano roasted potatoes and sautéed broccolini.
Is there one recipe you'd still love to master? Risotto.
What's your favorite adult beverage? A paper plane or an old fashioned. 
What do you think is an underappreciated flavor? A pear in a cocktail. It's hard to get it right, but when it does come through, it's delicious. A lot of people don't give it the chance that it needs. 
What's one restaurant chain you're not ashamed to admit you love? Chick-fil-A.
What's your favorite restaurant in Charlotte other than your own? It's between Peppervine and Dilworth Tasting Room.
What's the most surprising thing about you? A lot of people are surprised by my age. Most people think I'm way older. 
What's your guiltiest pleasure? Starbucks. I go way too often. 
Any rules to live by in the kitchen? Always communicate where you are, and always allow your passion to come through. 
THE TOUGH STUFF
Chocolate or cheese? Cheese
Coffee or tea? Coffee
Beer or wine? Wine
Hot dog or taco? Taco
Pasta or pizza? Pasta
Chicken parm or chicken biscuit? Chicken biscuit
Milkshake or martini? Martini
Street eats or sit-down? Street eats
Comedy or drama? Comedy
More money or more  free time? More money
Twitter or TikTok? TikTok