On the Line with Adam Duke of Dukes Bread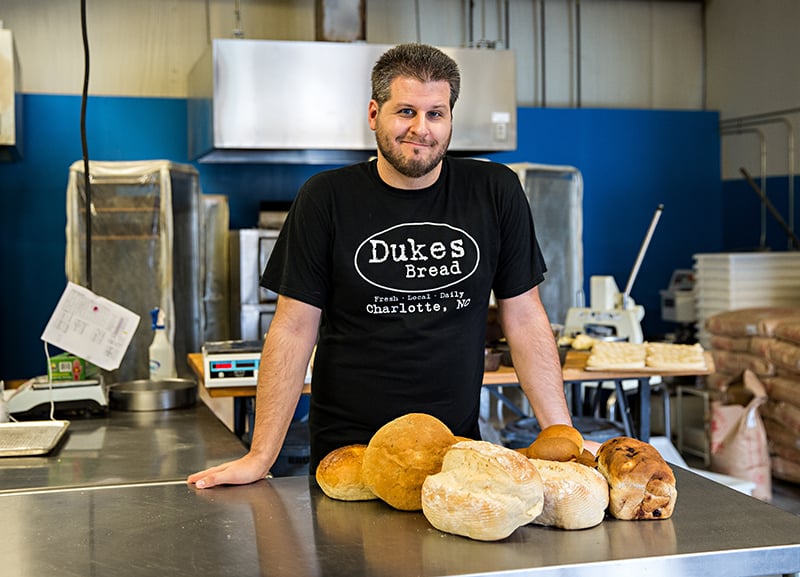 Dukes Bread
In business since: 2010
Hometown: Syracuse, New York
Age: 33
Favorite sports teams: Syracuse Orange and Buffalo Bills
Relationship Status: Married; his wife, Ellen, is a chef instructor at Johnson & Wales University
Pets: Two pugs, B.B. and Spaghetti
Neighborhood: University City
Who is a chef you look up to?
The bread instructor at Johnson & Wales, Harry Peemoeller. He's the kindest, nicest man, so generous with his knowledge. And every three or four years, there's this kind of culinary Olympics in France called the Coupe du Monde. He won silver. So the man is like the second-best bread baker in the world, minimum. We should have a shrine to him here.
Where do you like to eat when you're not baking?
I love little hole-in-the-wall places where you can get in, get your food, and get out in 20 minutes. Le's sandwich shop in that little Asian mall, places like that.
Lots of people know you from the farmers' market, but your bread is scattered around town, right?
The main market people can find us at is the Charlotte Regional Farmers Market on Friday, Saturday, and, in the summer, Sunday. We wholesale breads to Whole Foods—we deliver fresh daily—and Healthy Home Market, and some smaller stores. We're also in a bunch of different restaurants: Bang Bang Burger, Rhino Market uses our breads in all of their deli sandwiches, Earl's Grocery, Fern, Fūd at Salud.
I heard you started out of your garage.
My wife, her specialty was cakes. We built a little bakery in our garage for her to work out of. I was like, "You're not using the bakery at night. Can I bake some bread in there?" … We outgrew the garage pretty early on but we were masochistic. We kept shoving things in there.
How many different kinds of bread do you make?
We make about five different doughs: sourdough, whole wheat, multigrain rye, brioche, and a potato dough. But we'll do different things with them, add inclusions. So if you go to the market, you can get our classic rustic sourdough and it'll have gorgonzola or rosemary or cracked pepper and cheddar. … All in all, we make about 30 different products.
How old is your starter?
It's 207 years old. When I got the starter, when I was first putting the company together, I found a guy whose family in Italy had been keeping this starter for 200 years, and he was kind enough to send me some.
Didn't you use some of it in a beer collaboration?
Oh, my gosh, yeah. … One thing bread and beer have in common is the yeast. Very different processes, but they share that. The guys at Free Range (Brewing, in NoDa) were brave enough to take some of our starter and throw it into one of their beers. I hate to admit, I'm not a super beer person. But it came out amazing. I could taste hints of our bread in the beer.
It had a good name, too.
Yeah, we called it I Knead You.
You must eat a lot of bread, right?
I have gained weight since I started this business. I'll put that out there. But when I bake, I drink about a gallon of water. It's a very physical job, and that keeps you in OK shape. … We do work with a lot of chefs on custom projects. And that means a lot of testing. And a lot of sampling. And a lot of eating. I don't mind. —Adam Rhew