On Their Last Day, Student Newspaper Editors Cover a Shooting on Their Campus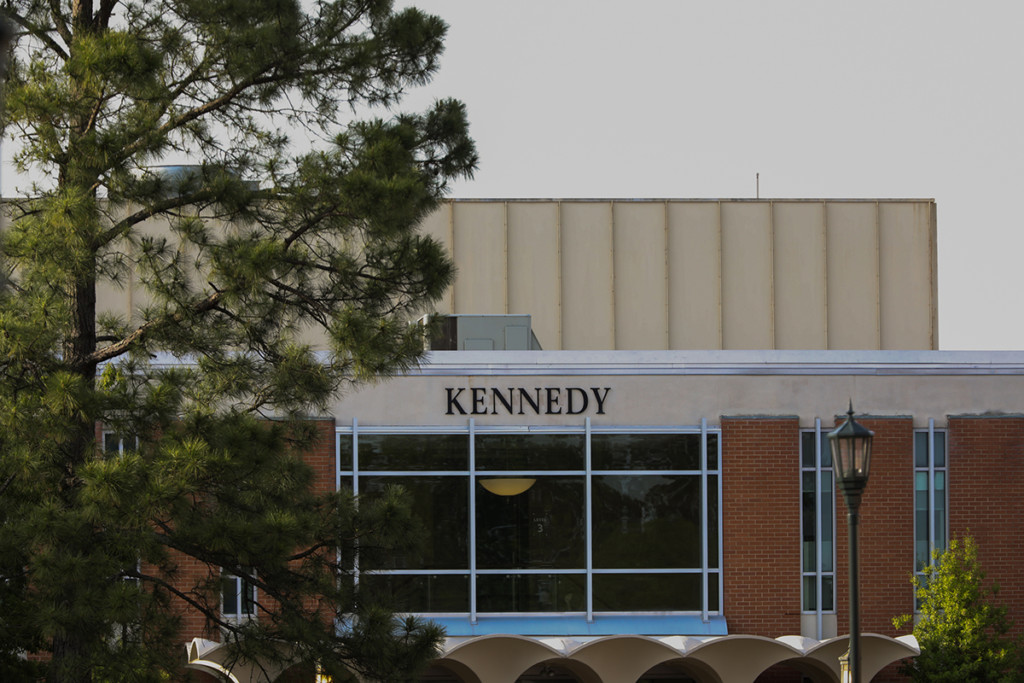 THREE HOURS BEFORE A SHOOTING WAS FIRST REPORTED on University of North Carolina-Charlotte's campus, Alexandria Sands tweeted that she was "officially a retired college newspaper editor. Thank you for letting me tell your stories, #UNCC." At around 5:42 p.m., as she was sitting in the last class of her college career, she saw a message in a group chat for the Niner Times' college newspaper staff. "There's a shooter on campus in Kennedy," it read.
Sands, the college paper's outgoing community editor and a Charlotte magazine editorial intern, looked around her classroom on the second floor of Fretwell Building where nearly 20 students were working on a course evaluation for their Grammar for Writing course. The teacher had stepped out of the room, as is protocol for end-of-semester evaluations, and the door was open. "Guys, I think there's a shooter on campus," Sands said to the class.
In disbelief, the students all stared at each other and wondered what to do next. One student, who said she had some emergency training, wrapped a belt around the door hinge and tightened it. Another student shut off the lights as the rest of the class moved to the far corner of the room. Sands sat on the classroom floor, her laptop in her lap, and started writing.
A couple of minutes later, at 5:50 p.m., a NinerAlert confirmed the rumors: "Shots reported near Kennedy. Run, Hide, Fight. Secure yourself immediately. Monitor email and emergency.uncc.edu." For the next two and a half hours, UNC Charlotte's campus remained on lockdown as Sands and the rest of the Niner Times' team reported on the situation, largely from their smartphones.
Chris Crews, a photographer for the student paper, took a couple of pictures outside Atkins Library, where dozens of Charlotte-Mecklenburg Police cars congregated. Media were directed to the Harris Teeter, then to the now-closed O'Charley's, on University City Boulevard. Elissa Miller, the paper's arts and entertainment editor, headed there for a press briefing while editor-in-chief Jeffrey Kopp tracked the staff's whereabouts from his phone. Sands stayed under lockdown in her class, tweeting and posting to the Niner Times website.
"Everyone else was stuck on campus for the most part and couldn't leave … I just felt really stuck in my apartment," Miller told me over the phone on Tuesday night, explaining why she headed out to report. "I'd never reported on anything like that before. I typically cover arts and entertainment. I'm not the news journalist for us.
"(I felt like) I did not know what I was doing," she continued. "I just needed to be doing something."
As Miller, Sands, Kopp, and the rest of the Niner Times staff continued to cover the situation through the night, they received the news that one of their own had been shot. Drew Pescaro, a sports writer, suffered life-threatening injuries and was in surgery. He is now in stable condition.
When I spoke to Miller and Sands late Tuesday night, they weren't sure what the Niner Times' coverage would look like in the coming days. Even with the last paper of the semester printed, they knew there was more work to be done.
---
Read our latest coverage of the shooting here.