One Home for Two Lifestyles
Radio host Ramona Holloway built a home where her mother, Louise "Wheezy" Glover, could age comfortably.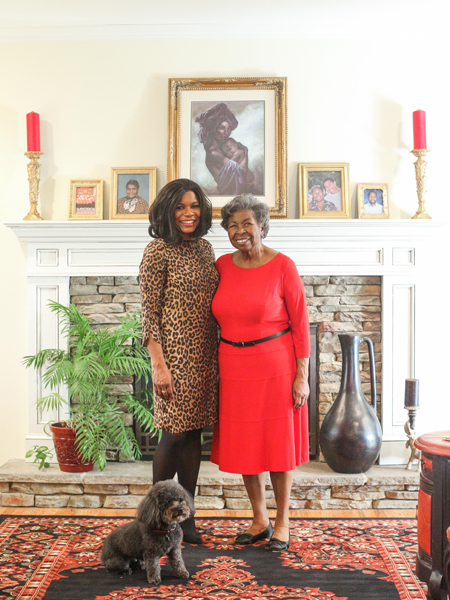 RAMONA HOLLOWAY HAS a pair of black slippers with animal print lining. She likes to wear them when she's at her home in Belmont, relaxing. But if she were to wear them on air during the afternoon broadcast of "The Matt & Ramona Show" on 107.9 The Link, you'd never know. You can listen to her laughing, talking, and showcasing her sharp wit, though there's a lot more to her that you can't see. That's the thing about radio stars; they can feel like familiar friends, but there are plenty of hidden sides to them.
Holloway moved to Charlotte from Virginia Beach in 2001 when the station recruited her and Matt Harris as a team. She purchased a home in south Charlotte near Ballantyne. In the fall of 2003, Holloway's mother, Louise "Wheezy" Glover, had what they thought was a stroke. It turned out to be an injured disk in her neck that required surgery and a lengthy rehabilitation process. Holloway, an only child, did the best she could to care for her mother, who lived in Columbus, Ohio. She hired home health care personnel and senior taxi services. She spent her weekday mornings on the phone with doctors and insurance companies. On Friday after her show, she took the 8:20 p.m. flight to Columbus, and on Monday, she caught the 6 a.m. flight back to Charlotte. She continued the routine for four to five months.
Then she convinced Glover to move to Charlotte with her. In 2004, Holloway and Glover moved into a house in Indian Land, South Carolina, in the Bridgehampton neighborhood. Her mother's second back surgery in 2008 and another in 2013 proved that the home was too large and difficult to navigate. The surgeries required Glover to use a wheelchair, and then a walker, for several months afterward.
Glover's bathroom is designed to accommodate
a wheelchair.
In 2010, Holloway and Glover moved to a smaller house in Belmont with the intent of finding a "forever home." They chose the small town west of Charlotte because it reminds them of Oberlin, Ohio, where Glover was raised and Holloway was born. When Holloway goes to the post office without her mother, someone always asks where she is. They enjoy the comfort and familiarity that comes with being members of a close-knit community.
Holloway exhausted herself and her real estate agent searching for a Belmont home that met both of their needs. "If you get a master downstairs, I get a room with bunk beds and a Pokémon poster," Holloway says of traditional floor plans.
She eventually decided to build instead of buy and sat down with Integrity of the Carolinas to map out the ideal house. She provided ideas, and the builders offered suggestions that ease mobility, such as outfitting the entire downstairs with hardwood floors, even inside the closets. Holloway and Glover moved into their 2,700-square-foot, two-story brick home in Belmont Village in March 2014.
All of the doorways on the first floor, including small spaces, such as the laundry room, are wide enough to accommodate a wheelchair. The front door has three steps up to it, but the back door, where Holloway and Glover enter after parking in the detached garage, has a ramp made out of pavers.
It's elegant and gradual—the opposite of the bulky, metal ones that zigzag up to a house's front door.
"I watched my friends build ramps and take doors off of hinges to move in family members," Holloway says. "I learned from all of it."
Glover's bedroom and bathroom, with a neutral color palate of beige, taupe, and moss green, have plenty of space to maneuver. Her bathroom counter drops down on one end to a seated height. She can sit here, whether on a chair or in a wheelchair, and see the mirror to do her hair and makeup. The edge of her tub is low to easily step in and out, and the toilet is higher than most. Oil-rubbed bronze grab bars in the shower and by the toilet blend with the decor. A bulletin board holds her medical information in case someone comes in to check on her and needs to access it.
Upstairs, Holloway has a "grown-up" room, as she calls it. Her bathroom, with a garden tub, leads into a walk-in closet. The bedroom's modern red-and-black colors continue throughout the upstairs. A photograph taken by her friend Nan Gray hangs to the right of her bed. It depicts a smiling woman who survived two genocides in Burundi, Africa. If she ever has a long day, Holloway looks at the photo, and any complaints vanish.
A third bedroom serves as a guest room. If she needs someone to stay with her mother while she's gone on a trip, the guest doesn't have to sleep in Holloway's bed or on the couch. Holloway's aunt made the textile art hanging above the bed. A Jack-and-Jill bath connects to Holloway's office.
"Here, I get in the zone," she says. "I sit there with a glass of wine and get lost in my own thoughts."
Holloway and Glover spend most of their leisure time in Glover's bedroom or the living room. The large living space has a gas fireplace, built-in bookshelves, family photos, matching black leather chairs, and no TV. The hookups are there, above the mantel behind the black Madonna, but Holloway doesn't want to spoil the serenity. She prefers to talk.
Her favorite picture hangs on the left wall above the couch. The enlarged black-and-white photograph was taken in 1961. Glover, who studied French and Spanish, and her best friend, who studied English and German, are standing in Paris with purses on their wrists and stylish sunglasses. After college graduation, they vowed to tour Europe. So they did.
Sitting in the living room, looking at the photo, Holloway teases Glover about her tale that the Europeans thought she looked like Aretha Franklin and her friend like Diana Ross. A bit later, when talking about who does the cooking, Glover gets Holloway back with the story of when she put a dish in the microwave instead of the oven during a cooking segment on live television. Glover recalls yelling at the TV, "No, Ramona! That's the microwave!"
She listens to "The Matt & Ramona Show" every afternoon. She even had her own segment for a while, called "The World of Wheezy." She and Holloway have a special relationship—proud mother and devoted daughter—that might not show on the radio, but it's evident here, in the home they share.
---
---
---