One Man and a River
David Merryman, charged with protecting the Catawba River, has a big job in any year. But in 2010, all 182 pollutant-discharge permits—including one for two high-hazard coal ash ponds on Mountain Island Lake (also known as "our drinking water")—are up for renewal. It's time for the Riverkeeper to get to work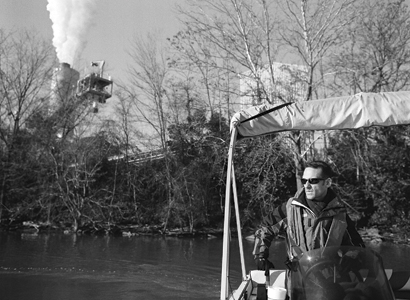 David Merryman strains to see through a thin line of leafless trees along a worn wire fence, his legs stiff and straight in faded black knee-high waders. He's standing on a rocky berm alongside the railroad tracks near Old Dowd Road. As he shifts his weight to dig into his jeans pocket for his camera, the fist-size stones crunch beneath his feet. Staring at a muddy puddle at the bottom of a steep red-dirt embankment, he says, to no one in particular, "It's kind of green. That's not good."
He snaps a few photos of the murky water pouring over its temporary barrier and shoves the camera back into his pocket. He's there because an anonymous tipster reported a building contractor who buries construction refuse in a pie-shaped piece of property on the other side of the fence. The tip came from a man who claimed to work for the contractor as a backhoe operator who said he was paid to dig holes so deep they hit water.
A few steps down the tracks, a sign reads "Paw Creek." Within half a mile, the creek empties into Lake Wylie, which is part of the Catawba-Wateree river system and the drinking water source for several communities, including Belmont and Rock Hill.
Merryman is the Catawba Riverkeeper. His job is to be the voice of the river named after the area's original inhabitants, a river that begins twenty miles east of Asheville and winds its way through two states while collecting water from a 5,000-square-mile watershed. In North Carolina alone, the river has 182 discharge permits, or licenses to pollute, all of which are up for renewal in 2010. One of those permits gives Duke Energy permission to drain water from two unlined, high-hazard coal ash ponds into Mountain Island Lake, the source of 80 percent of Charlotte-Mecklenburg's drinking water.
"All day, every day these coal ash ponds are discharging directly into our primary drinking water reservoir," says Merryman. "I've not received any assurance that our river, its wildlife, or our drinking water is being protected by these permits."
As the river's advocate, he will analyze every word of every permit, investigate every tip, scrutinize every new regulation, and watchdog every polluter in his ongoing pursuit to protect the Catawba, and all of us, from harm. And he does all that while balancing water-quality concerns with demands from businesses that rely on the Catawba to function, create jobs, and be successful.
"The safety and prosperity of millions throughout the Carolinas depend on the Catawba," says Merryman. "We have no option but to make sure it is fully protected." With all of its discharge permits under review in 2010, this is the perfect year for him to prove his point.
The Riverkeeper will be twenty-seven in August, is clean cut — not counting the ratty moccasins he frequently sports—and, as his surname implies, often wears an amused grin and is quick to crack a joke. He's barely over five feet tall, with short, tousled brown hair. Unless he's eating or in a meeting, he doesn't sit down much. His blue Toyota Matrix hatchback, with more than 125,000 miles on the odometer, always has waders, hiking boots, a digital camera, and goggles in the back seat.
A native of Memphis, Merryman says he was a couch potato as a child. It wasn't until he interned at Yellowstone National Park, during his junior year at Gardner-Webb University, that he felt compelled to become a water quality advocate. Still, he says, "I don't tag myself as an environmentalist. I tag myself as a water drinker."
Most weeks, Merryman logs about sixty hours in his office and on the river. Although he's been on the job for nearly two years, family photos, artwork, and his diplomas are still propped against the wall behind his desk, waiting to be hung. A trout-shaped stapler — a gift from his wife — and office-warming gifts from his mother line the windowsill near a bookcase full of biology and chemistry textbooks. Stacks of inspection reports and other official-looking papers overwhelm every flat surface in his office. An electric blue kayak stands on its nose behind the door and a color-coded spreadsheet, listing renewal dates for all the river's discharge permits, is taped to the front.
Though it seems like a daunting undertaking, the North Carolina Department of Environment and Natural Resources renews discharge permits for an entire river system once every five years on purpose. The total estimated pollutant load for the river is taken into consideration in an attempt to balance the environmental impact across the entire river basin and ensure no entity is discharging more than its fair share of any one substance.
It is a huge task, though, especially for Merryman's five-person staff. Besides, reviewing permits isn't the Riverkeeper's only responsibility. Meetings consume some days and on others he's in Raleigh or Columbia, lobbying on behalf of the Catawba, deemed in 2008 the most endangered river in the country by American Rivers, a nonprofit conservation organization. Then there are days when he must cancel everything and focus on a water-quality emergency, usually called in by one of his hundreds of trained volunteers.
Without those volunteers watching out for the river, not only would the foundation's mission struggle but its budget would as well. The majority of the Riverkeeper Foundation's half-million-dollar annual budget is generated through membership dues and grants. When state budgets allow, North and South Carolina might kick in a few thousand dollars, but, in this economy, that funding isn't guaranteed and neither state contributed any funding last year.
That's why in a year when the foundation's twenty-something-year-old boat needs a new engine, Merryman can't afford to skip an event where people expect to shake his hand. So there are many nights he attends the after-hours fundraising events and membership drives his nonprofit organization banks on to keep operating.
When the budget allows, Merryman also teaches classes to volunteers. Even though the three-hour classes are often scheduled at the end of a twelve-hour day, he patiently explains complex environmental laws to his students, most old enough to be his grandparents. He laughs and changes the subject when someone asks his age — not that many do. He seems more mature than his years and he takes his responsibility to the river seriously, often calling it "my river" and introducing himself as "your Riverkeeper."
If you want to frustrate him, though, all you have to do is ask him about working with appointed officials who he says should understand regulations better than they often do. He'll grit his teeth and bang his fists as he details spending hours explaining decades-old environmental laws to them, a problem that may intensify this year.
As of January 1, the North Carolina Utilities Commission no longer regulates coal ash ponds. That responsibility now belongs to the Department of Environment and Natural Resources. Unfortunately, thanks to a strapped state budget, the department is already hobbling along with a skeleton staff, few of whom know much of anything about coal ash.
"This is a good step," Merryman says of the change, "but it is by far not enough. What we need is conclusive evidence that our river and our drinking water is safe."
In its raw form, coal ash — the waste produced when coal is burned to create electricity — looks and feels like black baby powder. To prevent the dust from contaminating the air, the ash is infused with water to weigh it down. It's then pumped into holding ponds, like the two behind Duke Energy's Riverbend Steam Station, on the shore of Mountain Island Lake, where it stands for a few days, allowing gravity to pull the heavy waste particles to the bottom of the ponds before it drains into the lake.
According to the U.S. Environmental Protection Agency, four of the country's forty-four high-hazard coal ash ponds are on the Catawba River, and Duke Energy owns them all. A high-hazard classification means "failure or misoperation will probably cause the loss of human life" in addition to catastrophic environmental and economic damage.
The Center for Public Integrity, a nonprofit investigative journalism organization in Washington D.C., reports coal ash is "replete with toxic constituents — arsenic, chromium, lead, mercury, and many others — that can wreak havoc on the environment and human health. Exposure to its toxins can lead to cancer, birth defects, gastro-intestinal illnesses, and reproductive problems."
In examining the discharge permits, Merryman wants to make sure that Duke is doing its part to keep those toxins out of the water it is draining into Mountain Island Lake. But it's not as simple as it sounds. That "conclusive evidence" Merryman wants? That's hard to come by.
A decade ago, the coal industry promised the EPA it would self-monitor groundwater near coal ash ponds in exchange for the agency not categorizing coal ash as hazardous waste, a move that would jack up the cost of disposal and, in turn, energy rates. However, since Duke Energy didn't begin monitoring the groundwater near Riverbend's unlined ponds until a little more than a year ago, it's impossible to know if the contamination is getting better or worse. Since the ponds aren't lined with plastic or any other barrier, there's nothing to prevent the toxic contaminants in the ash from seeping through the soil and into the water table.
Charlotte-Area Coal Ash Ponds
Four coal ash ponds — all operated by Duke Energy — sit on the banks of the Catawba near Charlotte. Should the ponds breach their earthen dams, Charlotte's supply of clean drinking water will be severely and immediately impacted.
An environmental group called Appalachian Voices analyzed a recent groundwater sample Duke Energy submitted to the government. The data reveal that the groundwater near all of North Carolina's thirteen coal ash ponds is contaminated with heavy metals and other pollutants "including but not limited to: arsenic, boron, cadmium, chloride, chromium, iron, lead, manganese, pH and sulfate." Neither the state nor Duke Energy has refuted the group's report.
The contamination exceeds state groundwater standards, but because the samples came from well within Duke Energy's property lines, there's nothing the state, or Merryman, can do about it. Says Andy Thompson, a Duke Energy representative, "We are in compliance with our discharge permit. … We meet the requirements that have been set up by the Division of Water Quality [a state agency]."
At first glance, coal ash ponds look like any other man-made pond. On any given day, blue herons, wild turkeys, and deer wander around the banks, parts of which are edged by cattails and oak trees. However, where the large pipes that run from the back of the coal plant enter the first pond, the bank is black, like cooled lava.
There's a wide dirt and gravel road between the first pond, built in 1957, and the second pond, built in 1986. Not counting the coal plant, the ponds look as if they're surrounded by woodlands, but they're not. The ponds' raised, grassy berms are visible to passersby on the lake and from Horse Shoe Bend Road. Less than 400 yards away, the Stonewater neighborhood is home to thousands.
The older of the two ponds consumes forty-one acres and is eighty feet deep. The second pond is twenty-eight acres and seventy feet deep. (For comparison, a standard telephone poll is fifty-five feet tall.) Unlike the eighty-four-acre coal ash pond that broke through its dam in Tennessee in 2008, devastating a town, the Riverbend ponds are held in place by dams built with earth, not coal ash, and they are professionally engineered. Nevertheless, should the ponds breach their earthen dams, Charlotte's supply of clean drinking water will be severely and immediately affected.
Duke Energy officials maintain the ponds are safe and, according to a 2009 EPA report, the earthen dams containing the ponds behind Riverbend are listed as "satisfactory" — the highest rating.
While the county also draws drinking water from Lake Norman, Mountain Island Lake provides 80 percent of its water supply. Should the water in Mountain Island Lake be compromised, it's feasible Charlotte-Mecklenburg Utilities would not be able to provide enough clean drinking water to sustain the city since the water treatment plant on Lake Norman isn't large enough to process the amount of the water the county requires.
<
Although Gaston County has shared its contingency plan in the event of an environmental disaster on the Catawba River, Merryman says, "Charlotte-Mecklenburg Utilities has not been willing to produce a contingency plan to deal with the potential contamination of Mountain Island Lake in the event of a coal ash release of the type that recently happened in Tennessee."
Even if the ponds don't breach their earthen dams, Duke Energy, according to its own records, discharges more than a pound of arsenic, and other heavy metals, from the ponds into Mountain Island Lake daily. But the coal plant isn't violating any laws since its current discharge permits don't limit the amount of arsenic it's allowed to discharge into the lake.
Rusty Rozzelle, Mecklenburg County's Water Quality Program Manager, who calls Merryman "an asset," says Duke Energy has always been forthcoming when asked for information.
Merryman agrees Duke Energy isn't totally at fault, adding the company is always willing to listen to his organization's worries. He believes if anyone's to blame for lax pollution regulations and oversight it's federal and state policymakers who bow to industry lobbyists' pressure.
While Duke Energy's coal ash ponds are a major concern, Merryman has other ponds and company permits to consider this year. That's why he's relying on his volunteers to help him keep up with other water quality issues on the Catawba, like stormwater runoff violations at construction sites.
That's also why, on Saturdays, you're likely to find Merryman on a wicker ottoman in the corner of his office—ignoring the phone and neglecting his laptop — with a stack of permits, a yellow highlighter, and a mug of Lady Grey tea. While he doesn't plan to try to block any permits, he is working to ensure they are accurate and that they protect every life and business that relies on the Catawba River for clean water.
Sundays, however, are reserved for his wife, Jennifer, a student at Johnson & Wales, when they might take a day trip to the Yadkin Valley for a wine tasting tour. But, she says, even on his days off, "There is never a time when he's not the Riverkeeper."
That's because, Merryman says, "the alarm is sounding."
On February 28, Duke Energy's Riverbend Steam Station's discharge permit is scheduled to expire. "At that time," says Merryman, "[the Department of Environment and Natural Resources] will make an important decision: protect our residents and their source of water from heavy-metal-laced discharges from coal ash ponds or continue ignoring the facts."
That's why Merryman will continue to work overtime, speaking out for our river whenever, and wherever, he has an audience.

E-mail: editor@charlottemagazine.com, or comment online. Rhiannon Bowman is a freelance writer in Charlotte. This is her first story for this magazine.