One on One with Anthony Foxx
The mayor discusses education, jobs, the DNC, the CRVA, and more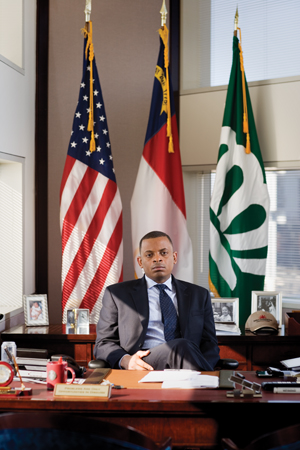 T

wo weeks after he launched his campaign to be elected to a second term as mayor, we sat down for two exclusive one-on-one interviews with Anthony Foxx. Foxx, forty and a Democrat, was first elected to City Council in 2005 and is serving his first two-year term as mayor. We talked about the state of the city, the Democratic National Convention, the mayor's role in education and creating jobs, Tim Newman and the Charlotte Regional Visitors Authority, and the future of light rail

CM: We're sitting here in your corner office. You can probably see a third of the city from here, maybe more. You're a Charlotte native, a West Charlotte grad. Do you ever just sit here, look around and think, "Damn, I'm the mayor"?
Foxx: Here's how I think about it: this office is not something that you own. It's the public's, and I always feel like my job is to focus on the public every second of the time I'm here. I think public service ought to be more humbling than it is anything else. A lot of times people get really intoxicated by serving in a particular office, and I try not to ever do that. When I walk into a room I try to be with people and not be over them. Some people might think that's not mayoral, but maybe we are redefining that a little bit.

CM: Two years ago, when you were first running for mayor, you talked about the narrative of the city. How has that narrative changed?
Foxx: I don't know that it has. This city has an outsized level of ambition, and whatever energy and purpose an individual has can be put to good use here. That's what makes this city different than other cities across the country. If you step up and raise your hand in some of the larger cities in the country, people push you to the back of the line. Here, people push you forward.

CM: But a lot has changed in Charlotte recently.
Foxx: I do think the city is experiencing some transitions. Our business climate is changing. It's unusual for our large company CEOs to directly get involved in civic issues. That's not a criticism—these are multinational corporations that have lots of things going on, and the economy hasn't been an easy one for them to deal with, either. But that's a difference today. The public sector has a stronger role to play.

"I think long term we're going to need to consolidate city and county government, because right now we lack the ability to set priorities at one table. That's a glaring absence."

CM: How have you seen this shift manifested?
Foxx: When it comes to education, the school board is always front and center. But there have been some decisions they've had to make in the last year for which there was no good advice coming from outside to solve. The best the private sector can do is to support the decisions that get made, but balancing those interests becomes a public responsibility. I really think had we lost sixteen of the twenty-four libraries in our community, it would've had a destabilizing effect on our community. And yet there's not, nor was there, a strong push by anyone outside the government to try and figure out how to deal with that. What I'm saying is that as this community grows more diverse, as we get challenged by revenue levels, and as our private-sector partners are more outwardly focused, the public sector becomes more important.
In the last twenty years, when there's been a decision to go forward on transit or the arena, a lot of the energy has come from the business community. There's been an expectation that a lot of the idea generation comes from outside and then government links into it. That dynamic has changed a little bit. I don't think it's necessarily bad but given the weight of the challenges facing us, it's a big change.

CM: What are those challenges?
Foxx: I think infrastructure will continue to be a big challenge for the city of Charlotte. There's more infrastructure that needs to be built than we have the revenues to build.

CM: Meaning?
Foxx: Roads, transit, the airport—planes, trains, automobiles, bikes, and pedestrian facilities, all those things require enormous amounts of money. The City Council made the right decision, I think, to go revenue neutral this year, meaning we were able to reduce the property tax rate after the revaluation. The challenge is that there is not a lot of debt capacity out there to allow us to go build that infrastructure.
Transit has a special challenge because it's sales tax dependent. Our transit system was developed in a time when consumer spending was much more elevated than it is today. Whether today is an indication of the long-term trend or whether there will be a reversion to what was there before is anyone's guess, but the fact of the matter is we're basing our projections on those revenues now. That means fewer revenues to get.
I think another overwhelming challenge for this community is education. We've got to think about education differently. Schools will have to adapt by using technology, trying to work within the revenue that's available. And we're going to have to work a little harder to make the time kids spend out of the classroom a time that's spent learning. That's why I've tried to focus more attention on the youth employment program, on the mentoring programs that we have, and on Project LIFT [a public-private partnership focused on improving schools on the Westside]. I think all three of those are creating a kind of laboratory, if you will, for kids, so when they're in school they're learning. When they're out of school maybe they're working, learning on the job, or maybe they're going to one of these collaborations we have with the mentoring alliance with UNC Charlotte. But we can't afford to expect that our kids, who spend seven or eight hours in school, can compete with kids who spend ten or eleven hours in school in other countries.
---
---
Foxx spoke at the official kickoff event for the Democratic National Convention in early September. Photo courtesy of Meredith Jones.
CM: If there's one defining issue among Charlotte citizens, it's education. But the mayor and Ciy Council have no direct responsibility for our public schools. Do you feel sidelined?
Foxx: Structurally, yes. Personally, no. The structure of our government is siloed, and it's not suited well for mixing and mingling between the different branches. We confront it all the time. Libraries was one issue—it wasn't [the city's] business, but it's a tough issue for the county. My view on it is a little different. The citizens we represent are the same ones who want to go to the library. They pay the taxes that go to both the city and the county. Frankly, I think long term we're going to need to consolidate city and county government, because right now we lack the ability to set priorities at one table. I think that's a glaring absence for our community.
Personally I've gotten involved in education in some ways that maybe mayors in the past haven't. I mentor at West Charlotte High School, I've gotten involved in Project Lift in a big way—not in just the conceptual stages but I am going to continue to be involved going forward. I've also reached out to some of the private foundations to attract interest in Project Lift. I think it's a transformative opportunity not just for us as a city, but as a region, a state, and even the country. I think I have found ways to weigh in on that issue. Maybe it's not right in the red-hot center of it but it's where I feel like I can make an impact.
CM: What would consolidation look like?
Foxx: The short answer is I don't know. There are a lot of questions about it, and they fall into four categories. The surrounding towns would have questions about how they would fit into a consolidated system, and they should have questions. There are questions about how big the board would be—that inherently brings up the Survivor question of who gets booted off the island. There's the issue of minority representation. Then there are the cultural issues between the city and the county and the fact that you can't do it without the staffs working together to integrate those two governments.
There are cost savings there—they may not be huge but there would be cost savings. There would be prioritization opportunities, where we have the opportunity to sit at the same table to talk about how much to invest in our educational system and our infrastructure. My job as mayor is perhaps a little tilted toward economic development and infrastructure and not so much education. The county commission's work is more human services. If the average person feels like the most important thing is education, and we go out and put a bond up for a huge road project, do people feel like their government is looking across systems to make decisions and prioritize? I think that is a huge question for this community. That's not to say, by the way, I'm opposed to roads. I'm just saying we lack the ability to make those choices right now.
CM: If you're elected again, is consolidation something you'd tackle in your next term?
Foxx: Absolutely.
CM: Do you think Charlotte needs a full-time mayor?
Foxx: I think this job is both bigger and smaller than people think. It's bigger in the sense that the demands have increased. Our office gets four times the scheduling requests of the previous mayor. We get four times the citizen calls about various issues that people are dealing with. However you slice and dice it, the expectation is that the buck stops at the mayor's office.
On the other hand, structurally, the job is really not set up to be "a strong mayor" role. It's not a job where the mayor can unilaterally direct a department head to do something. It's a job that requires a lot of persuasion. So I think we're demanding a lot out of the role.
CM: So you're saying that a full-time mayor along the lines of Chicago or New York may not be well received in Charlotte?
Foxx: There's a continuum. You have a weak mayor, part time, which is what we have. The other extreme is you have a strong mayor who's full time, someone who legislatively can pretty much run the city. In the middle you have a weak full-time mayor. And I think that is where Charlotte is eventually going to be. It's recognizing for a host of reasons we want someone who is elected who is focused exclusively on the city. Maybe doesn't run it in the sense that the city manager operates the city, but someone who's literally charged with doing that full time. I know that could be controversial when it comes up, but I think that that will happen. Not during my tenure, by the way.
Just to give you one example [of the challenge of a part-time mayor], I feel very strongly that we have not engaged young people enough in different programs across the city. We have a youth employment program that's the biggest this year that we've ever had, and it's 240 kids. Meanwhile, we're arresting 4,000 kids every year. I see no reason on Earth that Charlotte can't find a way to create 4,000 summer jobs for kids. But in order to get an idea like that to happen, first the council has to say this is a good idea and then the staff has to implement that idea. I think there are some differences of opinion in City Hall about how important of a priority that is. In my mind, when you've got 50 percent graduation rates in some places and a generation of kids that need all of the engagement we can give them, it's an incredible opportunity for us to change the trajectory not only of thousands of kids but an entire city because those kids impact other kids. And certainly the 4,000 we're arresting are impacting other kids too. That's a battle I keep fighting. We'll get there.
On the debt crisis: "I was mad. I think I've never seen our country not rise to the occasion, and I felt like we sank to the occasion."
CM: Your opponent in November's election (Scott Stone) is talking about job creation. How much can the mayor of Charlotte honestly do to affect job creation here?
Foxx: Let's be clear, the private sector creates most jobs and if that's not true, we really are in trouble. The government's job is to create conditions in which the private sector engages in job creation. The mayor's role in Charlotte can have an impact, and I think it has had an impact. I've met directly with several of the companies that have come to this city before they decided to come. If it goes well, then we see those jobs come here and if it doesn't go well, we don't. I'm batting 100 percent right now in terms of those I've spoken with; they've landed their businesses here. I feel good about that. We've announced more than 14,000 jobs in Charlotte in the last two years. That's not easy to do. That takes a lot of work by our partners at the Chamber and a lot of work by those at the [Charlotte] Regional Partnership and our city staff, but the mayor can make a difference.
That's a direct way. There are some indirect ways. One is creating a good climate for jobs to grow, and that means good outcomes on public safety, good infrastructure. Increasingly you've seen me get engaged in education because I think it's a workforce-development issue. If you look at the city over the last two years, from a public safety perspective we've got a thirty-year low in our crime rate. The I-485 project is going to get finished before it was supposed to get started; the widening project is also happening ahead of schedule. High-speed rail is also coming to the area and we're going to see our transit system expand, I believe.
CM: To the casual observer, it seems like the future of light rail in Charlotte is continually in peril. As of today, where do we stand?
Foxx: We're in a far better position than 90 percent of the country. Despite the revenue challenges with the sales tax, for the first time in the history of our transit system, our president has put a line item in his budget that is expressly for us to finish the design work on our project. Locally, we feel confident we've got the revenue stream to support the 25 percent share at the local level, and we just got a letter from the state that says they feel comfortable with their 25 percent share [50 percent is to come from the federal government]. What's going to happen over the next year is the completion of the design work, and when that work is 65 percent complete, which should be in the spring of next year, the formal approval process for the full-funding grant agreement gets triggered. That is the goal line. That is the $500 million in federal funds we need to get the project done. I think within the next thirteen months we could learn very clearly where that project stacks up, and right now, all indications are good. I feel like the Blue Line extension is right on target.
I feel pretty strongly it's got to get done now. At the federal level, as funding reductions start to occur across the board, I don't think transit is going to be exempt from that. I think the President has a very solid commitment to transit and infrastructure generally, but I think we're going to see cuts across the board. I'd rather have our project in and with a full-funding grant agreement before the heavy federal deficit reduction starts, because then they're obligated to pay for it over the life of the project. If we don't get in now, I think there will be fewer projects that get funded and I don't want to see us not get funded.
CM: So when we get to the 65 percent mark on the design that happens within the next year, and we get the full-funding grant agreement, that means we're good to go?
Foxx: That means we're good to go. We have the commitment on the local share, we've got the commitment on the state share, and the federal full-funding grant agreement is the last piece of that. So we may know this as early as September of next year or as late as December of next year.
CM: As a municipality, Charlotte had a stake in the debt crisis situation. What was your reaction as all of that was unfolding?
Foxx: I was mad. I think I've never seen our country not rise to the occasion, and I felt like we sank to the occasion. I think the president, Speaker of the House John Boehner, and a mix of Democrats and Republicans in the House and Senate were working in good faith for a couple of weeks, but they got road-blocked by a group on the House side. The country's got to stop spending as much money as it's been spending, there's no question about that. But I think that is part of, but not the entire, picture of how we dig out of this set of economic conditions. I think the president had the right set of ideas in terms of agreeing that we need to cut spending but also that we need to look at some untouchables. But what is right from a policy perspective isn't always right from a politics perspective. I think our politics are getting in the way of solving this country's problems, and it's not just the people in Washington. I think that our country is still very mixed about how to go forward.
---
---
"I believe we're going to think differently about ourselves" as a city after the DNC, says Foxx. Photo courtesy of Meredith Jones.
CM: Let's switch gears a little bit. The Charlotte Regional Visitors Authority: are you satisfied with the outcome?
Foxx: The CRVA is an incredibly important organization. It represents one of our leading sectors, which is the hospitality and tourism industry. I want that industry to do well, and that's why I raised questions earlier in the year. How the present process measures up is going to be the product of seeing what happens, but I think they are making good choices right now. We'll see how it plays out.
CM: That's a diplomatic way of not answering the question. Other business leaders have told me that they felt like the entire process became too political, and they were disappointed in that. What's your reaction to that?
Foxx: This is what I'm talking about when I say there's a different expectation in the public sector. The CRVA is a public entity and it receives public funds and the board is charged with managing those resources, not only in a way that is transparent and reasonable, but also in a way that supports the functions of the CRVA. Without rehashing the entire series of challenges over there, I felt pretty strongly that we needed answers as to how resources were being used and what the value proposition, not only to the industry but to the public, was. Those were fair questions. It wasn't personal. It was about the management of the business.
CM: It became pretty easy to paint the situation as Anthony Foxx versus Tim Newman.
Foxx: I don't make snap decisions. That's not in my nature. I think that there is an inevitable conclusion that people might draw that way, but all I can say is what I know to be true, which is it's not that way. My only interest is in the city of Charlotte being the best that it can be. If someone is standing in the way of that, it's my responsibility to say so. That's not to say that any individual can be solely standing in the way of an entire city. I've said it publicly many times, I think Tim's done some great things, but I also think that at some level, we have to ask ourselves, is this an organization being run well? People may disagree, but when you look at the fact that half of the CRVA's responsibility is managing assets, you can draw the same conclusion that I've drawn.
On Tim Newman and the CRVA: "My only interest is in the city of Charlotte being the best that it can be. If someone is standing in the way of that, it's my responsibility to say so."
CM: Which is?
Foxx: That it's not doing so well. They're working to get things fixed and I think generally they're going in the right direction. What happens from here is obviously their call.
CM: Take me back to when you first got involved recruiting the DNC here. I believe Susan Burgess was one of the early—
Foxx: Susan Burgess was the early person; there was no other. When she mentioned it to me, I thought it sounded pretty far-fetched, but she believed in it. That whole process was really pretty up and down; I've described it as a little bit like The Bachelor. I would see the president periodically and I would say, "Mr. President, we'd love to have the convention in Charlotte," and he would always smile. This went on five or six times. When I saw him in January and said the same line to him, I got halfway through it and he said, "I know. You want the convention in Charlotte, don't you?" I said, "Yes." I decided I'd made my point.
I think the community at large really came together in a big way when the site-selection team came to Charlotte in July 2010. We did a big dinner at Bentley's and had an incredible range of people from the business community and Democratic Party. It had been a long time since I'd seen our city put such force behind something, but it really showed how committed the city was to bringing the convention to Charlotte.
CM: What did you do when you got the call?
Foxx: I had a few minutes to myself. The first mayor I remember was Harvey Gantt. I remember him talking about how the center city could be the living room of the region, and how from that time to now, people all across the city have invested time, energy, attention, and resources into building not just the center city but the region. That in the heat of the recession, in a country that is still great but is still looking for its mojo, that our city would be picked as a place to tell the world how great this country is—it's an amazing thing to have happen. But it's not just a product of a year or so of recruiting this thing, it's the product of twenty or thirty years of building this city. I was very humbled by that and still am.
CM: How do you think Charlotte could get changed as a result of this?
Foxx: It may be cultural here, but we tend to look outside of Charlotte for good ideas. But we've got some good ideas and good things happening here. Now's the time for the world to see some of that.
CM: This probably sounds hopelessly boosterish, but do you think in a way Charlotte doesn't always recognize how strong of a community it is?
Foxx: I don't think we always do. I think that's somewhat of a reason why I think it's a point of pride of people that we got the convention. It may have surprised some of our own people that we got it. We don't always think of ourselves as the place that someone from somewhere else would take an interest in. We're a good place to move a business or move a family, but a good place to have a Super Bowl or the Olympics or hold a convention? Now we're going to make this happen and it's going to be great for the city. We won't suffer from that particular affliction anymore. I believe we're going to think about ourselves differently when this is over.
CM: This convention could also be pretty good for Anthony Foxx.
FOXX: (Foxx laughs) Is there a question in there?
CM: Surely you think about that?
Foxx: No. This wasn't something that I started; this was something Susan started. I went and saw her about a week before she passed away. In addition to telling me all the great things about her son Jason who's now on the city council and strongly advising me not to feel sorry for her, she was still passionate about this convention. She felt like it would change the city. I didn't seek this out. I helped grab the baton and carry it over. Now we've got a lot of work to do in getting it over the next goal. I'm not in politics for the purpose of grabbing the next rung on the ladder—at least not for me. I'm in it to try and help people in this community grab their next rung. If we can accomplish that, then I'll feel like I've succeeded.
CM: Thinking back to Memorial Day events and school closings and library closings, do you think there is a racial divide in Charlotte?
Foxx: I think Charlotte is an incredibly progressive city and we have largely been the beneficiaries of our temperance around these types of issues. But at the same time, that doesn't mean we don't have issues. Sometimes we, instead of confronting the challenges before they become huge, front-page type challenges, we duck. And that's not a good way to operate. My grandfather was a principal of a school in Belmont in the 1960s—Reid High School—and when the schools integrated, Reid was closed and eventually destroyed. For many people, that destroyed a bit of their own personal history.
When you fast forward forty or fifty years later, that's what people feel about the closings that happened last year. For some, it was a business decision that was very well thought out and for some it was a very personally felt loss. Within public bodies it's incredibly hard to have the softer side of that conversation about what's really going on because there's a lot coming at us, but I think our community would be very well served to have some of those conversations.
Now the other side of that is that dialogue for dialogue's sake is increasingly less appealing to everyone. People don't have time to just talk to talk. I think some of the dialogue has to be results-based with some outcome that's tangible. When this event happened on Memorial Day weekend, I asked the community; I said 'Look, this is the time for this community to step up and it's not just [Police] Chief [Rodney] Monroe's job to deal with this situation after the fact. Let's step up as a community.' What happened as a result was something that was unique and effective at not only decreasing the level of attention but decreasing the number of arrests. We only had five that weekend after a group of men stood up and said 'We're going to be ambassadors for safety on July 4th.' These are regular people—barbers, truck drivers, you name it; they were out there and it made a big difference. That's kind of what I mean.
I think too often a tendency that people have is not to talk and then when they do, they talk to talk. We're at the point where now we have to have an action-based dialogue about these issues. That's true of education, by the way. A generation ago, the politics around education were fingers pointing; there was a side that said you can't throw money at it and be effective and then there was a side that said you had to throw money at it.
Maybe it's both. Maybe there's a healthy dose of personal responsibility—the degree to which I as an individual empower myself to do what's required to learn. And maybe there's a part of it that's improving institutions, making schools better by spending money in a smarter way and using different technology and tools to make the classroom experience better and that's what Project Lift is about. It's trying to find the next stage of solutions to help achievement, but it's going to require something of the people who are learning. It's a two-way street.

This interview was edited for space, clarity, and narrative purposes. Portions of the interview that appear here did not run in the original print version.
---