One Stop Shop
The Secret Chocolatier has a treat for you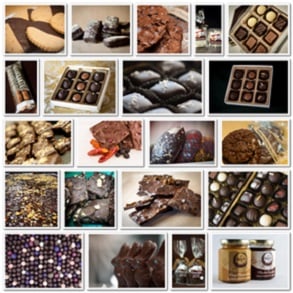 Want chocolate to appear on your doorstep? Of course you do. Now, thanks to The Secret Chocolatier's Chocolate of the Month Club, if you sign up as a member you'll receive a selection from the chocolate purveyor's ever-changing products, baked tasty treats, barks, and toffee every month, every quarter, or for every season. That includes things like the chocolate trifecta collection, savory/salty collection, and seasonal truffles and bonbons.
Yes, really. If you place an order online now, shipments will start on January 12, 2016. Here's the breakdown:
Get a one-year subscription for $510.95
Get a six-month subscription for $254.95
Get a three-month subscription for $127.95
Get a seasonal subscription for $169.95 AND you'll also get a box of 16 seasonal chocolate truffles and bonbons that are shipped the second Tuesday of the month in February, May, August, and November.
All of the subscription prices include shipping and handling. Orders can be shipped throughout the U.S., so no worries if you wanted to give this to someone living far, far away from Charlotte.
"We're excited to kick off our Chocolate of the Month Club during the holiday season as a membership makes for a perfect gift idea for any chocolate fan," said Robin Ciordia, co-owner of The Secret Chocolatier. "We look forward to people joining our chocolate journey and to getting a chocolate fix throughout the year wherever they are."
We couldn't agree more. What a great way to spread a taste of Charlotte to the far reaches of the country – if not to just make relatives and friends jealous that they don't live in the Queen City. More information can be found here.