One Year Later: Health Care Professionals Share Hard Lessons from the Pandemic
Insight from Tryon Medical Partners, Atrium Health, and Novant Health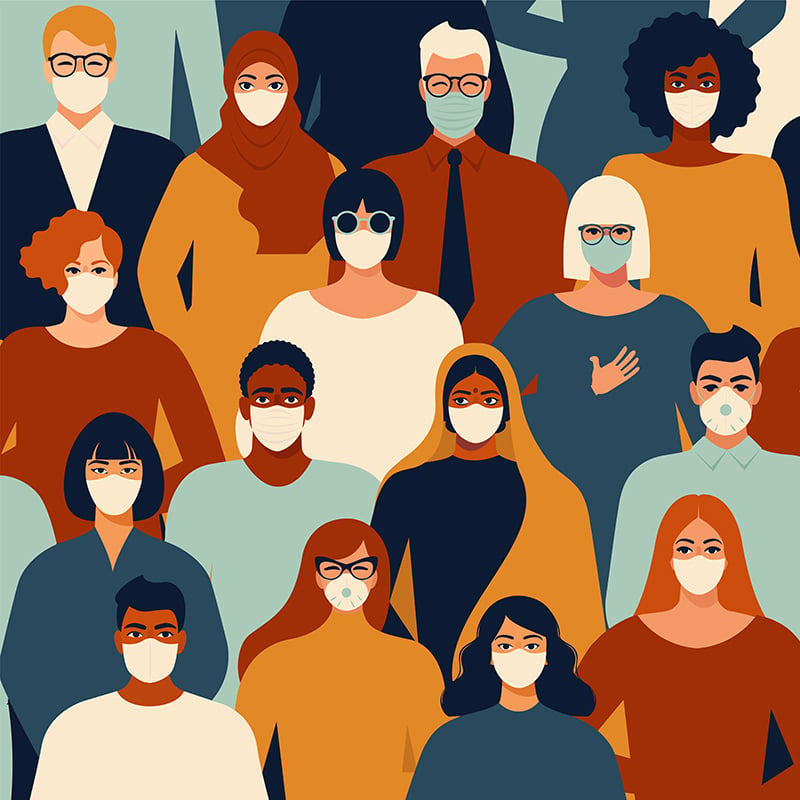 Health care professionals have had time to reflect and absorb how a year of COVID enhanced their strengths, exposed their shortcomings, and forced them to accelerate or invent ways to treat patients. What have they learned?
Who:
Dr. Dale Owen, CEO, Tryon Medical Partners
Dr. Katie Passaretti, medical director of infection prevention, Atrium Health
Saad Ehtisham, president, Novant Health Greater Charlotte Market and Novant Health Presbyterian Medical Center
What are the most important lessons you and your team have learned in the past year?
Owen: A historical perspective of the 1918 Spanish flu pandemic was critical. I have had a keen interest in infectious disease since residency and have read dissertations on the pandemic. We still have trouble listening now to what they said then: "Wear your masks and don't open your schools." What happened here with COVID-19 was very predictable based on our country's response to the 1918 Spanish flu. We made the same mistakes and didn't learn from history.
Passaretti: I remember listening to an audiobook by Glennon Doyle where she uses the phrase, "You can do hard things," multiple times. That phrase has popped in my head a zillion times over the past year. We (health care workers, health care systems, communities) are facing one of the biggest challenges of our lifetime yet have shown time and again that we are more resilient than we ever thought possible. We've learned a ton about the importance of flexibility/adaptability, compassion/empathy for others, and the importance of calm/clear/concise and honest communication even when you don't have all the answers.
Ehtisham: You can't underestimate the value of anticipation and preparation. Those two things saved lives. Being prepared allowed us to move quickly and remain nimble, which was very important—our ability to deeply integrate, innovate, and collaborate more so than ever before with our clinical teams and physicians within the health system and the community. The other thing we also realized during COVID is that we needed to establish a command center, which we did in January (2020) after we were watching what was happening in Wuhan, China, in December. So we were able to then quickly have our preparation underway.
To what extent did you either not realize those lessons before or not appreciate their importance?
Passaretti: None of the lessons above are truly new. This year just acted as an amplifier and overcomer of obstacles (some self-induced) that may have been in the way in the past. The biggest reminder to me is the tremendous confusion and distrust that can result when our communities get mixed messages and we fail to care about each other—it's just on display way more. Also, the impact of communities (scientific, health care, health care/private combos) all working together during this pandemic can't be overemphasized.
Ehtisham: What we didn't appreciate and didn't realize perhaps was how much the community cared about their health care workers. When restaurants were closed and really struggling to keep afloat, they all opened their hearts. Every day, they were delivering food for our team members to make sure they were fed and taken care of because they were fighting the battle for COVID. We got amazing, heartfelt letters from kids, from families, as far as from Arizona thanking us for all that our physicians and nurses and respiratory therapists were doing.
How differently would you approach an outbreak of lethal disease based on what you've learned since March 2020?
Owen: The worst thing we can do is assume it's over when this particular pandemic is under better control. The mechanisms we have put in place to fight coronavirus cannot become extinct; otherwise, we will continue to make the same mistakes again. That level of preparedness has to always be there. We should never have to build from scratch again.
Passaretti: This year has highlighted the importance of early and aggressive containment, so I think/hope earlier recognition and action would occur. Hopefully, our public health infrastructure will be more supported moving forward so we have the tools to better respond quickly.
Ehtisham: We need to make it part of our mission to prepare for the unknown and respond quickly and with transparency, information, and level-headedness to make sure we're making informed decisions grounded on the facts of what's going on out there. … To me, it's just coming together and working on the potential next pandemic and having an action plan in place so when it does hit, we can modify it and move on and address it in a systematic fashion.
Where do you think you and your team's response was strongest? Where do you think it's most in need of adjustment? Why?
Owen: Our team was nimble and pivoted quickly before the pandemic. Well before the national emergency was declared, Tryon Medical Partners' Coronavirus Task Force had a plan in place for everything from ramping up virtual visits to setting up satellite COVID testing clinics. This strategy was accomplished and put into place in five days. We didn't have to form 16 committees to discuss and decide. We just did it. Establishing our practice in 2018 taught us how to move from strategy to operation very quickly. Tryon Medical Partners' whole response to COVID-19 has been strong, and this practice will remain ready because history has taught us that a similar crisis is going to happen again.
Ehtisham: It seemed like on a daily basis, sometimes within hours, that the direction of how best to protect yourself changed from the CDC. So a crisis like this shines a spotlight on the existing health equity gaps. That's where I think Novant Health really, really accelerated its work. If COVID taught us anything, it's that our integrity and ethical commitment to our communities for years to come will be judged by how well we achieve health equity in all forms.
What advice would you have now for local, state, and federal public health agencies that would help in a response to another epidemic?
Owen: I was asked to consult with the Biden Administration transition team on this issue. Here's what I said:
1. We have to have a coordinated national plan, and I personally believe it should not be left up to interpretation by 50 different states and their counties.
2. We need to be able to source all testing material components from inside the United States, which guarantees supply chain. This is how, throughout the pandemic, Tryon Medical Partners was able to maintain a one- to two-day turnaround on COVID-19 testing results.
3. Federal and state systems need to stop relying on outdated means to deliver health care. Relying solely on hospitals and health departments to roll out the COVID-19 vaccine is taking too long. Smaller, more nimble organizations like ours don't rely on the status quo. We need to get these vaccines out sooner to prevent mutations that will render these vaccines ineffective. The phased rollout has been too slow to accomplish this goal.
Passaretti: This isn't the first and won't be the last infectious disease that will impact our societies—and trust science!
Anything else you'd like to add?
Owen: We've been here before. Don't forget.