Online Finds: Christian Siriano for Payless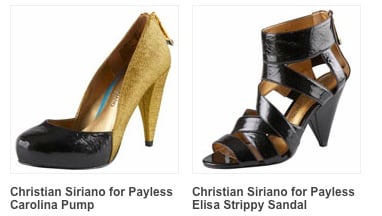 Christian Siriano was a very controversial subject in my household circa 2008. I had adored his little sarcastic diva 'tude since episode one of his season on Project Runway, whereas my spouse (who doesn't actually "watch" the show, so much as he stands in the kitchen and prentends to be washing dishes and "accidentally sees a few minutes of it") though he was annoying and far too full of himself to be so young.
Well, week after week Christian continuously proved his fans right: he was allowed to be a little cocky because the boy. had. talent.
Now he's designing dresses that show up on red carpets, putting out consistently pretty good collections, and doing fun little things like this: designing shoes that even those of us on a journalists budget can partake in purchasing.
In this blogger's opinion, his collection for Payless is a mixed bag. I don't like either of the boots, and the zipper flat falls a little flat with me as well (ha, I amuse myself). However, I LUUUURVE the two heels. The gold heel with the black patent pleather upper is (as vintage-2008 Christian would say) totally fierce. And the super strappy sandals are exactly the sort I've been wanting to buy a pair of but don't want to spend a lot of money on because I know that one day they're in, and the next, they are out.
(Read that last line in your best Heidi Klum German accent and then have a good chuckle and think about how clever I am).
What do you think, STers? Will you be stepping into a pair of Mr. Siriano's shoes this holiday season? Let me know what you think in the comments.