Online Finds: End of Season Sale at Nine West.com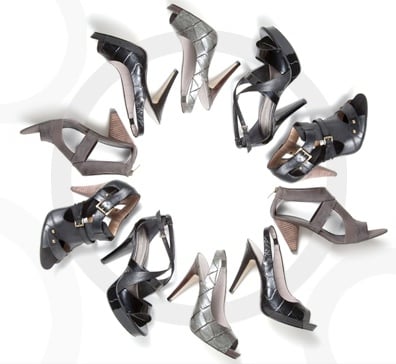 I normally consider myself to be a person with fairly high will power. I can say no to bad foods even if they look yummy, I can turn down a lunch date to save cash and eat my Lean Cuisine at my desk. I have that ability within me, I know I do. But when it comes to shoes, I struggle. I tell myself, "Just wait until the end of the season and that pair of boots will be 70% off." But then the panic sets in. "There is no way those boots will still be available. Look at them! They are the cutest boots ever created! Everyone is trying to buy them right now and if I don't hurry I'll never get them!" Case in point, the grey, knee-high suede boots I asked for at Christmas were backordered into eternity – which only reinforces my strong intuition that if I don't buy them now, now, NOW they will be gone forever.
But then, days like today arrive. Days when I get an email in my inbox. An email that actually makes me want to be be a better man (well, woman, but that doesn't sound as good.)
What does this email say, you ask? That boots, sandals and shoes are all getting their prices GUTTED over at NineWest.com. With discounts as high as, gulp, 70%. Already this morning I have found three pairs I considered buying full price months ago (but lacked the funds to do it) and one pair I actually did pay full price for. Their current price actually makes me want to be sick.
Go, hurry, buy fabulous fall and winter shoes at prices that will make me cry myself to sleep at night with envy. I didn't have the willpower to wait, but you might have. Enjoy this windfall and come back over here to Shop Talk and tell me about the pairs you bought, won't you?
The sale starts here.