Open for Thanksgiving
You don't have to cook this year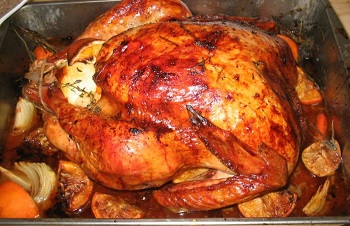 If for some reason you still haven't readied yourself for the feast about to commence, have no fear. Several Charlotte restaurants are open tomorrow, Thanksgiving, and are offering prix fixe meals with several courses.
5Church: The uptown restaurant will be featuring a three-course prix fixe menu from 11am to 9pm.
The Asbury: Chef Chris Coleman and the team will be offering a three-course prix fixe menu with two seatings beginning at 1230pm and 3pm. Pre-ordered takeout (which you can totally get then lie to your guests and tell them you made it) is also available. Cost is $55 for adults and $25 for kids 6-10 years.
Bistro La Bon: The Plaza Midwood restaurant (a favorite in town) will be offering everything from turkey, stuffing, sweet potato gratin, and mac n' cheese to salmon, roasted vegetables, and prime rib. Cost is $30 for adults and and $13 for children.
Gallery Restaurant: The Ballantyne Hotel's restaurant (which has been named one of Charlotte's best) will be offering Thanksgiving brunch from noon to 4pm. Cost is $65 per adult and $32 for children.
The Liberty: Charlotte's first gastropub will be offering a three course prix fixe menu for tomorrow's turkey festivities.
Nan & Byron's: 5Church's sister restaurant will also be featuring a Thanksgiving prix fize menu from 11am to 9pm.
New South Kitchen & Bar: The eatery nestled in the Arboretum is featuring a Thanksgiving Day buffet from 11am to 5pm featuring deep fried turkey, rib roast, potatoes, stuffing, and more!
Passion8: The recently moved restaurant is offering a three course Thanksgiving meal from 2pm to 7pm. Cost is $48 per person.
So if you do end up burning the pumpkin pie, creating lumpy gravy, or setting your driveway on fire while trying to deep fry a turkey, you can definitely head out for one of these alternatives. Besides, there's always next year to craft your personal culinary masterpiece.