#OpeningKnight
From pregame festivities to post-game fireworks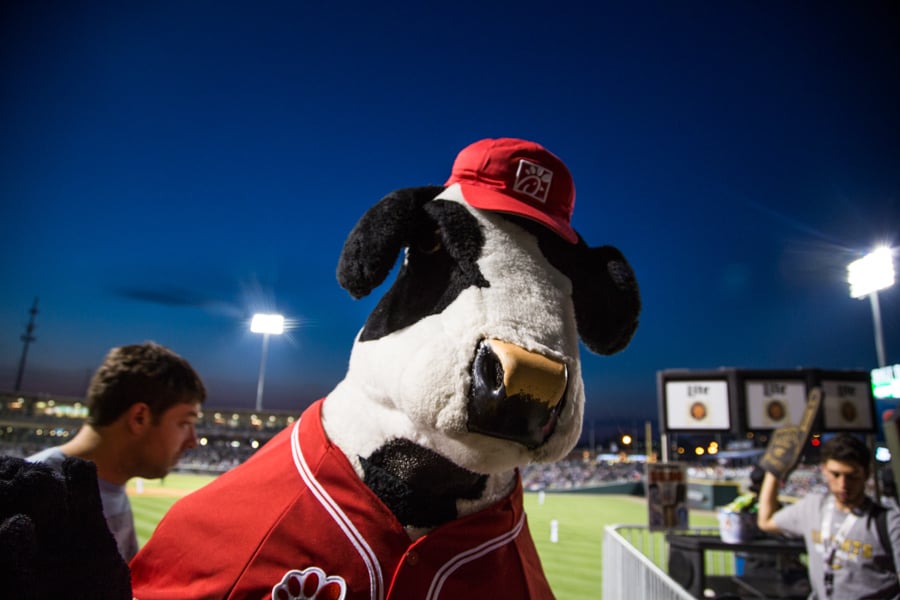 In 36 photos, Charlotte magazine's staff photographer tells the story of Opening Day 2014—the day Charlotte welcomed baseball to uptown.
Knights' players lined up at a table in Romare Bearden Park to sign autographs a few hours before the game.
Construction workers from across the street took part in the Opening Day festivities at Romare Bearden Park.
People watched through the fence as the grounds crew made final preparations to the field.
The Masters golf tournament played in the Knights' clubhouse before the game.
Eddie Busque, the Knights head groundskeeper, makes some final adjustments at home plate.
Helmets and bats inside the Knights' dugout.
A member of the grounds crew walks across center field.
Grilled chicken makes it way to a food vendor kiosk minutes before the doors open the public at BB&T Ballpark.
A CMPD officer shakes hands with former MLB power-hitter, Jim Thome.
A member of the Knights staff fixes an armrest after it was hit with a ball during batting practice.
Knights third baseman, Matt Davidson, speaks to the media before the game.
Head groundkeepers, Eddie Busque, wipes dirty away from home plate.
North Carolina Governor Pat McCrory points to right field.
A ball bounces in the warning track during batting practice.
Players continued to warm up as distinguished guests addressed the sold out crowd at BB&T Ballpark.
The Charlotte Knights and the Norfolk Tides line up in the infield before the start of the game.
Fans stand during the National Anthem.
Knights food service workers make final preparations before the first pitch.
Knights pitching coach, Richard Dotson, stands near the first base line during the singing of the National Anthem.
Players from the Charlotte Knights lined up on the first base line before the start of the game.
As custom, the three officials for the game follow the American flag until it leaves the field.
Players from a local little league team, The Titans, run across the field before the game.
Dylan Axlerod delivers the first in game pitch inside BB&T ballpark.
The view from center field.
Carlos Sanchez swings for a hit during the first Knights game in Uptown Charlotte.
Denis Phipps warms up before stepping up to the plate.
Fans grab for a home run ball from Knights center fielder, Jared Mitchell.
Fans sit in the grass near center field.
The voice of the Knights, Matt Swierad, calls the game from the pressbox.
A Knights bat boy runs off the field after retrieving a foul ball behind home plate.
Fan sing "Take Me Out To The Ballgame" during the 7th inning.
Denis Phipps slides into second base for an out.
Homer stands behind home plate before the fireworks after the opening game.
After the game went into extra innings many fans left. The ones who stayed were treated to a fireworks show in front of the Charlotte skyline.
Soon after the fireworks, the grounds crew got back to work on the field.