Openings on the Horizon
Queen City Q in Matthews and Chop't in Myers Park will be opening soon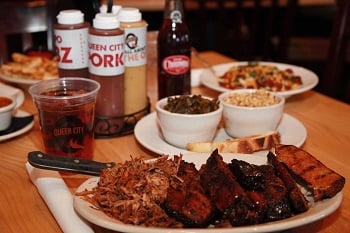 Two new eating options are on the way to Charlotte.
First, Chop't, a "creative salad company" will open in the Park Road Shopping Center in Myers Park, according to Charlotte Restaurant Traffic. The produce-focused eatery already has two locations; one in Washington DC and one in New York City. Although a date has yet to be announced, the restaurant will likely be a welcome addition. Customers can choose from an assortment of salad combos (also available as wraps) including the Mexican Caesar with Cotija cheese, jalapenos, tortilla chips, and Romaine lettuce; the Harvest Cobb with grilled chicken, apples, walnuts, beets, goat cheese, romaine lettuce, and spinach; or a custom creation – where customers can pick and choose what they want and how they want it.
Secondly, Queen City Q will be opening a second location in Matthews within the Plantation Market Shopping Center. The barbecue joint will likely open this summer – making use of the attached patio and seats for 120 patrons. The eatery, currently located on 225 E 6th St, is known for its ribs, wings, and brisket – all of which are made in house. The eatery also provides sandwiches and other delicious grub for the Charlotte Knights BB&T BallPark patrons. The menu at the new Matthews location will likely offer the same dishes as the uptown spot – don't miss the mac n' cheese either!