Opinion: #DiscussCLT Wrestles With Inequality in Charlotte-Mecklenburg Schools
At Levine Museum, a discussion that illustrates how difficult the problem is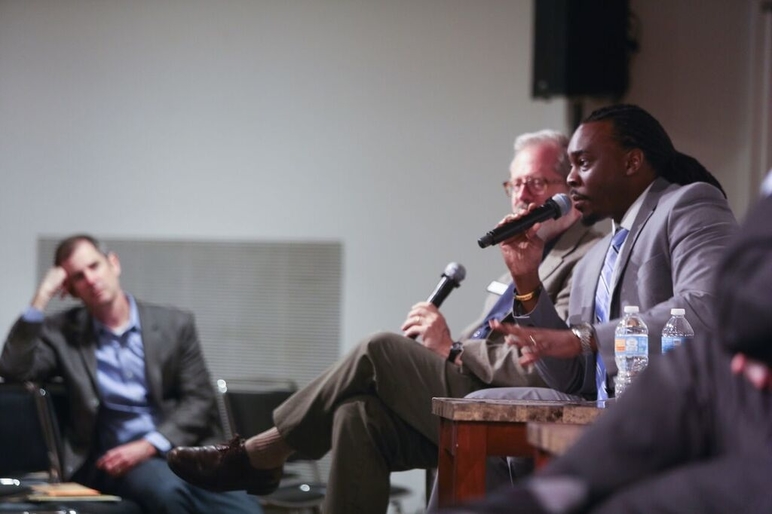 Discussions of systemic problems in public schools tend to hit the wall early. No large-scale civic problem—limited access to public transit, say, or affordable housing—is easy to solve, but in those cases it's usually easy to define. With public schools, it's difficult just to get a handle on the problem, much less craft a solution. Is it that some schools have resources other schools don't? That the "achievement gap" is widening according to race and class? That too many students are dropping out? That many students' academic performance hinges on circumstances at home and in life over which teachers and administrators have no control? (Yes, yes, yes, and yes, and much more.)
School districts around the country struggle to educate their students uniformly and well. But the growing achievement gap is especially gut-wrenching in Charlotte. We were once a national example of successful school integration, achieved mainly through court-ordered busing that began in 1971. Another court order in 1999 ended race-based student assignment, and since then Charlotte-Mecklenburg Schools have grown increasingly segregated by race and class.
This magazine and OrthoCarolina hosted a discussion last night at the Levine Museum of the New South—the second installment of #DiscussCLT, an ongoing series on civic issues—to examine the problem and potential solutions, and to introduce people who care about the issue to each other. The event's title and springboard: "Does Charlotte Offer Equal Public Education To All?" Of course not, and the 75-minute conversation illustrated just how complex and thorny the problem is, and how futile it is to pretend "the failure of our schools" solely represents a failure of our schools.
Nobody who attended missed the context, the CMS board's continued struggle to draft a student reassignment plan that breaks up concentrations of race and poverty while offering parents some semblance of "school choice." The public has divided into two camps—the opportunity-for-all, break-up-poverty side; and advocates for neighborhood schools—and the conversation has turned hostile, months out from any school board vote. School board member Tom Tate was booed at a board meeting last week when he suggested that low-income parents might be underrepresented at meetings because of work or transportation issues.
Even more dismaying is the reality that a fresh student assignment plan will go only so far in solving the racial and class issues that underlie the school segregation problem to begin with. Forced busing, the perennial boogeyman, "is not really the issue," said panel member James Ford, program director for the Public School Forum of North Carolina (also a former CMS teacher, 2014 North Carolina Teacher of the Year, and this magazine's first-ever Charlottean of the Year). "It's a proxy for a lot of other concerns," including fear, prejudice, income disparity, xenophobia, the failure of multiple federal education programs, and nonexistent or poor parenting.
"The things that affect society do not stop at the schoolhouse door," Ford said. "If we think student assignment is going to be a cure-all, we're misleading ourselves."
"How should we handle this issue?" Charlotte publisher Rick Thurmond asked the crowd of about 200 at the beginning. "What do we do about it?" The answers that followed touched on beginnings of solutions, or preconditions to reach them, but were more expressions of frustration than anything.
A woman asked why CMS couldn't commit to improving low-income schools, which would make the reassignment issue moot. Another woman lamented how few children from the poor west side of town sign up for summer programs compared to their counterparts in more affluent neighborhoods. Sean Strain—a south Charlotte resident who favors neighborhood schools along with magnets and programs for low-income students—said what's needed is "a program of love," springing from Ford's observation that many students need to understand their inherent worth before they can absorb any academic lessons.
The panel members—Ford, historian Tom Hanchett, UNC Charlotte Urban Institute's Amy Hawn Nelson, and lawyer and former CMS Equity Committee co-chair Julian Wright—did what they could to enlighten the discussion. Nelson, the Urban Institute's social research director, has done more than anyone to illustrate, through data, the degree and consequences of CMS' growing segregation. Hanchett, armed with a stack of books next to his chair on the dais, added the historical context. Wright described himself as "a voice crying in the wilderness" during his five years on the Equity Committee, charged with ensuring that all CMS students had what they needed to learn.
Toward the end, one man—he left before I could get his name—offered two specific solutions that raise an entirely fresh set of issues: radically increased teacher pay; and a new lawsuit, a 21st century version of the 1965 Swann vs. CMS suit that led to forced busing in the 1970s, that would throw the reassignment problem back to the courts. Wright and Nelson quickly emphasized that they know of no plans for a suit and wouldn't suggest one. The man asked what a lawsuit's chances might be. "I don't know the answer to that question," Wright said.
That seemed to be the theme of the evening, which is no one's fault. If fixing what ails public schools were easy, the problem wouldn't exist, would it? The main point of #DiscussCLT is in the name. In the Levine lobby, over drinks and fruit skewers and artichoke dip, people did talk to and among each other, both before and after the event. It was a good start and a reminder of how much more talk—and work—the issue demands, from all of us.