Opinion: The City's Train Wreck
The latest news about CATS' deficiencies signals that something bigger is falling apart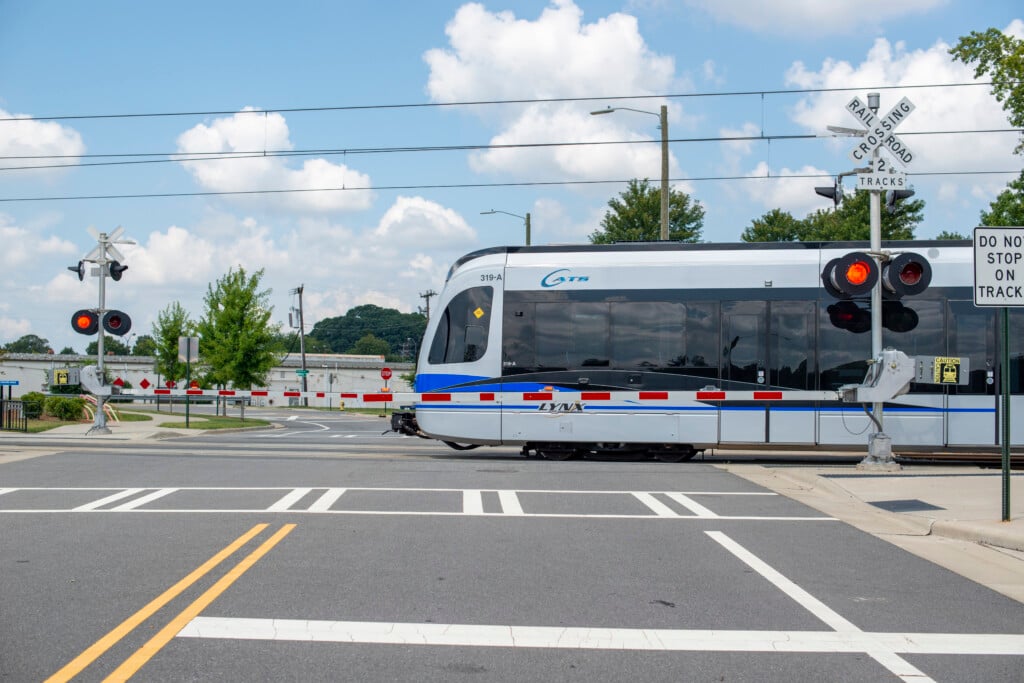 It was merely one of seven bulleted items under the heading, "Next 30-60 Days," on page 9 of a document presented to the City Council on Monday. Interim Charlotte Area Transit System CEO Brent Cagle updated council members on the agency's response to a December consultant's report that revealed organizational, communication, and other problems.
Here's what the item said: "April 10 Council Business Agenda will include consideration of new and amended contracts with Siemens to enhance and expedite necessary rail car maintenance."
Here's what that meant: A CATS light rail train car derailed May 21, 2022, nearly 10 months ago. CATS said nothing about it. Cagle took over as CATS' interim CEO after John Lewis resigned in October—and learned about the derailment around March 1, when the N.C. Department of Transportation asked him about his plan to fix a problem he didn't know existed: faulty axle bearings on all 42 light rail cars that may take years to replace, at the city's expense. (CATS' response to the incident, the DOT said in a letter to the city in February, was "unclear, insufficient, and not acceptable.") In the meantime, light rail trains will operate at a speed limit of 35 instead of 55 mph. Cagle told reporters he's "100% confident" the light rail remains safe.
You can find my own confidence in Cagle's confidence a bit lower on the meter. I'm going to do my best here to avoid the expression "off the rails." (Too easy.) But circumstances are making it difficult, and we may look back at Monday as a moment when we could no longer deny that something bigger has veered off course and crashed into a ditch. In short: What the hell has gone wrong with Charlotte city government?
Even before this latest CATS embarrassment, Charlotteans saw signs that something had slipped loose of its moorings at the Government Center, where not long ago city officials had a deserved reputation for efficiency and professionalism. The signs all seemed to reflect intramural antagonism, secrecy, or some combination—toxins to any organization, much less the government of the nation's 15th-largest city.
At the height of COVID, council members frequently feuded during their Zoom meetings—somewhat understandably, given the pressures of the moment. But even after in-person meetings resumed, members seemed allergic to cooperation and almost eager to alienate each other. During especially nasty debates over the city's overhaul of its land use regulations—the notorious UDO—Councilman Tariq Bokhari demanded the firing of the UDO's point man, Taiwo Jaiyeoba, who soon enough left to become city manager in Greensboro.
And that's just what we know about. There's probably plenty we don't. Departments have restricted news media access: Last year, the Charlotte-Mecklenburg Police Department cut back on its press briefings in favor of prepackaged content disseminated via Twitter—an efficient way to avoid even the possibility of uncomfortable questions. Charlotteans knew about the dismal state of CATS' bus system only because of reporting by WBTV and others on no-show buses, no-show drivers, and the City Council's apparent ignorance of the third-party vendor contracted to run the buses.
Secrecy has been a hallmark of the city administration since Marcus Jones was hired as city manager in 2016. Jones has never granted an interview to a Charlotte reporter. (Veteran reporter Jim Morrill requested one for his story about the city's leadership that appeared in our February issue. Jones declined.) The city manager's office has become infamous for its stonewalling on public records requests and, often, basic questions. How many of CATS' issues can be laid directly at Jones' feet is up for debate. But he is the state's highest-paid city manager, earning $434,551 per year to run the day-to-day operations of the city, and he runs an operation that's not just unresponsive to the citizens it's supposed to serve but, increasingly, unaccountable even to itself. No one bothered to tell Brent Cagle that the train slipped off the tracks, and Cagle waited two weeks to tell the City Council and, by extension, the public.
What's especially worrisome about CATS' disintegration is what it augurs for the city's future. The cost of living here grows every year—hell, every week—as more and more people sweep into the city. Any vision of a Charlotte that functions into the 2030s and beyond has to include reliable, affordable, vastly expanded public transit. The city has a $13.5 billion plan for that. City officials have shown little interest in selling it to the General Assembly, which would need to approve a local referendum on a sales tax increase to pay for it. Lawmakers have typically been hostile on principle to both public transit and Charlotte; CATS' mismanagement gives them all the justification they need to pronounce the city's transit plan dead before it reaches the starting gate. Who, here or in Raleigh, could trust the city's ability to build and operate an expanded transit system when it's failed so miserably at managing the one it has?
In other words, the derailment that no one saw fit to mention for nearly a year—this is not what "government oversight" is supposed to mean—is more than just a case of "bad optics," as an Observer editorial put it. It's just flat bad government, bad communication, bad management, a bad sign for the decades to come, bad all the way around. Citizens need specific and thorough answers to pointed questions, about not just CATS but the operation of the city as a whole. Nothing in the city's recent history gives me confidence, at any percentage, that we'll get them. At some point—perhaps sooner than any of us imagine—that bill will come due, and the gleaming future we've come to assume is inevitable will reveal itself as just another machine with a fundamental flaw.