Original NoDa Brewing taproom to temporarily close at the end of July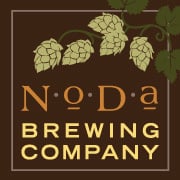 With any growth comes change, so it's always nice to have a backup plan. And sometimes that backup plan is in the form of a 32,000 square-foot facility.
As reported by Jonathan Wells, NoDa's original taproom on North Davidson Street will officially be closed to patrons July 31. It's important to note two things: This is a temporary close, and the original brewery will remain in production (more on both of these topics below). Nevertheless, it was not a decision that came easily.
"It's disappointing for sure," says Suzie Ford, one of the owners of the brewery along with her husband, Todd and head brewer Chad Henderson. "It's kind of like an end of an era. Even though it's only temporarily, having to do this is a bummer. We started there. That's where our roots were."
The main reason for the closure is eventual lack of parking due to (what else, considering this is Charlotte we're talking about) proposed development. The 2229 North Davidson Street location as it stands has less than 20 parking spots allocated. For a while, people were able to park across from the brewery behind where Birdsong Brewing used to be and when the owner of that lot began charging for spots, NoDa contracted with the lot across the street to allow for free parking.
However, that lot is scheduled for development (plans are still in the works, but expect condominiums with possible retail as well) and construction will soon be starting. (No word on how this will affect Free Range Brewing, which also uses that lot for parking).
"We batted a ton of ideas around … we could do anything really that we wanted, but every time it came back to parking," Ford says. "The space just isn't there. We really toyed with every single scenario out there on how to make this work. Trust me, the last thing we wanted to do was close down.
"Thank heavens we have our North Tryon location or I don't know what we'd be doing."
Indeed, the new North Tryon location continues to brim with people and, of course, beer. Ford says the plan is to shift the NoDa Run Club to the bigger facility and expand to include a loyalty program. Everyone who attends the first NoDa Run Club at the new taproom will receive a special pint glass and after that, for a certain number of runs you attend, you'll continue to get rewards (think swag, not beer).
But again, only the North Davidson taproom is closing – not the brewery itself. That means NoDa's sour and barrel-aging programs are still in flight – in fact, Ford says they're getting two 30-barrel foeders in about three months for Bart Roberts, who will remain the "funky" brewer at the old location.
"We're really cranking up our sour program," she adds.
Currently NoDa's sour program includes a Brett pale ale, "Boba Brett," along with "Stop, Collaborate and Glisten," a collaboration with Night Shift Brewing in Massachusetts. This is a golden ale fermented in wine barrels with grape must and wild yeast (this is the second time NoDa has produced this beer, with the first batch released in 2014).
And then of course you have Monstro, NoDa's sought-after Russian Imperial Stout. The brewery first released this beer two years ago to much fanfare, and this year's version is already aging in Heaven Hill barrels. Expect Monstro to be released sometime in November.
Ford adds she's also excited about the expansion of NoDa's "NoDable" small-batch series, which is moving from the smaller pilot system to a 15-barrel system, which will allow for numerous options.
"We're thinking three out of four weeks we're going to tap our NoDable on Tuesday and we'll now allow growler fills (in the taproom), then the next Monday we'll release it out to various accounts," she says. "We've had so many people come in on NoDable day asking, 'Where can I get this?' or 'Do you fill growlers?' Now more people will be able to enjoy these."
Expect some sort of special celebration during NoDa North Davidson's final weekend in July, with overall details still in the works. And even when it closes down, Ford says there will still be special limited events (one idea includes explaining the sour beer experience) where everyone will meet at the N. Tryon location, have a beer and bus over to the N. Davidson location.
There's currently no official timetable for a reopening date (indications are a year minimum), but Ford says it's important to emphasize that for however long the closing is, the location will reopen at some point.
"I just want everyone to know this wasn't an easy decision to come to," she says. "But it is temporary and we'll still be making beer. Someone will be brewing there every single day just like they are now. And before you know it, we'll be back open again."