Oscars Red Carpet Fashion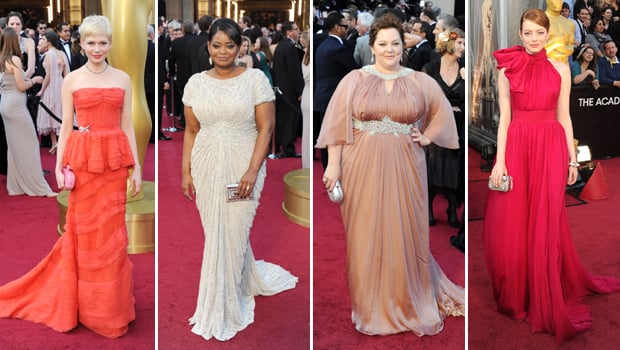 I've taken a few days to mull the fashion because I was a bit torn, but I've arrived at my picks for who was hot and who was a flop on Sunday night's Red Carpet for the 84th Annual Academy Awards (Oscars). Usually, my categories are plain and simple–best and worst. But this time, I think we need to add a most talked about category. I'm also happy to report that I had more trouble picking worsts than bests; this was an impressive showing.
Most Talked About:
Angelina Jolie–in a velvet Atelier Versace. The fact that in four days, Jolie has managed to have her own pose named ("Jolieaning") says a lot about this powerhouse's pull. Personally, I thought the dress was gorgeous, and the tousled curls were perfect, but the in-your-face right leg lean (whether facetious or serious) she used to show off the dramatic slit will go down in Red Carpet history.
Jennifer Lopez–in a revelaing Zuhair Murad. In a dress with a plunging neckline and cutout sleeves, some thought she looked stunning (and there's no denying that the nude tone did much to make her skin pop or that her body would look sick even in burlap), but some thought she showed a little too much skin. Plus, there's been much debate over whether or not we saw a little more than skin where that plunging neckline is concerened…
Best Dressed:
Michelle Williams-in a strapless Louis Vuitton. Her tiny frame and Mia Farrow hair make her darling as always, but besides the fact that the cut and color of this number are stunning on her alabaster skin and lean figure, she's right on trend with the coral shade and peplum detail.
Gwyneth Paltrow–in a draped and caped Tom Ford. Could she have looked any more feminine? The answer is no. A snowy white slender gown (on a perfect body), capped off with the dantiest cape made Paltrow the perfect leading lady.
Worst Dressed:
Anna Faris–in a glittery Diane von Furstenberg. If she was going for a disco ball costume or Elizabeth Berkley's wardbrobe in "Showgirls," she nailed it. Unfortunately, the harsh, bleach blonde "Pulp Fiction" bob and the sequined space suit disguised as a dress were just so wrong for a class act like the Oscars.
Emma Stone–in a Giambattista Valli halter. The bow, the sheer volume of fabric, the bold color–it was just too much to expect of one dress. Any of these elements on their own would have been enough to carry the whole look, which was actually very pretty in theory. But lesson learned, there can be too much of a good thing.