Osso Opening Soon at NC Music Factory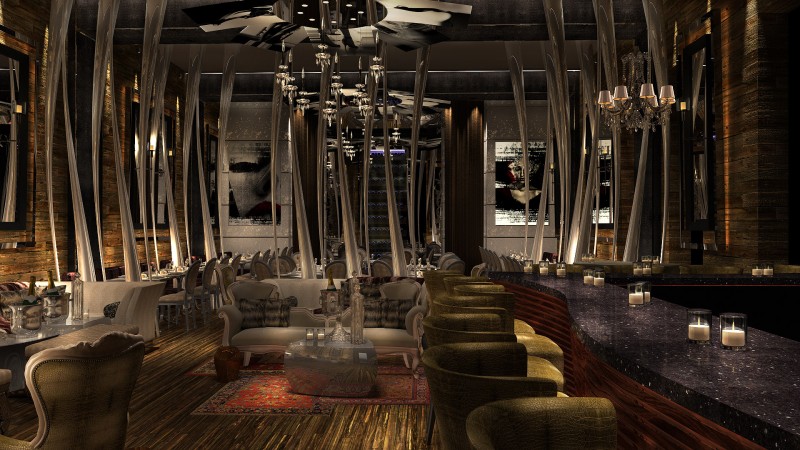 Osso Restaurant and Lounge is scheduled to open next month at NC Music Factory, and I must say it's an opening I'm excited about. I first learned about Osso nearly a month ago while talking to an NCMF insider. I had no idea—and I don't think there was any signage on the outside—that a venue was being constructed inside the building that houses Bask On Seaboard, in the corner next to Butter NC. My source told me that Osso was going to be a hip restaurant and lounge, being developed by restaurateur Alex Myrick and designed by the guy who'd designed top nightclubs around the country, and that Osso would also be a late-night party spot. Based on a post yesterday on NCMF's blog, this appears to be accurate.
The blog post offers a virtual sneak peek of what's to come at Osso, with the assertion that it will open in December. The designer is François Fossard, who's designed Miami hotspots Mansion, SET, The Forge, PRIVE, and Opium, as well as Butter in New York City and Charlotte, among others. Osso will continue the trend of the ultra chic restaurant/lounge concept that we've seen the last couple of years in Charlotte with Mez, Enso, and Kalu, for example, and I'm always amazed how these venues seem to spare no expense to create an opulent atmosphere.
It appears that Osso is in fact being opened by Alex Myrick, since his right-hand man and executive chef at Blue Restaurant and Bar, Gene Briggs, is said to be leading the kitchen at the new spot as well. Myrick has successfully ran Blue as one of uptown's top restaurants for the past decade, so he knows a thing or two about upscale establishments. I'm sure Charlotte magazine's food editor and blogger, Sarah Crosland, will give you the scoop soon about the food at Osso on her Dine & Dish blog or in an issue of the magazine in the near future.
Here on Dusk Till Dawn, we focus on the party spots and it seems that will be an important element at Osso. "Hear the DJ driven backdrop as down tempo music accompanies you through your meal," according to the description. "As the evening matures, music will once again guide you into a transition from relaxation to exhilaration."
Sounds like my kind of spot.
Click here to read more about what's in the works at Osso. And I'll keep you posted on the grand opening details once they're available.
Be sure to bookmark www.charlottemagazine.com/Blogs/Dusk-Till-Dawn to stay plugged into Charlotte nightlife.