Our Favorite Room Transformations of 2017
Looking back at some of the most beautiful and inspiring home renovations from the past year, room by room.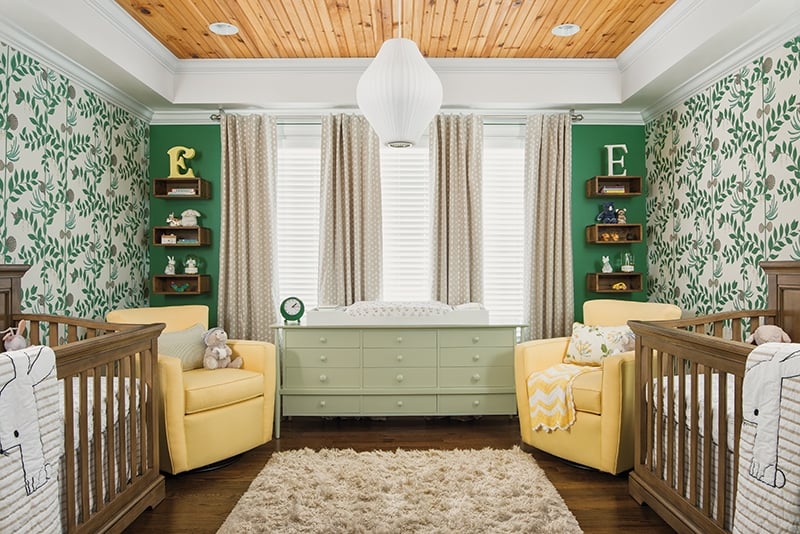 The final weeks of a year can do a lot to people. It forces them to be retrospective, introspective, and maybe just a little bit nicer, too. While we usually spend these last moments celebrating with friends and family, we also begin to start thinking about the new year ahead. What will 2018 bring for me? we ask ourselves. And most times, we don't know. But we do know that the new year is usually whatever you make of it.
As you prepare for a new year and fresh slate, you might have visions of projects for your home. Maybe you'll finally build that deck or perhaps you'll change out the sink in your guest bathroom. Whatever it is you have planned for your home in 2018, we think it's a good idea to go in with some inspiration. So come down Memory Lane with us as we revisit some of our favorite room remodels in Charlotte homes featured in 2017. Come on in, take a look around, and don't forget to take your shoes off at the door.
Interior designer Tamara Leicester incorporated the natural wood ceiling with playful, patterned wallpaper and a gender-neutral color palette in this whimsical nursery featured in June. And, the room is a testament to the saying that the difference is in the details: "A lot of the accessories on the shelves are handmade items from artisans," Leicester notes. These little touches make the room more personal—they can serve as special keepsakes as the children grow. See the full article here.
Overlooking Carmel Country Club, this home had design stuck in the '70s. The kitchen, which was especially in need of a huge overhaul, was remodeled by Shea Custom, earning the room honors from the National Association of the Remodeling Industry in 2016. Changes include switching the countertops from black to white and making the disjointed design flow better, but you've got to see the "before" pictures to truly appreciate the transformation. Check out the before-and-after photos here.
Beth Keim of Lucy and Company is known for her use of bold patterns and striking design elements, so it's no wonder she employed them in her personal assistant's home, a project with which she was given full freedom. Symmetry takes center stage in this room while eyes are drawn to the light fixture dropping into the spotlight. Learn more about the design elements Keim employed this achieve this chic black-and-white beauty in the original February article here.

Though the outside of this Dilworth craftsman home may suggest traditionalism, the inside begs to differ. The interior design is mostly modern, so the music room needed to match—with added glamor. Grey, blush, and ivory tones keep the space warm while effusing elegance, and iconic furnishings create an atmosphere fit for any pianist working on scores. Read the full article to see the designer behind this project and other design details.

This 11-Year-Old's Dream-Room-Come-True
Outfitted with greens, blues, and "smart" furniture, this room is an ideal respite for any 11-year-old boy breaking free from a shared room with his twin brother. But this room wasn't just for any boy. It's the room of designer Traci Zeller's son, and each detail was implemented with the kid's interests in mind. Try to guess his favorite color, and don't forget to look up—the ceiling is full of personality, too. Check out the full design breakdown here.

If you can look past the stunning tub anchoring the space, you'll see charming white details and stunning quartz countertops in the master bathroom remodel. It was a project headed by interior designer Marcie Padgett and general contractor Steve Melton, and the finished product far outshines the original floorplan. See all the changes that took place by comparing the before-and-after photos here.