Out of the Box: Benny Pennello's & Pure Pizza
Since Charlotte's best pizza spots were featured in our 2015 Best of the Best issue, much has changed. New ventures have popped up; beloved brands have expanded. Here are two additions already attracting regulars.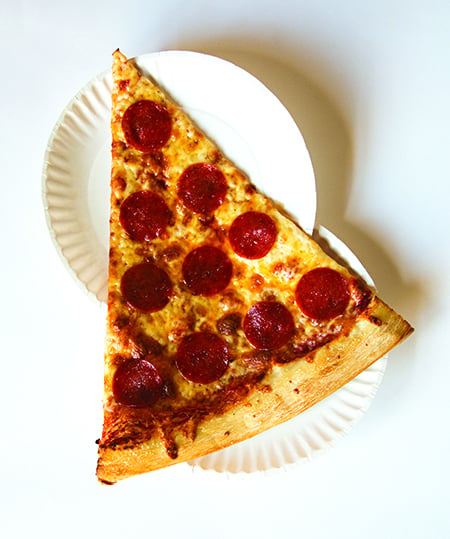 BENNY PENNELLO'S
THE SLICE COMES on two paper plates, overlapped like a Venn diagram. But even that's barely enough to contain the $5, pepperoni-laden behemoth handed to me at Benny Pennello's.
This is a definitive meal. Benny P's doesn't have sides. It offers only a few extra toppings; pepperoni, sausage, and garlic mushroom are available daily. It recently expanded from one "slice of the month" to a few, such as smoked pork belly and bacon or broccoli cheddar, each listed on a chalkboard behind the register.
A slice of pizza larger than your face is what they call "The Virginia Slice," which I've deduced has three key qualities: enormous size; a near-crisp, thin crust; and generous toppings. It's not a health nut's dream, and grease-haters beware. But it's the best straightforward, by-the-slice shop we have in Charlotte.
Benny P's also has a contest to see if you can eat one of its 28-inch pizzas in a two-hour sitting. A winner gets a free pie, a T-shirt, and self-resentment for the days that follow. Last time I checked in, few have tried, and no one at this location has succeeded.
2909 N. Davidson St., Ste. 100, 980-949-8398
---
PURE PIZZA
THIS BRAND HAS occupied a spot at 7th Street Public Market since 2012. Last year, Pure Pizza expanded to a second location, a quaint house in Plaza Midwood that was once home to Lulu.
A recent lunch visit brought the pizza we know and love—and a backdrop that finally matches its quality. The atmosphere at 7th Street Public Market is too harried for customers to dwell on what they're buying. "Can you explain what makes unbleached and unbromated flour superior?" is not a question I'm willing to ask as a banker impatiently checks his watch behind me in line.
In this warm, renovated house on Central Avenue, though, there's time for admiration. Locally produced art, from a hung glass window to oils on canvas, lines the walls of the restaurant, and the tables are made of reclaimed barn wood.
Here's why Pure Pizza works in Plaza Midwood: Even if one of its pies is named after a T-Rex, even if it has more toppings than base ingredients, there's something purely Pure Pizza in every pie. The 100-percent-whole-grain dough, the organic tomato sauce, the blend of Wisconsin and North Carolina cheeses—these touches stand out to customers in a neighborhood where farmer's milk is delivered on doorsteps and the local beer shop sells vegan sandwiches.
Loyalists, take note: The taste you enjoy at 7th Street hasn't changed. It's just easier to slow down and enjoy it now.
1911 Central Ave., 980-430-1701
---
WHAT'S AHEAD
Two pizza spots coming to a storefront near you
Blaze Pizza
Blaze, with its fast pizza and artisanal ingredients, is headed to South End (1750 Camden Rd., to be exact). Planned to open this month.
Pieology
Described by many as "the Chipotle of pizza shops," this fast-casual spot is headed to uptown's EpiCentre. Planned for a summer opening.
---
This article appears in the March 2016 issue of Charlotte Magazine
Did you like what you read here? Subscribe to Charlotte Magazine »
---