Outdoor Christmas Signs DIY
Get Crafty With this Holiday Tutorial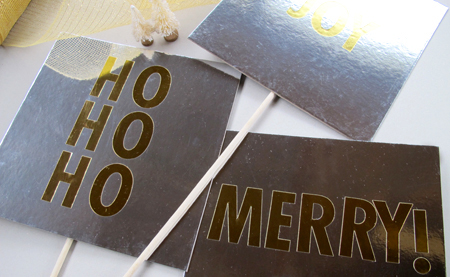 When we arrived home from Thanksgiving last weekend, all of our neighbors had decorated their homes for Christmas. Lights and reindeer everywhere! I quickly pulled out our holiday decor storage boxes and noticed most of our decor was for indoors. I decided to make some of our own.
This is a fun project that uses silver paper cake platters, two packs of gold poster letters, and dowel rods. The supplies can be purchased at a discount store like Wal-Mart or at a craft supply store.
Supplies
1 pack of 12 x 12 silver cake platters (includes 5 platters)
2 packs of gold poster letters
Wooden Dowel Rods + Tape
Be creative with your phrases! I chose "Ho Ho Ho," "Merry," and "Joy." Just be sure to count your letters before you begin to make sure they fit. Find the centerpoint of each sign and align your letters accordingly. It helps to use a straight piece of paper under the letters when lining up the text.
Attach the wooden dowel to the back of the sign with strong tape, and plant firmly in the ground. Overall these held up well in the rain, with a disclosure that they did show a slight curve afterward.
I chose to keep the look minimal and modern with silver and gold. But as a family-friendly project, and you could easily add glitter, Christmas stickers, and ribbon to the signs!