Outdoor Lighting Hacks To Set the Mood
Pointers on illuminating the exterior of your home to create that cozy feel.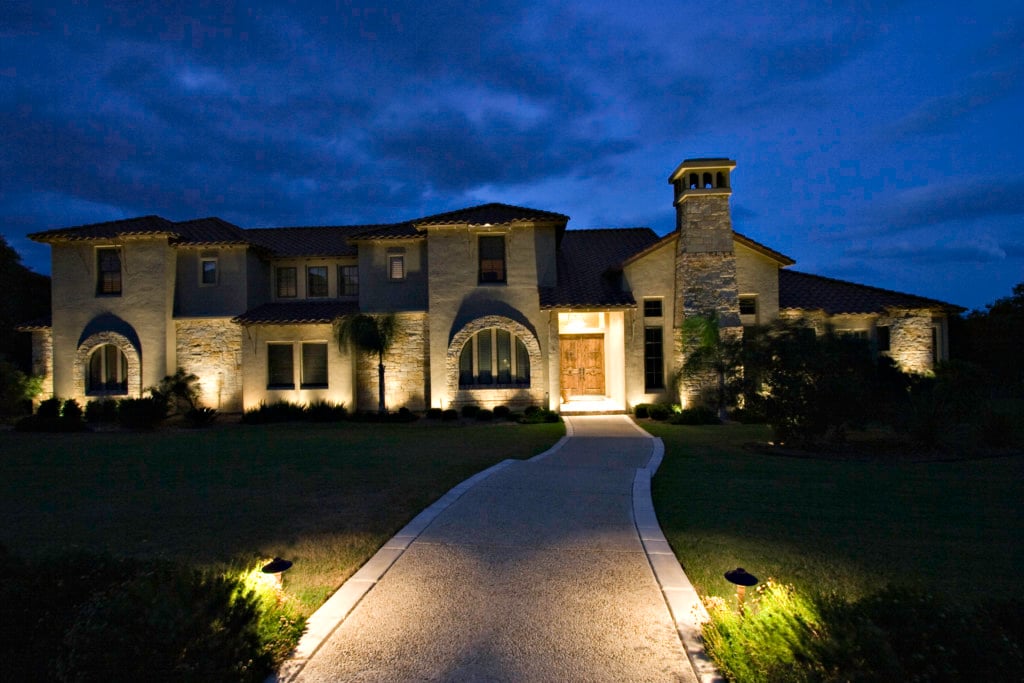 We already told you how to curate a luxe outdoor lounge area that will have company gushing for weeks after their visit. But to bring your outdoor aura full circle, you need to assess the lighting situation. Not only in the patio or lounge area but everywhere: the front yard, back yard, side yard, and so on.
To create a well-lit and attractive outside area, you need to cover all the lighting methods/ purposes. According to Bellacor's Outdoor Lighting Buying Guide, the types of lighting your home's exterior craves are for decorative, safety, and landscape purposes. Below is their quick look at where to place these kinds of lights.
When it comes to establishing an enticing atmosphere, each type of light is essential. You have the accent lights, which decorate in addition to providing a warm glow. Then there are the pathway lights, which help your guests find their way when walking around the yard. And then you have landscape lights, which showcase your lovely greenery in a museum-like fashion. But how to figure out which lights to buy for which purpose? Some tips from the buying guide are explained below.
Accent Lights
You want these fixtures to spice up the style. The key to purchasing accent lights is to stay in line with the theme or style of your home. Common styles are traditional, contemporary, industrial, rustic, and so on. Mix up decorative lighting fixture designs by including post, hanging, and other constructive methods. If done well, accent lights can increase your curb appeal.
Pathway Lights
Don't leave your houseguests to fumble around in the dark, potentially ruining your lawn and/or sprinkler heads. Keep pathways and your driveway well-lit with guiding lights along the sides, about a foot away from the path. The buying guide suggests these lights to reach up about 14 inches high in order to provide ample, warm light. Additional things to keep in mind are quality and efficiency. Glass lens and powder finishes on fixtures are known to withstand weather elements well, and LED bulbs can decrease your energy usage by 75 percent.
Landscape Lights
To highlight gorgeous focal features in your lawn like statues, fountains, and thriving trees, landscape lights are best arranged cohesively, lighting up the same types of focal points. Symmetry, balance, and layering are all important assets of successful landscape lighting, creating the most inviting and put-together atmosphere. Layering means using down-lighting (light pointing down at the subject) and up-lighting (light pointing up at the subject) to create depth.
There are plenty of ways to illuminate your home's exterior, all of which will only improve the feel and appearance. Living in light is much better than drowning in darkness, anyway.