Outfitting The Improper Pig
A local designer transforms a Cotswold spot into the city's latest barbecue restaurant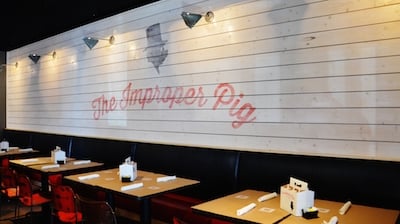 When Hugh and Mary Bigham, their son Will, and their business partner Bob Reid decided to turn the old Mama Fu's in Cotswold into a barbecue joint, they needed to redesign the space. Local designer Elizabeth Mydosh took the job. When she asked if they had any ideas of what they wanted the space to look like, they gave her two photos.
With a broad canvas, Mydosh went to work. The team decided that the restaurant would serve all different kinds of barbeuce—pork, chicken, ribs, brisket, wings. They also wanted to keep a few Asian accents, such as an Asian slaw and a hoisin sauce, to remind people of their Mama Fu's background. So Mydosh pulled the two ideas, barbecue and Asian flair, into one concept, and The Improper Pig took shape.
Mydosh used red and black as the dominant colors and incorporated neutral woods throughout. (All photos by Poprock Photography)
The partition behind the bar serves multiple purposes. It is visually appealing and brings to mind a Japanese screen, hinting again at the Asian influences. The slanted slats help to muffle sound and prevent the room from being too loud. And the divider adds a sense of privacy for a more intimate dining experience. "We want to speak to all age groups," Mydosh says. "I have three children. I want to take my kids in there and feel like it's OK. But maybe somebody doesn't want to sit next to me and my three crazy kids."
The inspiration for the bar came from Mydosh's recent trip to the South Carolina Lowcountry where she saw elements such as the wooden bar and words or logos painted on the wall. She describes the finished product as "cool, a little bit kitschy." The bar area is a good space for young professionals to mingle.
The light fixtures are some of the most striking features of the restaurant design. Mydosh worked with Robert Nicholas of Splurge in Asheville to create fixtures from repurposed objects.
The next time you step into The Improper Pig, take time to look around before you settle into a big plate of barbecue.