Outside the Box with Laura Casey
Designer Laura Casey took on the challenge of transforming a century-old bungalow into a modern abode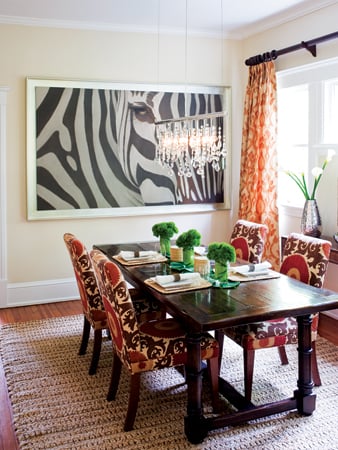 After working for some of Manhattan's top design firms and running her own successful interiors business in Charlotte for years, Laura Casey was no stranger to challenging projects. But when a client who loved color and pattern contacted her in the fall of 2009 about renovating a 100-year-old home in the Elizabeth neighborhood, the traditional-leaning designer knew she was going to have to think outside the bungalow.
"They came to me because they wanted to find a designer who could appreciate the architecture of that style home, but could also appreciate their individual style, which was more eclectic and modern," says Casey. "That was a step out of the box for me. It pushed my design aesthetic, and that made it fun and exciting."
Before they could address décor, though, they had to sort out the space. The 1911 bungalow had two front-facing parlor-style rooms that were never used. "It was basically a no-man's land," says Casey. "They didn't know what to do with that space." After determining how the family liked to spend their downtime, Casey repurposed the two facing rooms into a formal but comfortable living room and a more casual family reading room. The new spaces are complementary in look as well as function, with a consistent palette of colors and materials, and twin wood-burning fireplaces. Casey played up the symmetry by hanging pieces of art above each mantel.
"One of the goals for me was finding the balance for the house," Casey says. "I had to design each room with the other in mind so that there was harmony and a flow." The homeowners' love of color and pattern, and their extensive art collection, made this a bigger-than-usual challenge, but it was one Casey enjoyed. She stuck with lighter shades (and used only low-VOC paint) on the walls, so it wouldn't "feel overwhelming from a color perspective," and made a neutral backdrop for some of the more dramatic artwork. To add color without detracting from the art or making the room too busy, Casey alternated solids and patterns in the same color family and limited statement-making pieces to one or two per room.
In the reading room, for example, a pair of orange leather armchairs and a matching ottoman coordinate well with the living room's boldly patterned sofa, helping to maintain a visual consistency and flow. "Having a solid and not too much print made for a nice transition," Casey says. "You don't want to go from one pattern to another heavy pattern. This way, it's broken up a little bit."
Balance was also an issue when it came to furnishing the space. Because it was an older home, the rooms "weren't enormous," says Casey. "I didn't want to overcrowd and overpopulate rooms with furniture that would get in the way. I wanted to keep it as open and clean and fresh feeling as I could." Lighter-feeling pieces that had more negative space than heft helped achieve this: open glass shelving, a pair of tubular steel frame chairs, a simple wood coffee table with an X-shaped metal base, Lucite-and-metal seats in the dining area, and lots of airy, crystal chandeliers.
The home stands out in Casey's portfolio of more traditional interiors, and not just visually. It's also a shining example of what she's always telling clients: "The trick is to push yourself slightly out of your comfort zone. Don't be afraid. Experiment, explore, and have fun with it!"