Oyster Roast!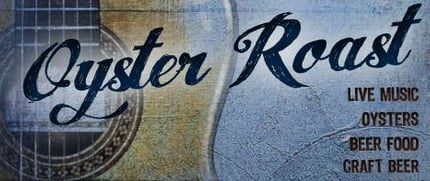 I have some weekend news for you all:
Growlers Pourhouse will be hosting a super spectacular oyster roast this Sunday, April 27th from 1-6 pm in the back parking lot. Tickets are $6 at the entrance or can be bought at the Pourhouse beforehand. Check out the Growlers site here or the Facebook event page here. It's going to be around 80 degrees and sunny all weekend, so grilling oysters and beer sounds like a lovely way to kick off the almost-summer weather.
If for whatever reason you choose to stay inside or lay by a pool or something, you can make your own oyster shooters to impress your friends. A classic variety would be oyster, Bloody Mary mix or tomato juice along with a squeeze of lemon, but I encourage you to try the odd concoction below:
Cucumber Mint Oyster Shooter:
1 raw oyster
1 oz. fresh juiced cucumber (or muddled cucumber)
fresh mint, muddled
3/4 oz. vodka
squeeze of fresh lime juice
1/2 oz. simple syrup
Place the oyster in the bottom of a tall shot glass. Combine all other ingredients, gently pour over oyster. It's weird and refreshing.
If you don't get outside this weekend we all can't be friends.