Hornets' P.J. Washington on Charlotte and the Advice Everyone's Given Him
He just made a record-breaking debut here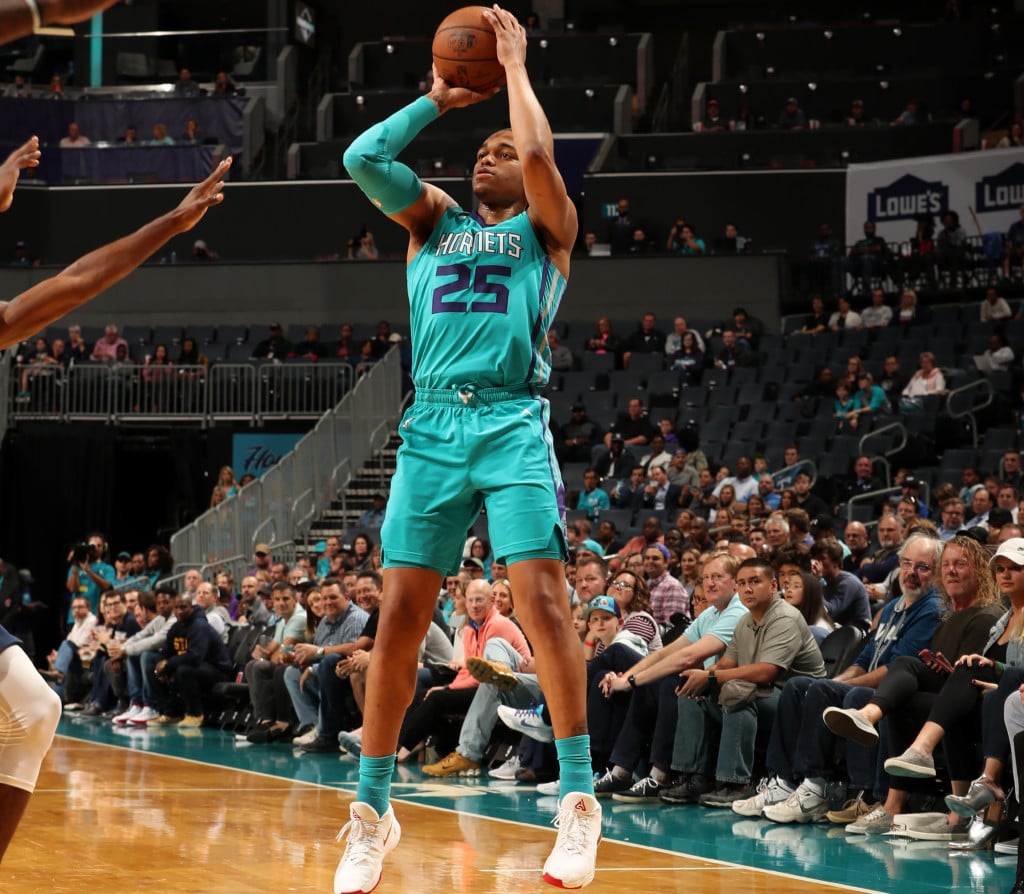 LAST WEEKEND, P.J. Washington saw what happens when a Charlotte legend comes home. Kemba Walker returned for the first time as a Boston Celtic, and the Hornets' all-time points leader was greeted with thunderous cheers and applause. He shed tears. 
And Washington, the standout Hornets rookie, watched it all carefully.
"The city definitely loved to see him back," Washington says. "All my teammates were happy to see him back. He's pretty much the best Hornet who's ever played here. … It's great to see a guy like that come back and show so much love to the community and so much love to the organization and everyone show the love back to him, too."
It was a glimpse at the kind of reception the Hornets, as a whole, could have if they one day ever become a consistent winner. And it was a look at a way Washington might one day be greeted in the Queen City if his quick start is an indication of the career he might have in the NBA.
Washington, the Hornets' first-round pick in 2019, has made an impact on the team in just 10 games in the league. He started with a wallop, scoring a franchise-best 27 points for a rookie in his debut against the Chicago Bulls. Since then, he's started every game, and averages 13.5 points and 6.2 rebounds. The 21-year-old has spent his time devoted to learning his craft, apparently, because he can't even name a single restaurant in Charlotte that he has enjoyed or think of one he wants to try.
"Honestly, everybody says the food here is so good, but nobody has given me specific restaurants to go to. So I'm just like lost," Washington says with a laugh. "I haven't really been out too much."
Instead, Washington spends time with his brother, whom he lives with in SouthPark, and his parents, who visit frequently enough that he got them their own place in Charlotte. And he's spent time working on his game, of course. Paul Washington, his father, coached P.J. in high school, but his mother, Sherry, is the one he listens to most when it comes to shooting advice. Both played basketball at Middle Tennessee State.
"When I miss a shot, my mom's always trying to correct me," Washington says. "She's the one that taught me how to shoot. She's way better than my dad."
But both his parents and his teammates have given Washington the same advice in his young career: Pace yourself. The season is longer than anything he's ever experienced, and he needs to take care of his body.
"It's been tough," Washington admits. "The back-to-backs are definitely tough. But you've got to fight through it and keep playing."
After all, he saw the kind of rewarding reception that is reserved for those who find a way to dismiss any adversity and perform at the highest level. He saw how much Charlotte still loves Kemba Walker, their former All-Star. Maybe,  someday, that could be him, too.
"It's definitely a goal of mine to reach that level, but I obviously know that's a lot of hard work and dedication that comes with it," Washington says. "I'm willing to put the work in. I love the city so far, everybody's embraced me and I just can't thank them enough."