Panthers 'Part Ways' With Head Coach Ron Rivera
News comes with disappointing season for the team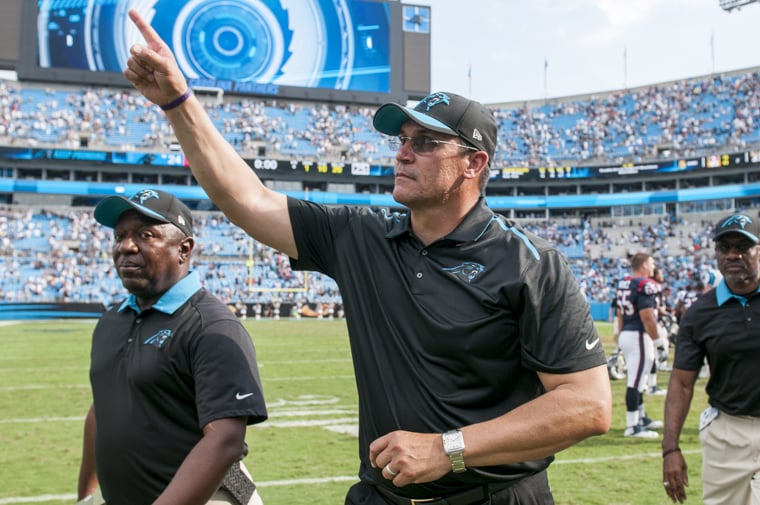 The Carolina Panthers parted ways Monday with Ron Rivera, the team's fourth and most successful head coach, three-quarters through a season that started with promise but has bogged down in a four-game losing streak and a season-ending injury to its quarterback and star, Cam Newton. The team named defensive backs coach Perry Fewell interim head coach.
The decision wasn't entirely unexpected, although most followers of the team expected owner David Tepper to make a coaching change at the end of the season. But Tepper, who purchased the Panthers from Jerry Richardson in July 2018, told reporters two weeks ago that he would not accept long-term mediocrity. His comments came a day after a dismal 29-3 loss to a two-win Atlanta Falcons team; on Sunday, the Panthers lost 29-21 to the Washington Redskins, another team with only two victories before it played Carolina.
Both losses were at home before plenty of empty seats at Bank of America Stadium.
"I believe this is the best decision for the long-term success of our team," Tepper said in a release by the team. "I have a great deal of respect for Ron and the contributions he has made to this franchise and to this community. I wish him the best. I will immediately begin the search for the next head coach of the Carolina Panthers."
Tepper implied that the team's lack of recent success—the Panthers suffered through a 7-9 record last year after a playoff appearance in 2017—was in part a product of organizational structure. He said in the release that he would take "a comprehensive and thorough review of our football operation to make sure we are structured for long-term sustained success," and that the team would hire an assistant general manager and vice president of football operations. He did not specifically mention Marty Hurney, the Panthers' general manager, rehired in 2018 and with 18 years of experience in the Panthers' front office.
"We all must recognize that this is the first step in a process," Tepper said, "but we are committed to building and maintaining a championship culture for our team and our fans."
Rivera, a former Chicago Bears linebacker, compiled a record of 76-63-1 over his tenure; the team hired him in 2011, the same year the team made Newton its first-round draft choice. At .543, his winning percentage was the highest among head coaches in the team's 25-year history, and the Panthers' summit under Rivera was a 15-1 season in 2015 that culminated in a trip to Super Bowl 50.
But the Panthers lost that game to the Denver Broncos and have never come close to another Super Bowl. Newton, Carolina's star quarterback and most celebrated player, started the first two games of this season, both losses, and was eventually placed on injured reserve with a foot injury. The team won four straight games with replacement quarterback Kyle Allen. But a 51-13 loss to the San Francisco 49ers on October 27 started a 1-5 slide to third place in the four-team NFC South.