Park Road Duckworth's temporarily closing for remodel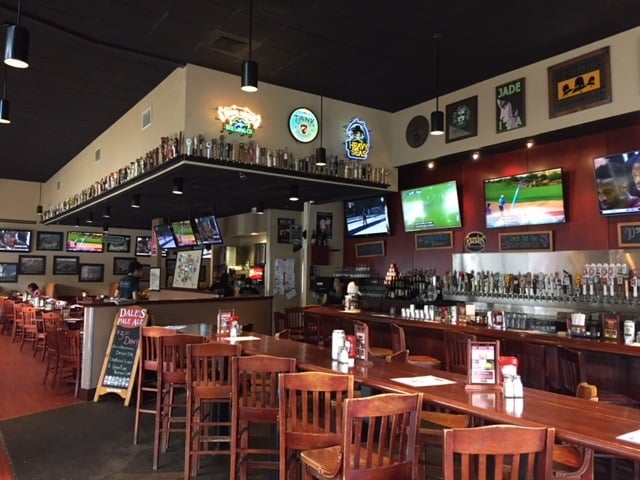 One of the original places that helped usher in Charlotte's craft beer boom is getting a facelift.
The Duckworth's on Park Road is temporarily closed as of Monday in order for several renovations, from the layout of the restaurant to the menu. If all goes well, it will take about a month for everything to get done.
"It's been about nine years (since opening), and it needs to be freshened up," owner Rob Duckworth says. "This is our smallest location, so there's only so much you can do but it is going to look different, and I'm excited for people to see the changes."
Technically, the original Duckworth's is the one on River Highway in Mooresville, which opened in 2004. But the Park Road Duckworth's (which actually began in a smaller space downstairs in the ParkTowne Village shopping center before moving to its current location) is the one that established a stronghold as arguably Charlotte's top craft beer bar and put Duckworth's on the map. Its success spawned Duckworth to open three additional locations, in Ballantyne, Huntersville and, most recently, uptown Charlotte (which also includes The Cellar at Duckworth's).
The new locations were bigger in almost every way, from size to the amount of taps (the uptown Duckworth's has 150 taps, compared to just 60 for Park Road). Duckworth decided that a refresh was in order and put what he called "a substantial investment" into changes that will add a breath of fresh air into the location while also retaining the things that customers have grown to love.
For starters, the name is being tweaked to Duckworth's Kitchen & Taphouse, from the original Grill & Taphouse. That's because much of that investment has gone to new kitchen equipment that will play a big part in a revamped menu.
"We're introducing new food items, basically this will be a testing ground for us to try and get feedback," Duckworth says. "And that feedback will be a determination of whether we roll those items out to other locations."
One of the items isn't essentially new, but rather a fresh take. Duckworth's has always served burgers but will now be introducing a craft burger line that Duckworth says will be "better quality from the roll to the pickle."
"It will be very comparable to The Cellar burger," he adds. "With our new sourced beef, we can make it to whatever temperature you'd like, where we weren't able to do that before. We'll have several burgers rolling out that will be really fantastic."
Duckworth also mentions the location's original loaded nachos will now have tofu (sautéed with garlic, soy and lime) as an option for the protein, and will also be used with lettuce wraps.
"Things like that can become a monthly feature, or that's where we bring in the testing option," he says. "But every month we want to have at least one new item. The concept will be different; the menu will be smaller but ever-changing."
The Park Road Duckworth's will now have hand-battered chicken tenders, using a proprietary blend of seasoning. One brand new item that has already been tested with customers is the hand-baked pretzel bread appetizer, tossed in butter and salt and served with a side of Sierra Nevada beer mustard. The final change is a build-your-own salad featuring 38 different toppings and choice of a number of dressings that will all now be made in-house.
And for those who are tied to Duckworth's classics, you need not fret – staples such as the original cheesesteak, flatbreads and wings (yes, that includes Mommoo's) aren't going anywhere.
"We want to be always evolving, but we're also committed to what's been popular for us," Duckworth says.
Regarding the layout, the Park Road Duckworth's will be getting a new bar top as well as replacing the long "surfboard" table with a few smaller versions (set at angles), which will actually add a small amount of seating. In the dining room will be two "Godfather"-style curved booths that can seat eight, along with banquette seating that can transform into a large table when needed or remain four-tops.
"What we want to do here is encourage community," Duckworth says. "That's the whole point of doing this."
What won't be changing is the number of taps, but Duckworth adds you can still expect a well-curated taplist among the 60 beers as usual. Also look for beer cocktails using garnishes and syrups – something Duckworth says could be a good gateway for those hesitant to embrace craft beer.
And for those wondering, the always-popular cask festival the Park Road Duckworth's hosts in March will be moved to the end of May this year, preceded by another annual occurrence, April Sours bring May Flowers. Duckworth adds Park Road will also have a special beer event in June.
The planned reopening for Duckworth's Kitchen & Taphouse is March 26, and Duckworth says the location will have a VIP event the weekend before where an email blast will go out to those on the mailing list, offering reservations to try the new menu at a discount (alcohol not included).
"This is new, uncharted territory that lends us to the opportunity of a new menu, logo, floor plan and details" he says. "So there's a little bit of a learning curve for us, and that's why we want to have these stress tests."
Duckworth adds depending on the response, he is open to the idea of making similar changes to the other locations.
"We want to give this a good six to nine months," he says. "And if it rolls out well, perhaps we will expand on the idea to the other places. But right now I'm excited about what we'll be doing to this space."
The new layout renderings are now up on the Park Road Duckworth's website, along with a peek at the new menu. You can check it out here.