Party Photos to Remember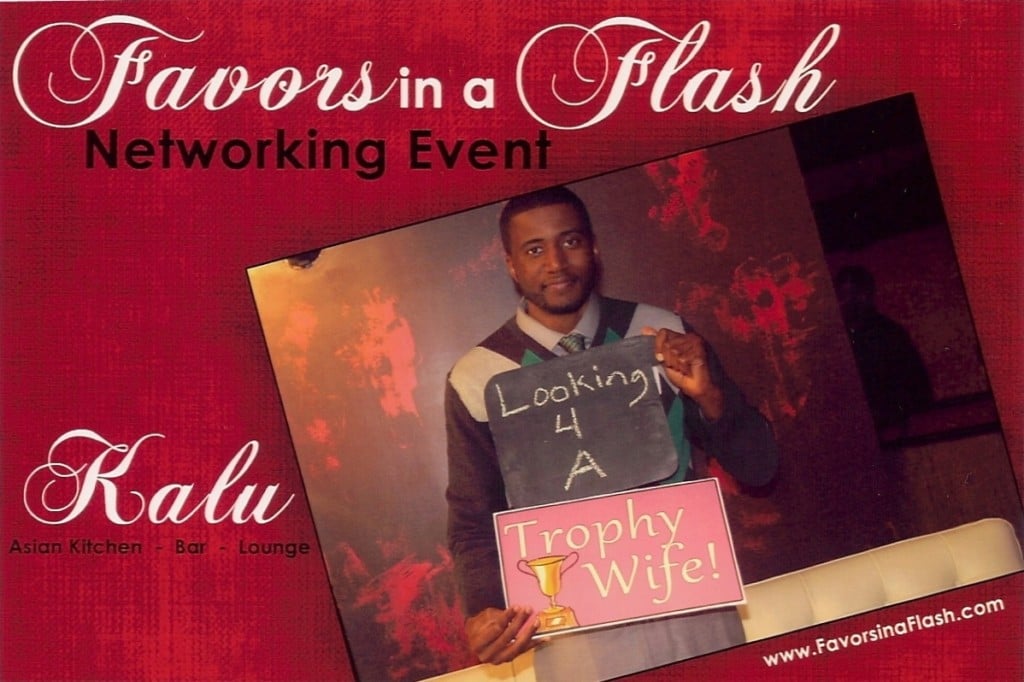 I attended an event last week that was hosted by Favors in a Flash. The Charlotte-based event photography company invited guests and potential clients to Kalu Asian Kitchen, Bar and Lounge to showcase its services.
First of all, the food spread was ridiculous, with more than a dozen different trays of sushi, chicken, rice, pasta, skewers, etc. (the way to this man's heart is through his stomach). Okay, so about Favors in a Flash—it's a cool concept and you might have attended an event in which they were hired to photograph. If not, let me introduce you.
The way it usually works is an event planner or organizer hires Favors in a Flash, who works with them to customize the photography. Favors will create backdrops, photo templates and borders, props, and other items so your guests will have keepsake photos to take home from your event that feature your company's brand—if that's what you choose. Or it could brand your wedding, birthday, anniversary party, or other memorable event.
I've attended several events that have featured photo booths, you know, where you've had a few drinks, then hopped inside a booth, maybe threw on a funny hat or fake mustache, and the camera snaps three or four shots, printing a small strip of photos out the side. Photo booths (like ShutterBooth and Shoebox Photo Booth) are fun, and they seem to have grown in popularity. But Favors in a Flash is the first service I've encountered locally that, essentially, takes the photo booth concept away from the booth and into the party. The photographer will shoot you in a number of places around the event, depending on the set up.
And it's the props that make the process the most fun. That evening at Kalu, there were several printed signs that guests were choosing and holding up in their photos, such as "Professional Networker," "Work Hard, Play Hard," and "I'm Trending on Twitter." There were also mini-chalkboards so you could write out your own sign. I decided to go with a combination of the two—as you can see in the above photo—therefore creating "Looking 4 A Trophy Wife!"
The photos we took were printed as 5x7s within a few minutes and given to us in frames. This is especially nice considering most of the time when we take photos at an event, they live on in eternity in our camera phones and on Facebook, but never make it onto photo paper. Let alone inside a frame.
Wonder if I should place my trophy wife photo next to my trophies?
Visit favorsinaflash.com for more details. And check them out on Facebook (facebook.com/favorsinaflash) to see examples of some events they've photographed recently.
Be sure to bookmark www.charlottemagazine.com/Blogs/Dusk-Till-Dawn to stay plugged into Charlotte nightlife.