Party with Jacinda and Doug E. Fresh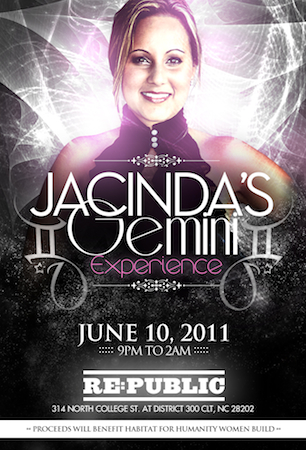 This weekend you can party with a couple of celebrities—and maybe more. On Friday, June 10, Jacinda Garabito is hosting Jacinda's Gemini Experience at RE:PUBLIC. And on Saturday, the incomparable Doug E. Fresh will be the main attraction at Celebrity 2nd Saturdays at Fifth Element.
Many of you might remember local celebrity Jacinda from the years she co-hosted Brotha Fred's A.M. Mayhem on 96.1 F.M. She's now a reporter at WBTV, so for (male) fans who fell in love with her voice and wit, they realize she's also easy on the eyes. On Friday she's celebrating her birthday and paying tribute to her fellow Geminis. Jacinda's well-known and this party should attract many of Charlotte's movers and shakers and socialites. It goes 9 p.m. to 2 a.m. at RE:PUBLIC, 314 N. College St., and you can purchase tickets in advance for $10. Proceeds will benefit Jacinda's charity of choice, Habitat for Humanity.
Then on Saturday, hip-hop legend Doug E. Fresh is hosting a party and performing at Fifth Element, 500 W. Fifth St. This is the nightclub's monthly installment of Celebrity 2nd Saturdays. Doors open at 9 p.m. and ladies are free before 10:30. Even though this is Doug E.'s second appearance in Charlotte in just a little more than three months, I don't think there will be nothing short of a packed house. He's built a following over his twenty-five-plus-year career that only seems to increase with age—a rarity for a rap artist. Songs like "The Show" and "La-Di-Da-Di" sound just as good today as they did in the 1980s, and thanks to the "Dougie" dance he's relevant to a whole new generation. I got to see why first hand when I attended the party he performed at in March when the CIAA Tournament was in town. Below is a video I captured of him rocking the crowd.