Party with Models, Stylists, Cheerleaders, and Ladies Men this Week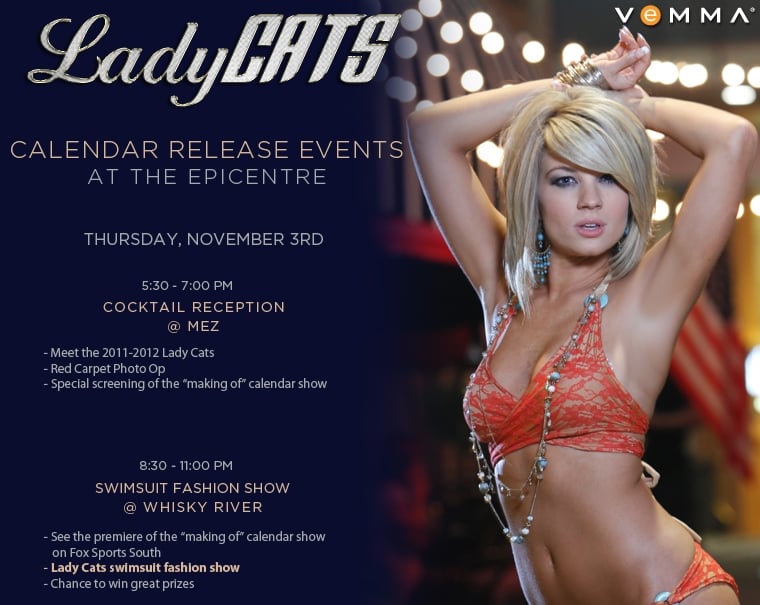 This is a great week to see and be seen, with several parties and events highlighting beauty, fashion, and all-around model behavior. And you'll be happy to notice that many of the events listed have free admission.
Tuesday, November 1
The Fashion Face Tour—The Look By Joi Collection
[Event rescheduled for Friday, November 4.] The six-city tour stops in Charlotte and ladies will be treated to a beauty night out. Eyelash and brow expert, Joi Mebane, launches her new collection that includes products focusing on the total eye area. At this event you'll enjoy cocktails, cupcakes, product discounts, gifts with purchase, and a beauty-licious swag bag. 7-9 p.m. Free. Vanity Posh Unique Boutique and Consignment, 3468 N. Davidson St., fashionfacetour.eventbrite.com, thelookbyjoi.com.
Charlotte Black Card Launch
It's the launch of a new membership card to support minority-owned businesses in Charlotte. Mix, mingle, and learn what this new venture is all about. Attendees will receive a complimentary card. Event will also feature a live performance by The Harvey Cummings Quintet. 6:30-10:30 p.m. Free. Kalu Asian Restaurant Bar & Lounge, 505 E. Sixth St., facebook.com/charlotteblackcard, kalunc.com.
Wednesday, November 2
Pop Life—Revolution EGO: Revolt and After-Party
Revolution EGO presents a night "to bring together visual artists, performance artists, music and natural hair lovers to inspire evolution." There will also be a fashion show during the event showcasing talent with styling by Davita Galloway and makeup by Joy Randall. Hosted by slam poet Bluz Rogers. Complimentary food by Sadie's Soulful Southern Experience. 8-10 p.m. Free. Followed by the popular, weekly party hosted by The Sol Kitchen with DJ Shaun Nyce and DJ DR. 10 p.m.-2 a.m. Free. Re:Public, 314 N. College St., thesolkitchen.com, republicofcharlotte.com.
Level Wednesdays—Ladies Man
This weekly party already draws scores of women, now there's a contest to crown the Ladies Man. The guy who brings the most ladies Wednesday night will win $250. 10 p.m. Cost varies. For VIP tables, 704-971-7878. Suite, inside EpiCentre, 210 E. Trade St., suitecharlotte.com.
Thursday, November 3
Lady Cats Calendar Release Parties
The Lady Cats (Charlotte Bobcats cheerleaders) invite you to help them celebrate the release of their 2012 Swimsuit Calendar. They're hosting two events at the EpiCentre. The cocktail reception, 5:30-7 p.m. at Mez, features a meet-and-greet with the Lady Cats, red carpet photo op, and special screening of the "making of" the calendar show. Next, it's a swimsuit fashion show, 8:30-11 p.m., at Whisky River, featuring the premiere of the calendar show on FOX Sports South, the ladies modeling swimsuits, and prize giveaways. Free. EpiCentre, 210 E. Trade St., bobcats.com/ladycats, epicentrenc.com.
Bill Hanna's Vintage Dance Band
Now playing the first Thursday of every month, this twenty-piece orchestra band—featuring vocalist Renee Ebalaroza—plays you through a night of music and dance. Enjoy your favorite styles of ballroom dancing: swing, shag, foxtrot, cha-cha, waltz, samba, salsa, and more. Got two left feet? Come early for the dance lessons at 7 p.m. Event starts 8 p.m. $10. Grand Central, 1000 Central Ave., grandcentralevents.com.
All Things Grand Video Release Party
Witness a live model presentation and photo shoot. The first fifty guests will receive signed DVDs. Hosted by fashion designer Lore Emelio and Bread & Butter Pictures. Music by DJ Edouard. Drink specials include $3 domestic beers, $4 apple sauce shots, $5 vodka drinks, and $100 vodka bottles. 10 p.m. Cost varies. For complimentary guest list, Thursday@buttercharlotte.com; for VIP table reservations, viptables@buttercharlotte.com. Butter NC, at NC Music Factory, 950 Seaboard St., buttercharlotte.com, loreemelio.com.
Be sure to bookmark www.charlottemagazine.com/Blogs/Dusk-Till-Dawn to stay plugged into Charlotte nightlife.