Party with the 'Best of the Best' Tonight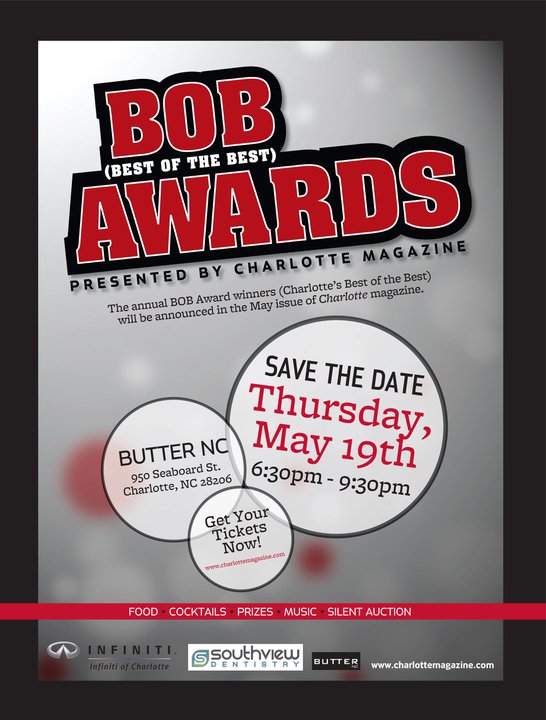 Charlotte magazine's 2011 BOB Awards (Best of the Best) is taking place tonight at Butter NC. You might recall attending this event the past few years at SouthPark Mall, and other locations before that. But to my knowledge, this is the first time the event is taking place at a nightclub. I'd like to think Dusk Till Dawn had some influence on that. But what this really means is it's gon' be a party y'all!
The BOB Awards isn't an actual awards ceremony, but is an event to celebrate the winners of the Best of the Best in Charlotte, from dining and shopping to arts and service, as presented in Charlotte magazine's May issue, which has been on newsstands for almost a month now, so hopefully you've had a chance to pick it up. If not, you can read it online here (make sure you check out my contributions to the Nightlife section). And in typical BOBs fashion, tonight's event will feature plenty of free food from winning restaurants—that's the best reason to attend right there. There will also be cocktails and raffle prizes.
The event is 6:30-9:30 p.m. tonight (May 19) at Butter NC, located at 950 Seaboard St. inside NC Music Factory. Advance ticket sales have closed, but you can still purchase them at the door for $15. The attire is business casual—or you can dress up more if you like because, after all, this is being held at one of Charlotte's trendiest clubs—and you must be twenty-one years of age or older.
And for the first time this year, there's an after-party, which is also taking place at Butter. So after the BOB Awards end, stick around to party to the sounds of DJ Ahuf and DJ Ciprian. Drink specials at the after-party include $3 domestics, $4 Royal Flush shots, and $5 well vodkas.