Pastry Chef Jamie Turner, The Asbury Get the Oprah Treatment
Weight Watchers selects the Asbury's pastry chef to create a "WW Favorite" item ahead of Oprah's 2020 Vision Tour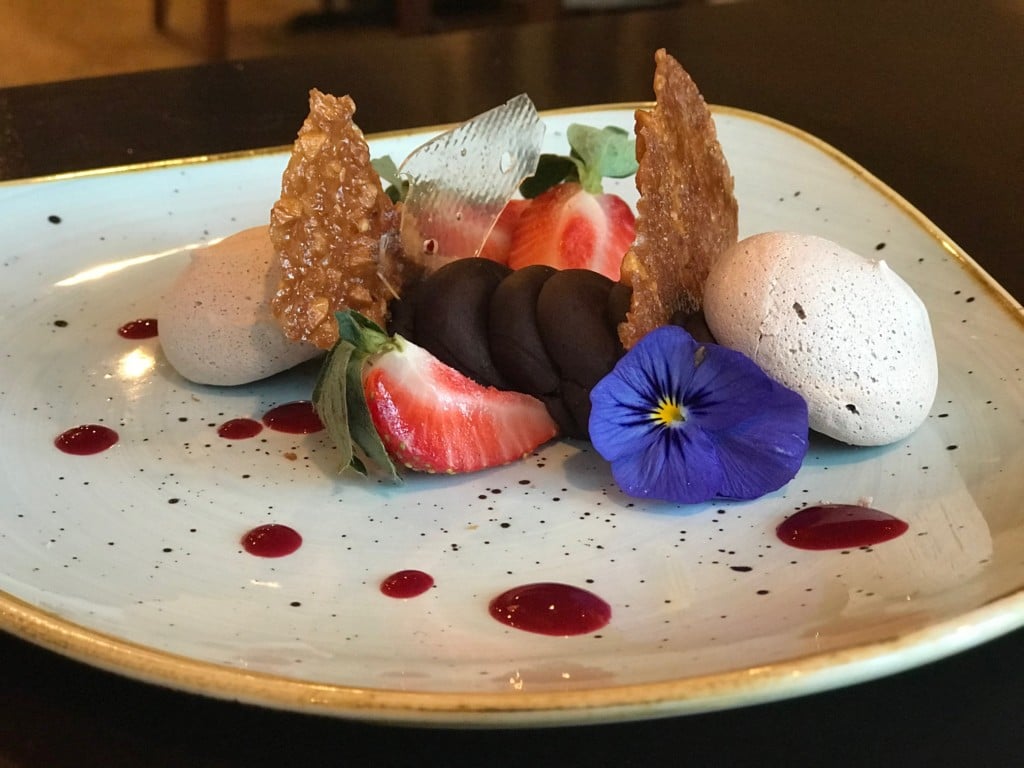 When the production company behind Oprah's 2020 Vision Tour called Jamie Turner late last year to ask the pastry chef to create a dessert in partnership with Weight Watchers (WW), she thought it was a joke. "I honestly thought I was being punked," she says with a laugh.
But it was no joke. The tour recommends menu items at local restaurants for Oprah's fans who follow the WW program, and the Asbury caught their attention. Turner got to work and created a chocolate hazelnut pavlova nouveau with raspberry coulis. The only problem? It was 36 Weight Watchers points. So she gave her chocolate confection a healthy makeover to earn its "WW" logo. She used avocado to create the chocolate marshmallow-y center, and instead of calorie-dense ice cream, she garnished it with light, chewy meringue discs, strawberries, and edible flowers. "I measured and weighed every ingredient so carefully," she recalls. "Eventually I got it down to 8 points."
Today Oprah's team announced each of her select "WW Favorite" restaurant partnerships from nine cities, and the Asbury got a coveted spot on her list. Oprah's 2020 Vision tour kicks off tomorrow, January 4, and makes stops in Ft. Lauderdale, Florida; St. Paul, Minnesota; Charlotte, North Carolina; Atlanta, Georgia; Brooklyn, New York; Dallas, Texas; San Francisco, California; Los Angeles, California and Denver, Colorado. Each stop features a lineup of celebrity guests (Amy Schumer joins her in Charlotte on January 18), leaders in the wellness industry, and ordinary people who've committed to healthy living. Oprah takes the stage to share lessons about her own wellness journey, and everyone in the audience gets WW Reimagined box lunches.
Rumors are swirling that Lady O may stop by for a meal at the Asbury when her tour comes to Charlotte, but nothing is confirmed. If that were to happen, though, Turner and the Asbury team know what the "Oprah Effect" could mean for the restaurant. A single endorsement from the OG of influencers has launched careers, and turned small business owners into millionaires overnight. A "WW" coin sticker on their menu could mean a huge boost in visibility for the cozy southern restaurant inside the city's only historic boutique hotel.
Turner will be at Spectrum Center on January 18, but don't expect our hometown girl—and NCRLA's 2019 Pastry Chef of the Year—to get a big ego over any of this. She's still the unpretentious, Chuck Taylor-wearing, Hell's Kitchen-watching, pizza-loving girl who loves to bake more than anything. "I feel like (dessert) is a gift that makes other people smile," she says. "When I tell people what I do, they always smile and want to hear more."
So head over to the Asbury and try the now-famous dessert—before everyone else does.
Oprah's 2020 Vision: Your Life in Focus tour comes to Spectrum Center January 18.