Path to 270 Runs Through Charlotte…No Bull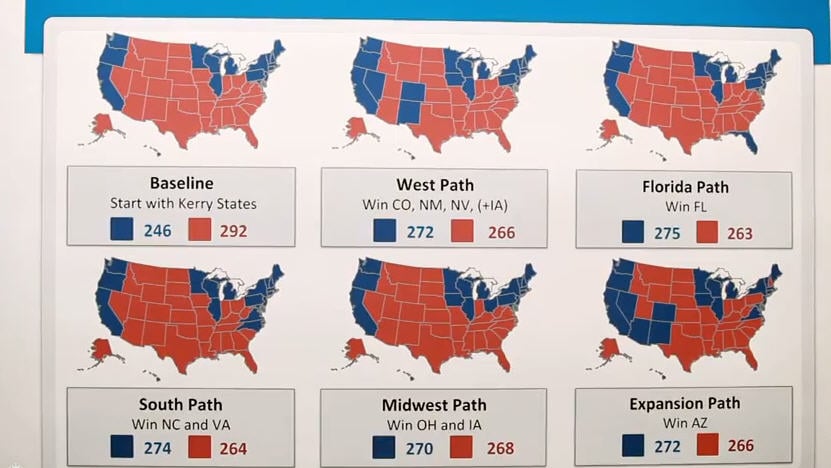 Most of the presidential politics talk over the last few months has been about the candidates vying for the Republican Party's nomination. And with the Iowa caucuses less than a week away, the twenty-four-hour news outlets are nearly drowning us in coverage of what Romney, Gingrich, Paul, and 'em are doing at every waking moment. But you should know that the other side is hard at work, too.
Obama for America, President Barack Obama's re-election campaign committee, released a video today in which Campaign Manager Jim Messina shares the different ways they can get the 270 electoral votes needed to win the presidential election in 2012. Messina says there are more than forty pathways to achieve 270, and in the video he outlines five of them: West Path, Florida Path, South Path, Midwest Path, and Expansion Path.
The South Path includes North Carolina and Virginia—"We call this the New South map," Messina says. Then he further addresses North Carolina, stating what was rather obvious, even if it wasn't always admitted by campaign officials.
"We put the Democratic National Convention in Charlotte, North Carolina, in part because we believe so deeply in this map," Messina says. "We've had big electoral wins in 2011 on the ground; we have great neighborhood teams in North Carolina."
Watch the just-under-three-and-a-half-minute-video below. The funny moment, which has already started to garner headlines, comes at the 2:48 mark when Messina addresses the speculation that this will be a billion-dollar campaign: "That's bullsh*t."
So the Obama campaign believes in Charlotte and North Carolina, despite Politico ranking their decision to pick Charlotte to host the DNC as one of the "Top 10 political blunders of 2011."