Patio Season at Fireside
A new Cornelius restaurant gets fired up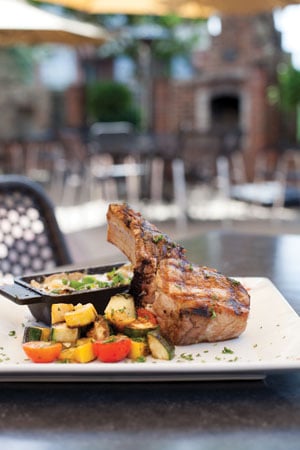 When longtime restaurateur and chef Tom Schiavone decided to open a restaurant in Cornelius—he's in the midst of relocating to the area from his native New Jersey—he knew he'd found something special in the Fireside Bar & Grill spot. The space, which was most recently occupied by Pelican's Patio Bar & Grill, has undergone a near-complete makeover. The former tenant's kitschy island look is gone—with the exception of a large aquarium near the restaurant's entrance—replaced with simple décor in shades of maroon and black.With its understated, upscale casual atmosphere, Fireside Bar & Grill may feel familiar at first glance. A large, open bar-meets-dining room means that the restaurant can be loud if there's a crowd. But if it's a sunny day or a warm evening, a seat on the patio feels worlds away. It doesn't have lake views or a stunning vista, but it does have two oversized fireplaces, a large circular bar, and plenty of seating—making it a destination on its own merit.
The straightforward, family-friendly menu offers a few surprises. Created by Schiavone and executed by chef Josh Jones, it's extensive, with a primary focus on sandwiches and steaks. The stuffed burger ($12), made with in-house-ground certified Angus beef and stuffed with caramelized onions, bacon, and smoked Gouda, is a signature item. It's juicy and well-matched with a soft telera roll. A selection of steaks and chops rounds out the menu, from the black smoked salt-dusted filet ($27), to a double-cut grilled pork chop ($17), rubbed with herbs and garlic.
But there are Italian and Asian influences, as well. Hot & Fire Shrimp ($10) presents a pile of tempura shrimp in a tangy, sweet-sour sauce. Flatbreads are generously portioned and excellent for sharing, particularly The Garden ($14), topped with grilled figs, fresh pears and cranberries, smoked Gouda, and a balsamic glaze.
A sophisticated cocktail selection features drinks like the Gin & Ginger ($8), made with Tanqueray Rangpur, agave, ginger liquor, and club soda garnished with candied ginger. And all of the drinks pair well with the patio, especially when there's live music and a festive crowd.