Patriotic Palate: Joe Hooper's Beverage & Sandwich Exchange
Plaza Midwood eatery honors a decorated S.C. Vietnam combat veteran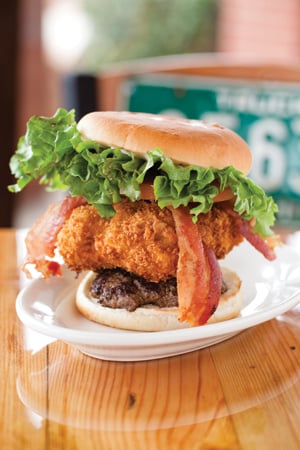 Joe Hooper does not own the Plaza Midwood sandwich shop that opened in January and shares his name. In fact, Hooper hasn't ever set foot in Joe Hooper's Sandwich Exchange. Instead, the restaurant pays homage to his memory as a Southerner (he was born in Piedmont, S.C.), and as one of the most decorated soldiers in American international combat history, with 37 citations earned during 17 years of military service, including eight purple hearts and the Medal of Honor. Inside the restaurant, a photo of Hooper has a place of honor near the front door; other walls display retro décor including vintage-looking signs, weathered license plates, and booths accented with burlap.
The restaurant—created by the same group behind Whiskey Warehouse, All American Pub, and Brazwell's Premium Pub—boasts an all-American and deli-inspired menu with a Southern twist. Deviled eggs ($4.95) and "redneck poutine" ($6.95)—tater tots topped with Velveeta, bacon, and PBR mushroom gravy—keep company with crisp fried pickles ($4.95) and other American standards on the starters menu.
But the main attraction is a hearty lineup of sandwiches and burgers. There's fried bologna, $4.95, and the "Taste of the South," $5.45, which pairs a just-spicy-enough pimento cheese with a grilled tomato, plus hot dogs, grilled cheese, and other American classics. Then there are the burgers. Here you'll find standards—like the cheeseburger ($4.45), which comes topped with Velveeta, lettuce, and tomato—along with some house specialties like the Central Burger ($5.45) topped with fried mac-and-cheese and bacon, and the NYC Burger, which tops a patty with pastrami, Swiss, slaw, and Russian dressing for $5.45. If you're really hungry (or just ambitious), opt for the Fat Boy Burger ($9.99): two grilled cheese sandwiches with a double burger in between. The Fat Boy is a meal in itself, but side orders are $3 and large enough to share.