Pattern Play
Easy do-it-yourself projects to create a custom fall tablescape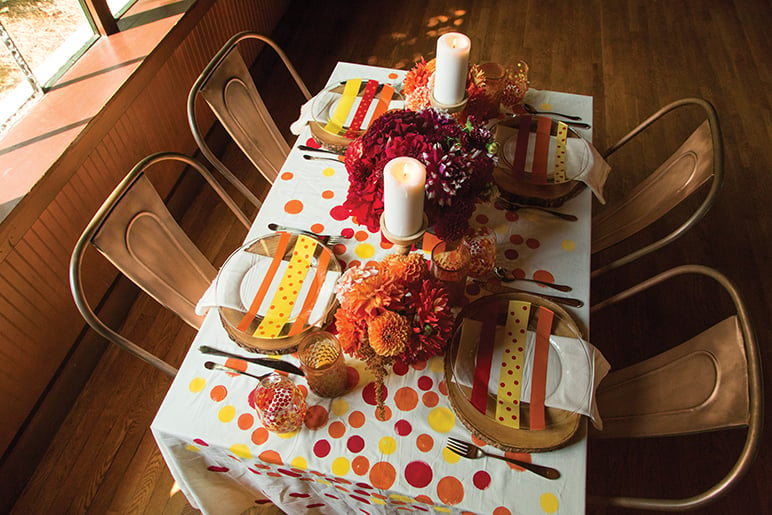 Polka dots and stripes in harvest colors make for a stunning, playful fall tablescape. For this design by Kathryn Godwin of Studio Cultivate, a few inexpensive supplies and florals by Springvine Design give a plain tablecloth and glassware a custom look.
Supplies:
Tablecloth or cut muslin fabric
Paint brushes
Painters tape
Round paint "pouncer" sponge brushes in different sizes
Acrylic glass paint
Acrylic craft paint
Glass vases, plates, and drinkware
LOGAN CYRUS
Tablecloth
Step 1: Iron fabric or tablecloth, and place it on a flat surface with several layers of newsprint underneath.
Step 2 :: Dab pouncer sponge in craft paint and press to fabric. Continue in a random pattern, concentrating dots in the center of the tablecloth, with fewer dots to the edges.
Step 3: Alternate sponge size and paint color until you're pleased with the pattern.
Plates & Vases
Step 1: Flip the plates upside down, and use painters tape to create stripes across them. Use the same technique on the outside of the vases.
Step 2: Apply dots first with pouncer sponges,
and allow to dry.
Step 3: Apply 2-3 layers of paint to the stripes, allowing each stripe to dry before adding a second or third coat.
Step 4: Once dry, carefully peel away tape. A utility knife may be helpful to slice paint away from the tape's edges.*
Glasses
Step 1: Using a small pouncer sponge, apply dots of paint to each glass, alternating colors.*
*For plates and glasses: Follow the instructions from the paint manufacturer to cure the paint. Typically, glass paint should cure for 21 days, or be baked in the oven to set.