Pearlz Opens in Ballantyne
The oyster bar's newest location has opened on Rea Road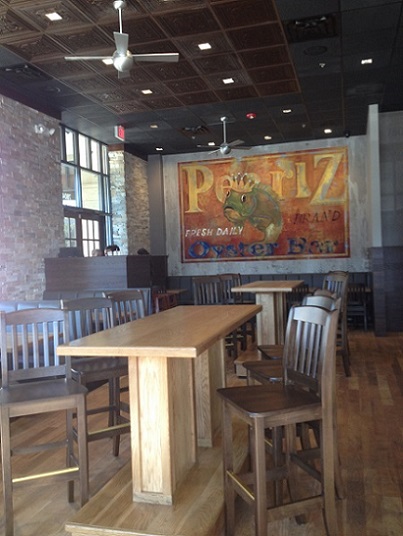 Snug in the spot where Miro used to reside, Pearlz has opened shop in Charlotte. The newest addition to the Shops at Stonecrest officially opened about two weeks ago, and from the presence of a crane adjusting the signage on the front of the exterior, there are still some finishing touches being made.
Inside, a giant mural of a fish sits on a far wall, embracing the seafood focus. A wrap-around bar sits at the center of the restaurant, with a few televisions tuned to games; giving the area an upscale bar feel. Copper-looking tiles on the ceiling give a bit of an industrial vibe. This would definitely be a cool place to grab a few oysters, sit around the bar, and spend a Friday evening with friends.
First, I ordered the BLT Seafood Tower' described on the menu as shrimp, crab, shredded lettuce, asparagus, tomato, bacon, eggs, and green goddess dressing. The flavors worked well together and, though a few of the shrimp were not cleaned properly, the bacon was crispy.
I moved on to the Cod Sliders, which are described on the menu as cornmeal-crusted with bacon and onion marmalade, bread & butter pickles, baby arugula, and tobasco aioli. Overall, the two sliders (served with housemade barbecue-flavored chips) had a smoky sweetness from the marmalade which played well with the crisp bite of the cod, but eat quick before the grease begins to soak away the crunch.
Also on the menu are items like Baked Oysters Rockefeller, based on the classic recipe with parmesan, breadcrumbs, and green onions but enhanced with crawfish, lump crab, and bacon. The wait staff, though new, was helpful and enthusiastic. Chain restaurants usually struggle to maintain quality is they expand, but hopefully with time Pearlz will become a consistent neighborhood spot.