Penny Loafers and Alligator Belts
A Charlotte native remembers when men had two places to shop for clothing in the city, and they were within a short stroll of each other on Tryon Street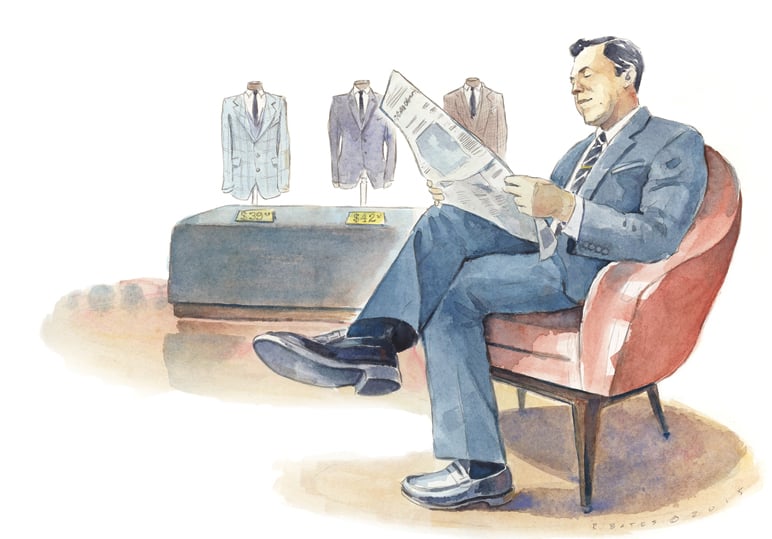 IN THE SUMMER between my junior and senior years at the University of North Carolina, I came home from Chapel Hill and landed an enviable job—as a salesman in the University department at Tate-Brown. This was a half a century ago, the summer of 1962, a time when men who wanted clothing had only two destinations. One was Tate-Brown Company, and the other was Jack Wood Limited.
Both stores were on Tryon Street, and both prided themselves on good merchandise and good relationships between salespeople and customers. My memories of Jack Wood are, at best, fractured and incomplete. I remember liking a beautiful black and white houndstooth sports coat. I didn't buy it; they didn't have it in my size. I also remember overhearing a snippet of conversation between Mr. Wood and a customer about a mutual acquaintance who had just purchased a new Rolls-Royce, a $25,000 expenditure at the time. Older men shopped here, older men with good taste and deep pockets. I remember envisioning myself becoming one of them, with refined sartorial tastes and money to spare. Such are the generous visions of youth.
My memories of Tate-Brown are more vivid, for many reasons. These were my formative years. My father, a mining engineer, died when I was 19 months old, and my mother moved our family from Charlotte to Lancaster, South Carolina, where she was an executive assistant. Still, I considered Charlotte a second home. We had regular Saturday lunches at The Oriental on West Trade Street, and I always envied the men of the city who had good taste. So when I came back here to work at Tate-Brown that summer, I thought Charlotte would be where I'd live forever.
Tate-Brown, not large in size, occupied three floors, the University department being on the third. The first and second floors housed the adult clothes—men's and women's on the first, men's only on the second. A self-service elevator took you between floors. Before that, the store had a manually operated elevator. A woman whose name I don't recall worked that. She knew the Tate-Brown customers, and they knew her. She was such a part of the store that when the newer, modern, self-service unit was installed in the late 1950s, she kept her job. She sat regally in her chair in the elevator car, greeted customers, and simply pushed the button. She rode that elevator straight into retirement.
The University department sold suits, blazers, sport coats, neckties, and the essentials for campus wear: Gold Cup socks, sweaters, London Fog outerwear, khaki pants, Gant button-down shirts, madras shirts, alligator belts, and, of course, Bass Weejuns penny loafers. This was many years before college males adopted blue jeans, T-shirts, baseball caps, and running shoes. Looking back at old issues of The Yackety Yack, the UNC yearbook, the men look neat and well-dressed, with their short hair and campus wear.
The style of dress was initially called Ivy League fashion, supposedly the preferred style at Harvard, Yale, and Princeton. It would eventually be labeled "preppy." Years later, ads for Polo Ralph Lauren evoke memories of those clothes.
At college, I wore penny loafers, until one day I saw a classmate from New York wearing a different type of loafer. His had a metal piece across the top. I didn't know him well enough to ask about them, and it being the 1960s, I didn't have a camera on a cell phone to sneak a picture of them. Without a photograph, I tried to describe the shoes as I asked around Charlotte. My inquiries were futile: People gave me strange looks and a few snarky suggestions. A few years later, I would learn that my school chum had good taste in shoes; he had been wearing the basic, classic Gucci horsebit loafer. Made in Italy. Sold in the Gucci store on Fifth Avenue in New York. I remember my delight when I obtained my first pair years later.
***
WORKING AT Tate-Brown, I joined a trio of professionals: Mr. Lake Byers, who was the buyer and department supervisor in addition to being a salesperson; another salesman whose name I think was Bill; and a saleswoman, Ms. Hunter, whom everyone called Hunter.
I remember Hunter most. She was no-nonsense. She was short, gruff, stocky, not particularly fashionable in her clothes, somewhere in middle age. I learned nothing about her personal life, her background, or her family. She did mention that she lived alone in a nearby apartment on Church Street. I got the feeling that her work was her life. When it came to sales, she was no slouch. She had a loyal customer base. Someone would come in, and Mr. Byers or Bill would whisper to me, "That's Hunter's customer," the signal to stay away. Some customers would leave immediately if they saw that Hunter wasn't there. The word was that Hunter had trained her customers from an early age to deal exclusively with her.
Hunter could display flashes of humor and a dry wit, which seemed at odds with her serious appearance. My mother stopped in one day. She walked over to speak to Hunter, who was arranging a stack of men's trousers. Hunter looked up and said, "You know, I've zipped up more men's pants than any woman in Charlotte." My mother laughed! Women have their own humor.
The tailor and his staff occupied part of the third floor. Also up there, you might find a fellow named Nat. He was an unsung hero who kept everything moving. He was everywhere. He did everything. He knew everyone. I once asked Nat if he lived in Charlotte during the Great Depression. He smiled and responded, "Oh, yes. I had it good. I had a job carrying trays for customers at the S&W Cafeteria. Customers always tipped me!" I mentioned that my mother and my red-haired Aunt Virginia lived in Charlotte then and frequently ate at the S&W. He smiled. "Your Aunt Virginia worked at a bank," he said. And he was right. My aunt, Virginia Dobson, started working at Union National Bank as a secretary in the summer of 1929, and soon she became one of the first female bank tellers in the state of North Carolina. Union National would become First Union, then Wachovia, and then Wells Fargo, but Aunt Virginia, who's still alive today and sharp at 104 years old, will always have the honor of having helped change the face of the bank's workforce.
***
EVERY COMMUNITY has its history or histories, and Charlotte is no exception. I wish someone could have taped interviews with Tate-Brown employees and some of their customers. They knew so much; they knew the people, the stories. An older gentleman occasionally stopped by to visit. In one conversation, he told me about the early days of Myers Park—the prices of property when it first was built. He said many lots went for the low $100s. As in, less than $1,000.
Another gentleman vividly described parties and events at the Myers Park Country Club: They had one for everything, it seemed to this young man, from birthdays to anniversaries to tennis matches. Later, that gentleman brought in black and white Kodak snapshots as proof of the parties.
Everything changes, and trends in retailing are no exception. By that summer of my employment, Charlotte had several strip malls and one new enclosed one, Charlottetown Mall, which would become the template for future iterations of the mall. Metropolitan stands there now.
After that summer, I went back to Chapel Hill, better dressed and more ready for life after graduation. I couldn't wait to get back to Charlotte. Only, I didn't make it. The next summer, I went to visit friends in New York City and had a blast. I got a job and an affordable apartment, and began a long career in advertising and television. I always believed I would move back here, but years passed and suddenly it was 2001, and I was living two miles north of the World Trade Center. I'd like to forget what I saw and smelled on September 11 and in the days that followed. But when the buildings fell, any doubt that I would return to my home, to the South, to the place I'd left during the Jack Wood and Tate-Brown era, was gone. In September 2005, I moved back.
By then, of course, big box stores had become the hot thing. Also, personal computers and the Internet. People love the convenience of shopping at home. They can avoid a trip, the store, and interaction with a salesperson. The physical experience of shopping can be eliminated. It strikes me as being the opposite of the Jack Wood/Tate-Brown shopping adventure.
Now, we have small, independent venues, and we consider them echoes of the past. We view them through a filter of nostalgia, and we are encouraged to shop local. These places are frequently referred to as "brick-and-mortar stores." When I hear that, I can't help but think about stores like Jack Wood and Tate-Brown, and that summer I worked in the University department, and the woman in the elevator car and Ms. Hunter and the tailors and the stories of the Rolls-Royce. Those places were brick-and-mortar stores, too, but we didn't call them that. We didn't have to.
Cole Waddell is retired in Lancaster, South Carolina, but makes periodic trips to Charlotte to see his cousins Linda, Saundra, and Samantha. He is always amazed by the constant growth and ongoing changes in the city. He can be reached at cwaddell@comporium.net.