Perfect Fit
5 Tips For Wedding Dress Shopping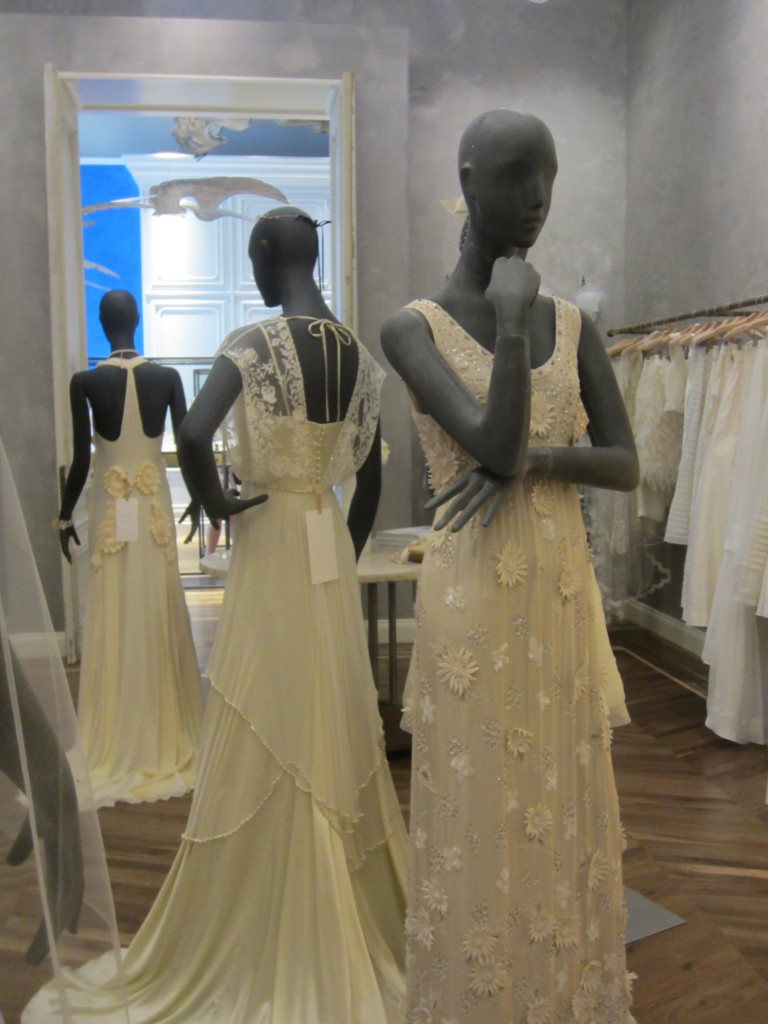 Even the most seasoned shopper will hit a first when it comes time to hunt down her wedding gown. Save a few questionable concoctions donned for various high school dances, this could well likely be your first floor length gown. And unlike your prom party dresses, this ensemble opens the door for a whole new set of extra considerations that will make all the difference in choosing. Not to mention its substance far surpasses that of any previous soirée. There is no getting around the fact that wedding gown shopping is an overwhelming process. Sticker shock, endless racks of white silk, tulle and lace confections and a new level of three-way mirror-induced scrutiny can make even the most level-headed bride uneasy. But like all things I do-related, a few simple tips, a deep breath (and maybe a mimosa!) will quell the fears and help you actually enjoy the process. After all, the point of happily ever afters is just that. Don't stress over the dress. Like the man who will be waiting for you at the end of the aisle, when you find the perfect dress, you'll simply know. And a few key pointers will make finding it a cinch.
Location, Location
Before you begin contemplating styles and silhouettes (prior to your appointment), take a moment to think about the wedding details mapped out thus far. Venue, décor and level of formality should all be kept in mind when choosing your gown. A beachy chiffon concoction is not likely to be in keeping for a white tie wedding. Choose design details that are in keeping with the feel of your wedding from start to finish. Of course ultimately the dress can stand on its own, but you won't want it to stand out of place. This can easily be discussed with the shop owner or associate at your appointment. She will be able to assist in suggesting venue-appropriate options if you're unsure yourself.
All Dolled Up
Rise in plenty of time the morning of your shopping excursion. Wash and style your hair, apply makeup and make sure you feel your prettiest prior to the appointment. It's important that your appearance resemble the final look you wish to achieve. Get plenty of sleep, hydrate skin with moisterizer and eat a small snack before you arrive. Trying on gowns is exhausting. You'll want to be fueled with energy–but not too full.
Never Say Never
Though you should have a few ideas in mind–including specific dresses you've scouted out from the shop's website, don't discount a single dress someone suggests. Be it the associate or a member of your shopping entourage, slip into the dress you'd never imagine donning and give it a twirl. You may hate it, you may be surprised or you may even find 'the one.'
I see London, I see France
Undergarments are essential for dress appointments. A seamless thong and a well-fitting strapless bra in nude will do just the trick. It's impossible to envision how a gown will look with panty lines or unsupported bodices. Though you'll have to use your imagination a bit regardless (dress shops only carry sample sizes which is about 6-8, so you may be clamped in the back), wearing the right underpinnings makes it much easier to get the idea.
Wallet Woes
For those with no wiggle room in the budget for dresses, alert the associate you'll be working with ahead of time. While trying on out-of-budget gowns may seem like a fairytale idea, falling in love with a gown you have no chance of being able to purchase will only end in tragedy. Stick to gowns within your means only. Your dream dress is out there in your price range. Don't let a stunning gown with an equally stunning price tag allow you to think otherwise.
boutique photos: BHLDN Chicago