Perfect Patios
Soak in this week's summery weather with a meal outdoors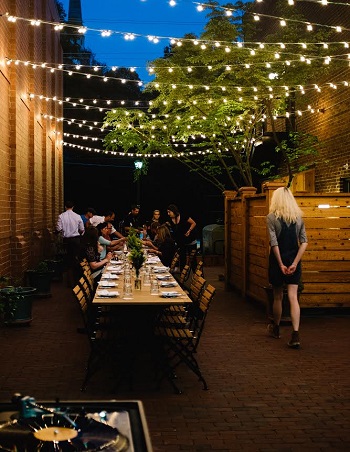 With the summery weather and temperatures in the 80s (possibly 90s) this week, it's time to sit back, relax, and enjoy a delicious meal outside at one of Charlotte's eateries boasting a patio.
Nan & Byron's: 5Church's sister restaurant sits in SouthEnd and boasts a nice patio overlooking the bustling street. Order a half price bottle or glass of wine on Tuesdays plus an appetizer (like the crispy oysters with pineapple and shaved jalapenos) and grab a spot under the umbrellas.
The Liberty: In the mood for a burger and a beer? Head to The Liberty, also situated on South Blvd. The patio is covered and, more importantly, dog friendly. Grab a Crunch Burger featuring pimento cheese, smoked bacon, and house chips along with the more "usual" burger accouterments.
Peculiar Rabbit: Along with a patio out front, Peculiar may have one of the best open rooftop dining areas in the city. Head over to the eatery in Plaza Midwood at sunset, order Buzz City Bramble, featuring Makers Mark, blueberries, bitters, and Elderflower liquor, and sip on while the world slows down.
Soul Gastrolounge: Right across the street from Peculiar Rabbit is Soul Gastrolounge. Although not a patio, per say, the few outdoor tables under the overhang on a sort of fire escape-esque walkup make for a great spot to enjoy the warm weather along with those pork belly and watermelon tacos we can't get enough of.
Georges Brasserie: For a refreshing start any weekend, head to Georges Brasserie for Sunday brunch – and be sure to sit outside. The al fresco dining coupled with the all-you-can-eat brunch (featuring a carving station, breads, pastry, eggs, mac and cheese, and amazing desserts) is a stellar way to start any morning, in our book.
Kindred: New to the patio world is Kindred, which recently opened in Davidson. The new 1,000 sq ft patio sits snug between the eatery and a neighboring building – making use of exposed brick, strung garden lights, and the at-home feel of the constantly changing dishes for an intimate feel.