Perspective: Winter Cheer
Rooting for others to succeed instead of fail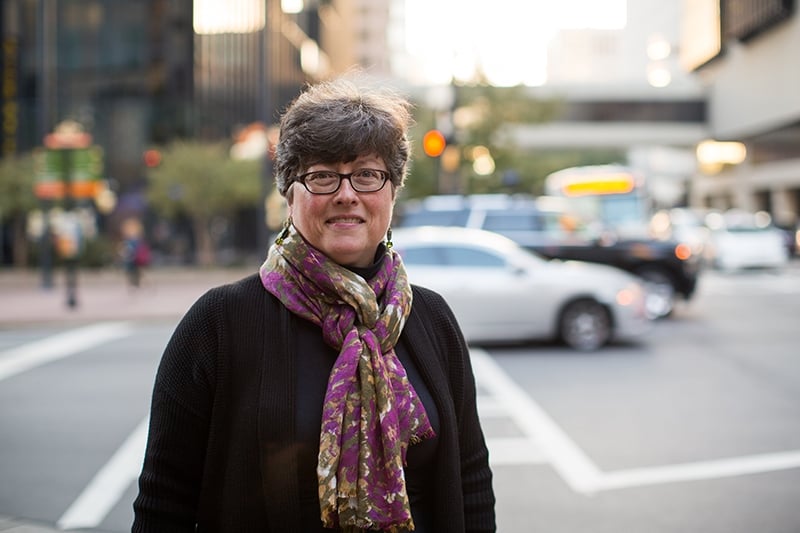 THE CAROLINA SKIES are so brilliant in winter that they make your eyes water. Cold, clear blue makes up for those gray, drizzly days that make me wish it would go ahead and snow already.
There's something about snow days that feels like permission to suspend all the usual plans and have some fun.
I get the same feeling when the Charlotte marathon winds through our neighborhood every year. Nobody is going anywhere except the runners—the streets are closed for the race—so we take the morning off and go over to The Plaza to cheer the marathoners on toward the 19-mile mark.
Cheer Station No. 9 knows how to lift runners' spirits. More than 100 people gather to yell and ring cowbells and wave irreverent signs and see neighbors we haven't seen in a while. There are kids everywhere, and dogs keep a hopeful eye on the pancakes the kids demolish. The Loose Lugnuts band plays in someone's driveway.
Many of the runners wear earbuds and listen to their own soundtrack, and may not hear any of our excitement at all. But some brighten and pick up their pace.
Think about it. Streets all over Charlotte were filled with people cheering on other people. Cheering for strangers to succeed. Not rooting for someone else to fail.
What a gift.
ALIX FELSING is an executive coach, teacher, and editor. She helps people navigate change more effectively. Reach her at alix@alixfelsingconsulting.com.