Photo Essay: Black on Black Love Rally (July 9, 2016)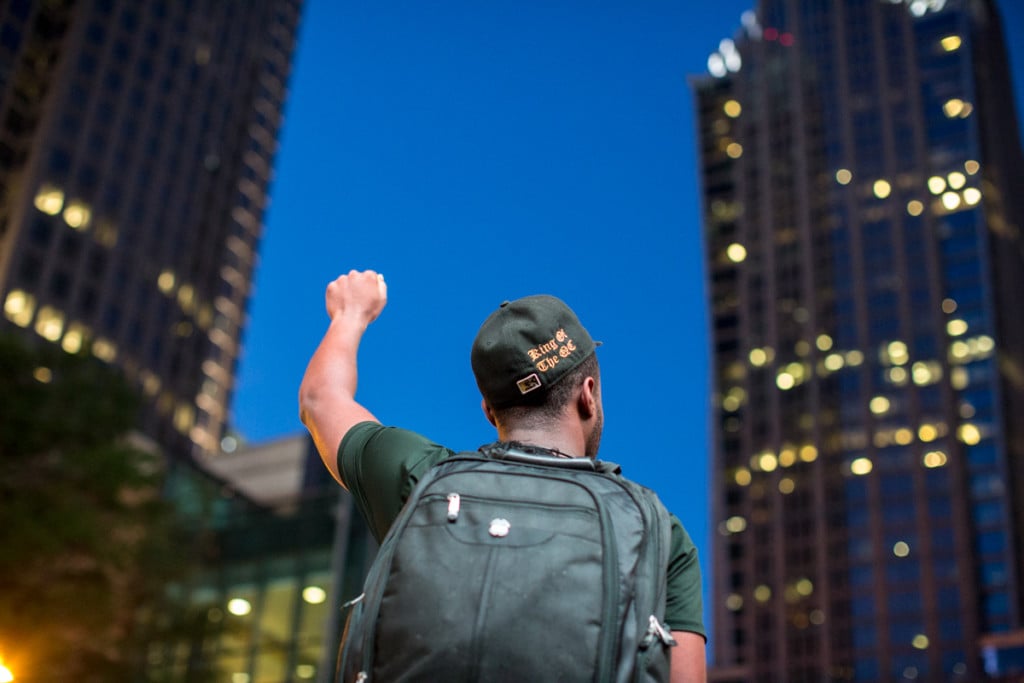 ON SATURDAY, protesters gathered in Charlotte for the Black on Black Love rally. The meeting and subsequent march spread a message of peace, but also was intended to raise awareness of police brutality and racial discrimination. The march began at Charlotte-Mecklenburg Police Department headquarters at 6 p.m. and didn't return until 10 p.m.
Demonstrators make their way into the courtyard into the Epicentre in uptown.
---
March organizer Starlacha Hurst comforts a rally-goer, as she tells the crowd how police brutality has affected her life and family.
---
Maj. Gerald Smith looks on as the protests marches past Trade and Tryon streets. CMPD officers rode along the route on bicycles for the duration of the march.
---
Shawn Kinard (left) and Nikko Collins (right) hold hands as they march down Stonewall Street in uptown.
---
Protestors stop at the corner of Trade and Tryon. A statue of "Transportation" can be seen behind them. The sculpture is modeled after an African-American man holding a hammer to represent the men who built the railroad in the late 1800s. The railroad made Charlotte the city it is today.
---
Justin Tolston, a student at the Charlotte School Of Law, marches down Stonewall Street, a few blocks away from where he attends class.
---
As the march continues down the road, people slow to show support.
---
Patrons of restaurants in uptown look on as the peaceful march passes by.
---
A CMPD officer on a bicycle blocks traffic as protesters cross the street.
---
A server at the Redeye Diner at the Epicentre uptown watches the protest as it passes by.
---
An hour after the protest left the Epicentre, they return to find the area is blocked off and being guarded by private security.
---
Jarod Harris speaks to a family on the street, saying, "This movement is about peace, not about violence. It's a positive movement."
---
Nearly four hours into the march, a fellow marcher and Black Panther ordered pedicabs so that marchers can take a break but still continue to spread their message around uptown.
---
Four hours after the march left CMPD headquarters, only eight marchers remained.
Logan Cyrus is a freelance photographer based in Charlotte.
Correction: An earlier version of this story incorrectly identified Lameka Jackson as the organizer who is comforting a rally-goer in one of the photos. The name has been changed to Starlacha Hurst.
---