Photographer Monique Floyd Finds Fulfillment in the Art of the Selfie
'It's me taking back my power'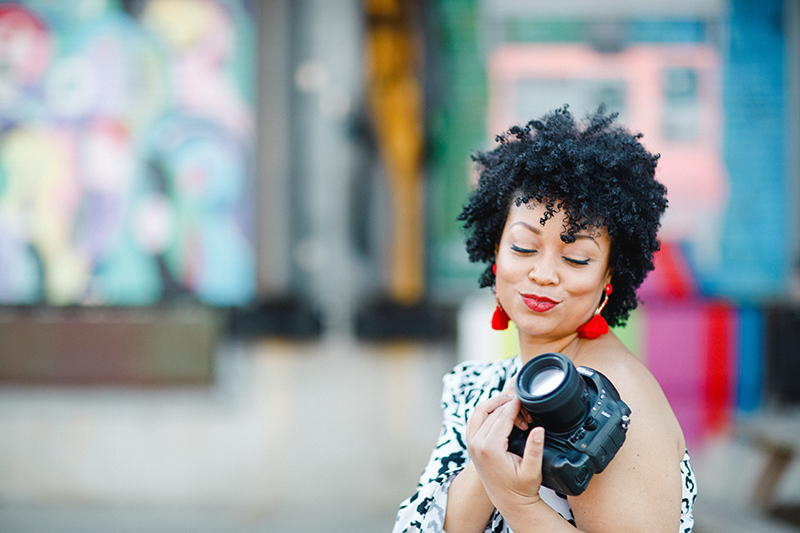 A decade ago, Monique Floyd—who goes by King Moe, or just Moe—left her job to take photos of women and teach them to take better selfies. She began to reassess her life in 2011, when a hysterectomy left her homebound for 12 weeks. "It was the first time I'd really had to sit with myself," Moe says. "And I started to question why I was living the way I was living."
She'd married her high-school sweetheart, bought a house in Charlotte, and taken a secure, lucrative job as a 3D piping designer for a company, now known as Framatome, that makes parts for steam supply systems in nuclear power plants. But her post-surgery downtime gave her a chance to think. She was 33, with what others probably would consider a dream life—yet she was miserable.
What followed was the pivotal period of her life. Moe divorced her husband and moved out on her own. A few months later, Framatome furloughed her after 13 years, and she gratefully shook the hands of the people who laid her off. "I didn't know what it was yet," Moe says, "but I knew there was something better for me out there."
She turned to a childhood hobby. Around age 12, Moe got her hands on a 110-film camera. She began to take self-portraits and shoot photos of her younger cousins in styled hair, makeup, and clothes from her mom's closet. Throughout high school, she was "always the girl with the camera," she says. But college and adult obligations stifled her creativity until she found herself single, unemployed, and searching for happiness.
Shortly after her divorce, another cousin went through a brutal breakup. Moe told her to come over and once again found herself making over a cousin and putting her in front of a camera. Moe says they both came alive during that shoot. "It was this beautiful exchange of energy. My cousin told me, 'I've never seen someone behind the camera be like that.' And I thought to myself, I don't know what this is, but I like it."
Moe began asking friends and strangers in coffee shops to model for her. She took a photography course at The Light Factory Photo Arts Center and hired a business coach. "I developed this relentless belief," she says, "that what I love and what I want to do with my life can be done."
Over the next year or so, Moe developed a niche photography business: self-branding photoshoots for women. She contracted with stylists and makeup artists and booked Airbnbs for the shoots. Most of her clients are women in their mid-30s or older, who pay between $1,597 and $2,997 for all-inclusive shoots. Many learn about Moe through networking groups, and some travel across the country to work with her.
When COVID halted her shoots, Moe added virtual "Love Your Selfie" classes to her services and taught women how to take their own photos. The one-on-one classes cost $499 and became so popular that she continued to offer them even when she resumed in-person shoots.
It may seem self-indulgent to pay hundreds of dollars to learn to take a selfie, but what Moe offers her clients extends beyond the lens. Women come to her when they go through an illness or divorce or are simply looking to regain their confidence. Moe preaches self-love. Think of her as a professional hype woman for women—although her self-given nickname, King Moe, rather than Queen Moe, reflects her identification with masculine and feminine energy.
"That's just me reclaiming all of that," she says. "I'm going to do what I want to do, when I want to do it, how I do it. And I just identify as more of a king than a queen. It's me taking back my power."
Tess Allen is the associate editor.
---
Moe's 3 Tips for Bomb Selfies
1. Take lots of them.
2. Position yourself in indirect natural light.
3. Fully extend your arm for the best framing.