PHOTOS: Raintree Homeowner Embraces 1980s Maximalism
See inside a space that has a variety of influences, from 1920s art deco to '80s excess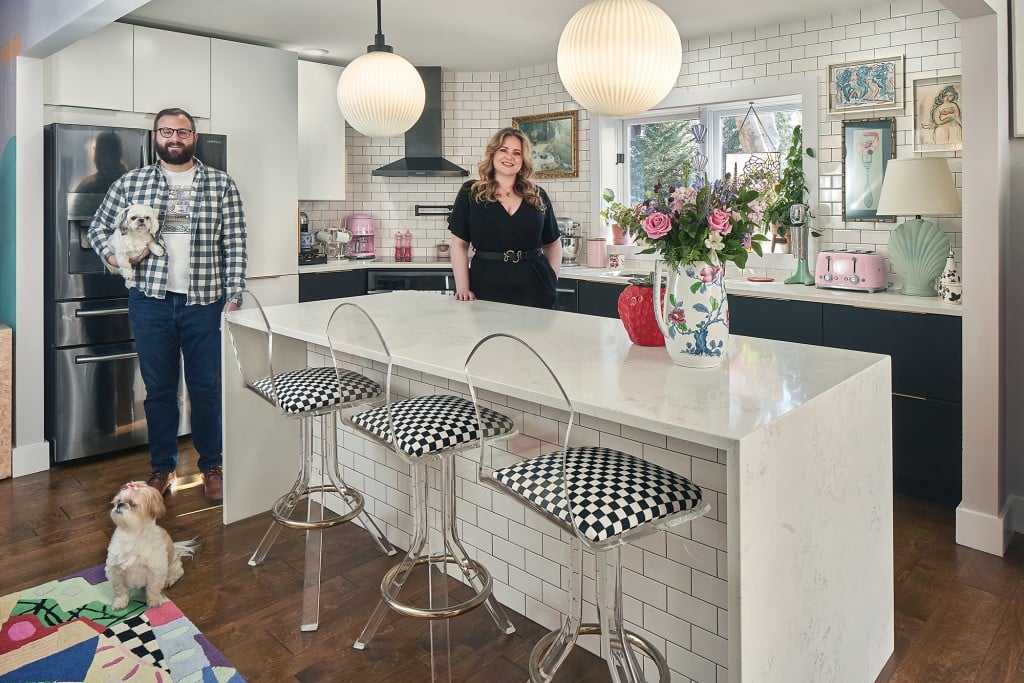 The inside of Camille Redfern's home looks frozen in 1987, the year it was built. Each room is filled with chunky furniture, geometric patterns, needlepoint artwork, and pastel knickknacks right out of The Golden Girls. That's not because she's neglected her house for 30 years. The home's intentionally cluttered, kaleidoscopic, more-is-more appearance reflects the reemerging trend of "maximalism."
Redfern isn't an interior designer. The 31-year-old self-described "interiors enthusiast" works as an intellectual property paralegal for a nuclear operations company. Design is her hobby and an escape from a technical, demanding day job. "It's totally right brain, left brain," she says with a laugh.
She and her husband moved into the 2,000-square-foot home in the Raintree neighborhood in late 2020. Their street is dotted with contemporary houses marked by diagonal wood siding, stone facades, and skylights that were popular in the 1980s and early '90s. Redfern, who decorated the interior of their previous home in Plaza Shamrock in the midcentury style, wanted to go full-on maximalist this time. "Some find it bold and off-putting," she says, "but I love the colors and shapes and willingness to play with more free-form."
Growing up in Columbia, South Carolina, Redfern spent many weekends at auctions and flea markets with her parents, who loved to hunt for unique pieces for their home. These days, she finds a lot of her vintage furniture, like the carved swan console table with a beveled glass top, on Facebook Marketplace. She takes frequent trips to collect them, usually in the furniture-rich Triad area. "The fun is in the hunt," she says. "I like to buy things that are made by hand, not mass-produced."
She's always adding to the excess. Redfern found the Lucite chairs for her dining room table at Chairish and the kitchen light fixtures at Sleepy Poet. Along the hallway from the foyer to the kitchen, she had local artist Amber King paint a Matisse-inspired mural. It prompted Redfern to try her hand at a pastel mural with retro, geometric shapes on an adjacent wall that leads to the primary bedroom. "The space isn't perfect," she says. "It's always in flux."
By the end of 2021, Redfern felt like she'd achieved the look she was after. A gallery wall in the living room is cluttered with vintage prints, paintings, and framed record covers; ceramic pastel seashells adorn a tessellated pedestal; and a travertine mirror hangs at the base of the staircase. There's always room for more, of course. But every piece has a story—and Redfern can tell you every one.
---
WHAT'S WHAT
LOCATION
The Raintree neighborhood in south Charlotte
APPROACH
Maximalist design with a variety of influences, from 1920s art deco to 1980s excess
INSPIRATION
Mary Gilliatt, Claire Bingham, Nonie Nieswand, and Memphis Milano
LOCAL SOURCES
Furnishings by Jensen
(by Nic and Gabe)
@furnishingsbyjensen
Re:New Home
(by Holly d'Amico)
@renewhomeclt
Little King Art
(by Amber King Bounds)
@littlekingart
FOS Restoration Co.
@fosrestorationco
Sleepy Poet Antique Mall
@sleepypoetstuff
Queen City Crete
(by Shamila Varner)
@queencitycrete
Revival Furniture Co.
(by Daniel Jordan)
@revivalfurnitureco
Plant Therapy CLT
(by Alicia Martin)
@planttherapyclt
Boukai Flowers
(by Kailyn Downen)
(@boukaiflowers)