Piano Man
Reception Dilemma: Band vs. DJ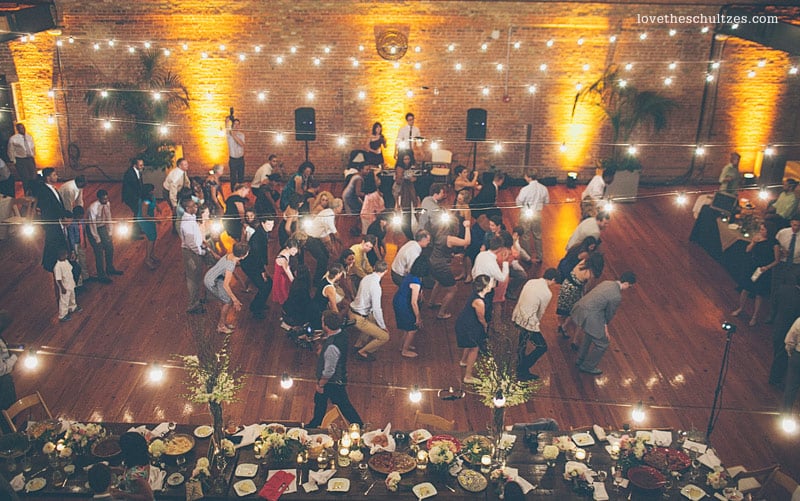 Reception tunes set the mood for the evening. What's more: Music can easily make or break the night. Above all else, this saying holds true: you get what you pay for. So before I break down the particulars of each option, here are a few things to keep in mind: Plan ahead. The best DJs and bands can be booked through the next year. Scout out options and nail down your first choice ASAP. Don't take their word for it. It's essential to see the prospective band or DJ in their element. Politely ask them when the next wedding reception they'll be working takes place. Then contact the bride and groom. They will more than likely oblige to letting you pop in for a listen at the reception. Take note of their style and guests' reactions. Don't ditch your budget. Bands are pricey. If the option isn't fitting into your designated budget, don't discount the idea of a DJ. So long as you take your time in choosing one, the music will be great no matter what. Specify don'ts in your contract. If there are songs you absolutely detest, list them out as prohibited tunes for the night. Finally, tip ahead (so long as the tip has not already been included in the contract). By giving the DJ or band, they are sure to go the extra mile that evening.
The Band
Bigger is Better. If you're set on big band tunes, unquestionably, they'll sound better live.
Space Saver. Make sure your reception venue has adequate space to place the band. For instance, a 12 member band is going to need pretty ample space in order to perform.
Excitement Factor. A band is a foolproof way to get your guests excited to hit the dance floor. A live performance is always a crowd captivator.
Twist on a Classic. Bands have the advantage of being able to cover any song in a unique style. Love the lyrics to a particular tune but wish it were slower for your first dance? A band can accomplish this with ease.
Turn It Up. Volume of a large band is a crucial consideration. Again, if the venue is small, a large band will overwhelm the space.
Candid Interaction. Bands can have fun with the crowd, no doubt. Sing-alongs and on-stage dancing with the bride and groom are entertaining. Bands are guaranteed to have bold personalities.
Style Master. No matter how broad a range of songs you request they play, a band's signature style will unify the set. You need not worry about a lack of cohesiveness in the playlist.
Hidden Costs. Band members require a break between sets as well as a meal provided for them. Also keep in mind that, should they not have the music for a particular requested song, it will cost extra.
—————————
The DJ
Sky's The Limit. DJs have the ability to play anything your heart desires at no additional cost.
Playing Power. Like bands, DJs have a style as well. Be sure to choose accordingly to avoid cheesy playlists.
Stick To The Original. Sometimes hearing the exact version of a song that's close to heart is just what you need for a special moment.
Tiny Dancer. For small venues, DJs have the advantage of taking up very little space.
The Club Effect. Be sure, if using a DJ, you find one who is accustomed to playing weddings, not just parties and club music. Your DJ needs to have an understanding of the pivotal difference in entertaining in order to connect with guests.
Autopilot Effect. Beware of DJs who play the same tracks out of habit. This is when you run the risk of hearing a song from your "do not play" list.
Wallet Friendly. Spare celebrity DJs, this option is generally the less expensive one.
Double Duty. While band members are inherently outgoing (simply based upon the nature of their job), beware of timid, jaded or unfriendly DJs. Your music entertainment will also serve as MC for the evening. So you'll want to be sure you choose a charismatic DJ.