Pie For Breakfast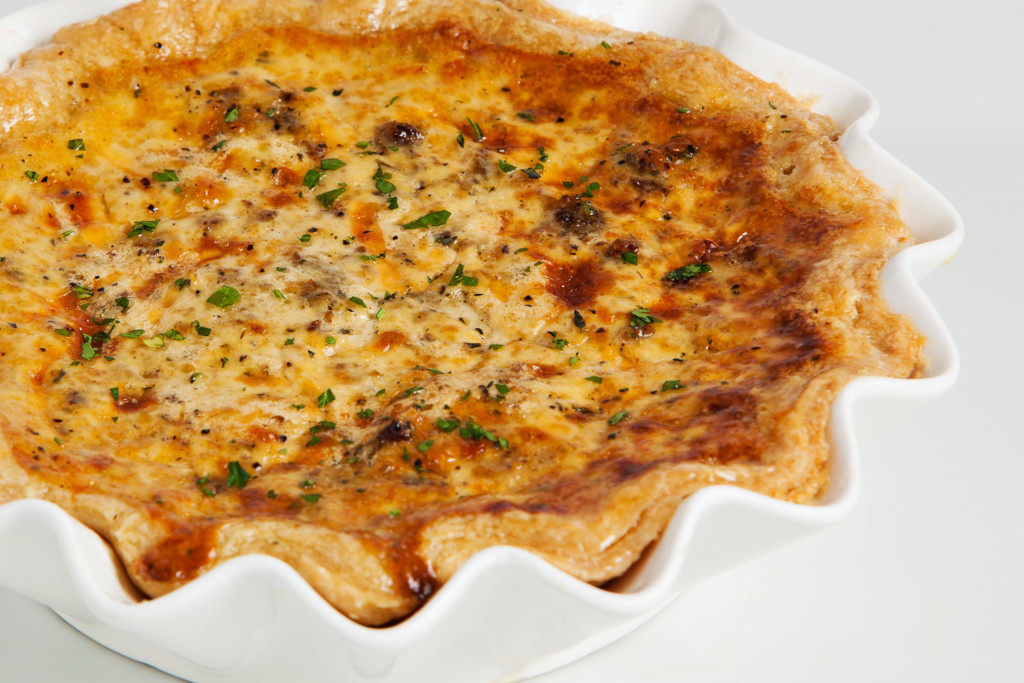 When I think about pies this time of year, I usually think of ones stuffed with fresh peaches or blackberries. Either way, it's a tossup which is more satisfying: that still-warm slice right after dinner or the cold one you have in the morning with coffee.
This pie works a little backwards: you make it for breakfast, then steal another slice or two for dinner. Pie for breakfast, and breakfast for dinner: two guilty pleasures in one. Serve it alongside a mixed green salad, as you might with quiche, if it helps ease the guilt.
Lewis Donald, corporate executive chef of Reid's Fine Foods, calls his savory treat "Farmer's Pie," aptly named for its hearty filling of Neese's sausage, potatoes, and cheese. (Hint: If you find yourself craving it but don't have the time or inclination to make it yourself, I've seen it as part of Reid's Sunday brunch buffet.)
Farmer's Pie
1 pound Neese's mild sausage
1 cup diced white onion
2 cups diced red potato
2 cups shredded cheddar cheese
1 tablespoon minced fresh garlic
2 tablespoons fresh chopped thyme
1 tablespoon cumin
1 tablespoon salt
1 teaspoon black pepper
3 tablespoons brown sugar
¼ teaspoon nutmeg
1 frozen or refrigerated pie shell
For the custard:
3 whole eggs
¾ cup cream
¼ cup sour cream
Cook sausage in a pan seasoned with cumin, salt, pepper, brown sugar, and nutmeg. Drain fat off and set aside.
In the same pan, sauté onions. Once onions begin to caramelize, add in garlic. After about two minutes, return sausage to the pan. Stir all ingredients together and add fresh thyme.
Allow to cool.
While sausage mixture is cooling, fry or roast off potato. Salt and pepper to taste.
Combine the cooled sausage, potato, cheese, and custard in a large bowl; pour mixture into pie shell. Bake at 200° for 30 minutes, then at 300° for another 30, or until golden brown and firm.